Code:
Manufacturer: Four Sigmatic
Quantity: 20 sacks
Reviews: (0×)
Availability: In stock The last piece left (Try alternative products)
We apologize for the unavailability. Estimated availability is 1.1.1970. We can send you email when we get goods in stock.
We tested
"Chaga always helps me when I feel that my body isn't completely in shape and I feel that I'm coming down with something. I've been using it for at least two weeks until I feel strong again."
Need help?
Customer service: (+420) 608 984 825
When ordering over 74,64 €
Free shipping
Mushroom Chaga (Inonotus obliquus) is also known as the "king of mushrooms", the "diamond of the forest" or the "mushroom of immortality". It grows in the northern hemisphere, especially on birch trees.
Like other medicinal mushrooms, it contains several hundred biologically active substances with a very wide range of beneficial effects on the human body. Probably the most famous of these are betaglucans, which harmonize our immune system.
The chaga used in Instant Four Sigmatic has been grown wild and sourced from uninhabited areas of Siberia to ensure the best quality. It is a great choice for anyone who wants to support the body's defenses.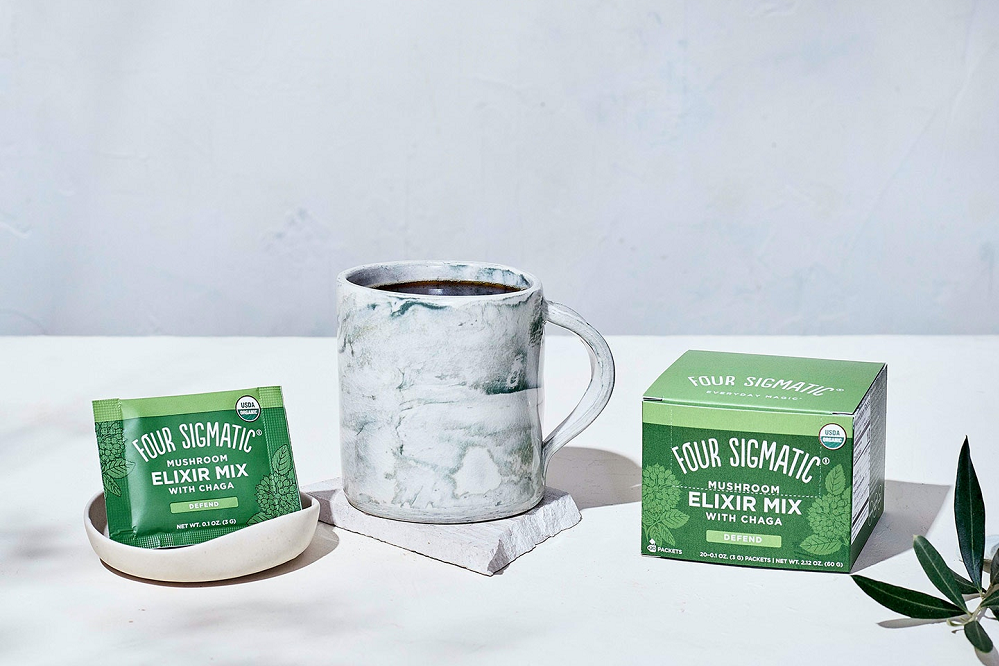 Who can take this drink
those who want to strengthen their health
those who want to boost physical stamina
those looking for an alternative to coffee
Traditional uses of chaga
In Siberian folk medicine, it has been used to detoxify and relieve nausea as well as a tonic to strengthen the body.
Russian folk medicine has used it for hundreds of years as a mainstay in the treatment of serious illnesses. Alaexandr Solzhenitsyn mentions his experience of using rust in the successful treatment of his own cancer in his book Cancer.
During the Second World War in Finland, chaga was used as a substitute for the then unavailable coffee because of its taste and similar aromatic profile. And even much earlier than that, it was made famous by the inhabitants of a Siberian village who also used it as a substitute for coffee and tea, enjoying unusually robust health.
how does it taste?
Each of the "elixirs" has its own specific taste. You can sip them on their own or flavour them with vegetable milk or spices, depending on your mood.
Mix it with cold or hot water, add to smoothies or use in cooking and baking.
Caution: Use caution in taking Chaga at the same time as antibiotics, blood thinners or when administering glucose intravenously (by vein). If in doubt, consult a medical or nutritional professional.

Why prefer a double extract of medicinal mushrooms
Much of the mushroom tissue is indigestible to the human body. Therefore, when we swallow the powder from a ground dried mushroom, we cannot absorb nearly all the valuable active substances from its cells.
The extract, on the other hand, contains all the beneficial substances in an easily digestible form. And to really get all the substances from the natural mushroom, you will even find a double extract in this instant drink. That is, not only the water-soluble substances, but also all the other substances that we have obtained by extraction with alcohol (which, of course, is not contained in the final product at all).
The double extract therefore ensures a higher concentration and better bioavailability of the active substances for the organism. And this is the basis of our medicinal mushroom products.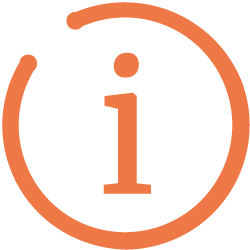 Tincture or instant drink with medicinal mushrooms?
In our range you will find mushroom tinctures from KÄÄPÄ Health and high-quality instant drinks from Four Sigmatic. What is the difference between them?
All the mushroom products we sell are of high quality and as bioavailable as possible. The active ingredients in them are extracted using a double extraction method.
Four Sigmatic beverages contain, in addition to medicinal mushrooms, other synergistic adaptogenic herbs or superfoods. Their advantage is their great taste and high concentration of active ingredients. In one box you will find a predetermined number of sachets, i.e. doses.
KÄÄPÄ Health tinctures more closely resemble a classic dietary supplement. It is purely a mushroom extract, the amount of which you use the dropper to dose yourself according to your needs.
Read more
Ingredients in 1 sachet (3 g): in 1 serving (3 g) - double extract of the chaga mushroom Inonotus obliquus*° (1 500 mg), Siberian ginseng* (750 mg), peppermint leaf*, rosehip* (* = USDA organic; ° wild growing).


USDA Organic
Products labeled USDA Organic meet the strict production requirements of the U.S. Department of Agriculture. To carry this label, a product must be at least 95% organic ingredients. Certification demonstrates the highest possible quality and purity of the product.

USDA Organic products undergo a non-GMO, radiation-free production method using ingredients that fall under the National List of Allowed Substances. Agriculture with this certification must meet many factors from ensuring soil quality to controlling pests and weeds or the ingredients used.
Organic producers rely as much as possible on natural substances and agricultural, physical, mechanical or biological farming methods with a guarantee that the plant/crop grew on soil where prohibited substances (such as synthetic fertilizers or pesticides) have not been applied for 3 years.


| | |
| --- | --- |
| Nutritional values | In 1 dose (3 g): |
| Energy value | 5 kcal |
| Fat | 0 g |
| of which saturated | 0 g |
| Carbohydrates | 1 g |
| of which sugars | 0 g |
| Fibre | 0 g |
| Protein | 0 g |
| Salt** | 0 g |
| | Not a significant source of energy, carbohydrate, fat or protein. |
Please note: Do not exceed the daily recommended dose. Not a substitute for a varied diet. Not intended for children under 3 years of age, pregnant and lactating women.
Storage: UKeep out of reach of children. Store in a cool, dark and dry place.
Why we love Four Sigmatic
Four Sigmatic - originally from Finland, now based in the US - is the project of a bunch of smart guys who call themselves the Scandinavian funny guys. They combined their lifelong passion for processing medicinal mushrooms and adaptogens with an original idea. They have enriched popular drinks with these traditionally used medicinal gems that can fill our every day with more energy, physical stamina, inner peace and productivity. With this venture, they have made functional mushrooms available to virtually anyone.
Adding the dual extract of these mushrooms and adaptogens to popular beverages like hot cocoa, coffee, latte or matcha latte or creating a multi-species mushroom blend creates a drink for moments of well-being while "recharging the batteries" and boosting the psyche and immunity.
Four Sigmatic products meet the strictest quality criteria. In addition to USDA Organic certification, they are regularly tested by independent laboratories for heavy metals, yeast, mycotoxins and radiation levels. The ingredients in all Four Sigmatic beverages are purely plant-based.
Data sheet
| | |
| --- | --- |
| Form: | Powder |
| Country of Origin: | USA |
| Vegan: | Yes |
| USDA Organic: | Yes |
| Organic | Yes |
Related articles and recipes
Selection of questions from Counselling
You can ask a question here and our experts will try to answer it.
Aleš 22. July 2021
Dobrý den,

mám více jak 3 roky diagnostikovanou alcerozní kolitidu, mohu používat chagu?

Děkuji.

Ing. Petra Vašková odpověděl:
product specialist, holistic nutrition consultant
Dobrý den, pane Aleši,

chaga se přímo využívá jako doplňková léčba při ulcerózní kolitidě, můžete.

V případě dalších dotazů jsem pro Vás k dispozici na 732 690 885 nebo petra.v@vitalvibe.cz.
Přeji krásný den,
s pozdravem,
Petra

Jana 10. June 2017
Je chaga vhodna i pro pacienty, kteri maji psychicke problemy a berou leky? Kde mohu popr. najit interakce? Diky.

Michaela Ptáčková odpověděl:
Krásný den, Jani,

interakce s antidepresivy není známá, upozornění je pouze na léky ředící krev, jelikož chaga přirozeně ředí krev. Adaptogeny mohou být naopak skvělým pomocníkem, jak postupně psychofarmaka vysadit, jelikož zklidňují mysl. V závislosti na typu psychických problémů lze pak doporučit inhalaci levandulového esenciálního oleje pro zklidnění a citrónového pro osvěžení mysli a vytržení z letargie.

S pozdravem Michaela
Zdenka 12. May 2017
dobrý den, prosím mám dotaz. Poslední dobou jsem unavená, podrážděná, nesoustředím se. Co byste mi doporučii z vašeho sortimentu? děkuji

Michaela Ptáčková odpověděl:
Krásný den, Zdenko,

vyzkoušejte některou z adaptogenních bylin, které dodávají energii, pomáhají vyrovnat se stresem, vyrovnávají hormony, tím i náladu a zároveň jsou výživné. Doporučuji instantní nápoj reishi, chagu nebo namletý kořen macy.

S pozdravem Michaela
Veronika 27. January 2016
Dobrý den, můžu se zeptat jaký obsah má jeden sáček? Nikde jsem nenašla uvedenou gramáž. Děkuji

Michaela Ptáčková odpověděl:
Krásný den, Veroniko, jeden sáček obsahuje 3 g bylinné směsi, z čehož je 50 %, tedy 1500 mg, chaga.
Váš dotaz byl úspěšně odeslán našemu týmu. Děkujeme za otázku!
We're sorry we can't share with you
all the information about this product.
Various EU laws and regulations severely limit the extent to which we (and all other food business operators) can communicate the health benefits that these products offer to people.
Our long-standing customers are already intimately familiar with these foods, and they keep coming back to us for them. We also ask you to do your own research. You may discover much more about the potential benefits of these gifts of nature for your health...

John Noah
Founder of Vitalvibe