Code: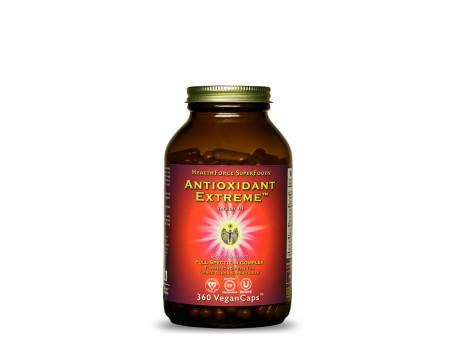 We tested
"I live in the city. Therefore, I use Antioxidant Extreme against harmful substances from the environment, which protects and supports my health."
Main product features
an effective blend of several herbs and superfoods

mixture of plant components with natural antioxidant properties

immune system support

100% natural, proud of TruGanic quality

VeganCaps™ from fermented tapioca

in an ecological glass bottle made of recyclable amber glass
When ordering over 74,64 €
Free shipping
Need help?
Customer service: (+420) 608 984 825
Antioxidant Extreme™ is a blend of powerful botanical ingredients with natural antioxidant properties. It contains a complex of highly potent compounds from traditional herbs and superfoods that ensure its extraordinary functionality and work in synergy with each other. For example, thanks to the contained turmeric, which has antioxidant properties and contributes to the proper functioning of the immune system.
Antioxidants are able to bind free radicals to themselves, thus benefiting human health. Free radicals are substances that are produced as part of the body's metabolic processes. When they are produced at high levels or when antioxidants are not consumed enough (typically in fruits and vegetables), they can contribute to cell and tissue damage.



Beneficial effects of antioxidants from turmeric
provide a protective effect for the body
contribute to protecting cells from the effects of free radicals
contribute to the proper functioning of the immune system
contribute to the normal functioning of the cardiovascular system



Efficacy of antioxidant supplements

It is common for antioxidants to be degraded in the air. However, with this product you don't have to worry. It is stored in an eco-friendly glass bottle made of recyclable amber glass, which can prevent the loss of effectiveness of the contained substances.
Recommended dosage: 2-4 capsules per day, all at once or in multiple doses.

Intensive use: 8 capsules per day, ideally spread over 4 to 8 servings

- Filled in "VeganCaps™" (from fermented tapioca, without additives)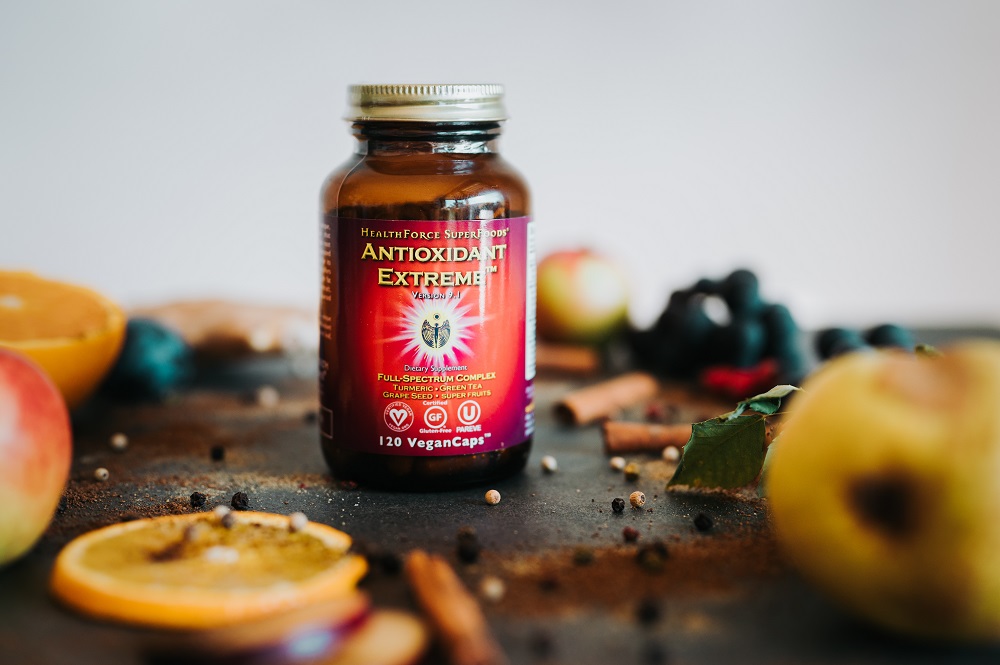 Ingredients (in 2 capsules): Turmeric antioxidant complex 410 mg (organic root 330 mg, organic extract 80 mg), plant antioxidant complex (organic mullein (Polygonum multiflorum) 75 mg with trans-resveratrol content 50%, grapefruit seed extract 240 mg, green tea extract 70 mg, pine bark extract 5 mg), blend of plant activators 123 mg (cinnamon bio, black pepper bio, ginger bio, mint bio), blend of antioxidants from organic fruits 78 mg (acai 15 mg, maqui juice 33 mg, amla Orgen-Ox extract 30 mg), veganfermented tapioca capsules.

It is not a significant source of energy, protein, fat, carbohydrate or fibre.

Contains no other ingredients, only TruGanic™ quality plant-based ingredients.
TruGanic™
This is a very strict US food quality standard that meets at least as strict criteria as BIO. The TruGanic™ standard was created by Jameth Sheridan, a HealthForce physician, to demonstrate absolute purity.

TruGanic™ labeled products must undergo a series of tests to prove that they are 100% free of pesticides, insecticides and herbicides, absolutely GMO-free and have zero radiation. No binders, fillers, isolates, chemical solvents or other additives are used in the manufacturing process. All products are naturally gluten-free.

Health Force ensures the smallest possible carbon footprint and the most environmentally friendly growing practices. It is important to them to support ethical and sustainable farming practices and to purchase as many ingredients locally as possible.

As such, TruGanic™ certified food supplements are designed to achieve the best possible nutritional benefits.


Warning:
Keep out of reach of children. Store in a cool, dark, dry place. Do not exceed the daily recommended dose. It is not a substitute for a varied diet. Not for use by children under 3 years of age, pregnant and lactating women.


Why do we guarantee HealthForce SuperFoods products?
The mission of HealthForce SuperFoods is to help people return to a state of natural health and inner contentment. This uniquely American brand delivers the purest and most effective natural dietary supplements.

HealthForce SuperFoods products are characterized by the combination of exclusively plant-based ingredients with sophisticated manufacturing processes that replicate nature.

The company was founded out of sheer passion in 1990 by holistic medicine physician Jameth Sheridan, D.H.M along with Kim Sheridan - a natural nutritionist. They wanted to bring the world unique herbal blends, based on scientific knowledge, that have complex supportive effects. Their detox products, functional superfood blends or herbal extracts carry superior quality, uncompromising purity and maximum efficacy.

The original TruGanic™ seal of quality takes the safety of the products even further than conventional organic certification. Numerous laboratory tests regularly demonstrate the absolute absence of pesticides, herbicides, insecticides, radiation, GMOs and gluten. HealthForce SuperFoods products are not tested on animals, do not use gelatin capsules, and make maximum use of environmentally friendly manufacturing and packaging practices. This, of course, puts them in line with all the principles of ethical veganism.
Data sheet
| | |
| --- | --- |
| Form: | Capsule |
| Country of Origin: | USA |
| Vegan: | Yes |
| Gluten-Free: | Yes |
Selection of questions from Counselling
You can ask a question here and our experts will try to answer it.
Klára Lahovska 12. December 2019
Hello, I would like to ask you if the antioxidant extreme will be on the stock till Christmas. Thank you.

Ing. Petra Vašková odpověděl:
product specialist, holistic nutrition consultant
Hello,

we are sorry, AoxExtreme will be on stock at the beginning of February.

Have a nice day, Petra
Margita Bouzková 14. November 2019
Dobrý den, lze užívat společně Scram Tm a Antioxidant extreme, případně i vitamin C přírodní ? A není nadbytečné užívat Antioxidant i Vitamin C - nestačí pouze právě jen Antioxidane extreme? Děkuji za odpověď. Gita

Ing. Petra Vašková odpověděl:
product specialist, holistic nutrition consultant
Dobrý den, paní Gito,

užívání Scramu a Aox. Extreme se nevylučuje, ale dle mého názoru by stačilo zařadit kúru s přípravkem Scram a doplnit vitaminem C. (Scram i Aox. Extreme obsahují silné výtažky z bylin a nemusely by Vám dělat dobře na žaludek). Spíše doporučuji zařadit po kúře s přípravkem Scram jedno balení Liver Rescue pro podporu činnosti a očisty jater.

Přeji krásný den,
s pozdravem, Petra

Jan matyáš 26. August 2017
Zdravím,
je tento produkt vhodný a hlavně bezpečný na zlepšení stavu pro maminku - má prodělané dva infarkty, bere lék na ředění krve (Eliquis), statiny, nytroglycerin....prostě akutní stav. Pokud ne, jaký produkt by jste mi doporučili.

Děkuji
Jan Matyáš

Michaela Ptáčková odpověděl:
Krásný den, pane Matyáši,

tento produkt je vysoce koncetrovaný a mohl by reagovat s léky, pro tento stav bych ho nedoporučila. Pro očistu cév a těla celkově je vhodný citrónový esenciální olej, 1-2 kapky do sklenice vody a během dopoledne vypít, je jemný a přitom účinný, nejsou známé interakce s léky. Při inhalaci působí povzbudivě a zlepšuje náladu. Pro podporu vylučování rozpuštěných látek lze odpoledne užívat kapku mátové esence. Dále lze zařadit chia semínka, konopná semínka, lněný olej. Předně bych doporučila trvalou změnu jídelníčku, aby se tělu odlehčilo a krevní tlak se dostal do normálních hodnot, většinou po 2-3 měsících se vše upraví. V případě zájmu o osobní konzultaci jsme samozřejmě k dispozici.

S pozdravem Michaela
monika 30. June 2015
Dobrý den mám na noze větší křečovou žílu máte na to nějaké tipy jak se jí zbavit, je mi 43 let nadváhu nemám nohy mě nebolí a nechce se mi na operaci. předem děkuji za odpověď.

Michaela Ptáčková odpověděl:
Váš dotaz byl úspěšně odeslán našemu týmu. Děkujeme za otázku!
We're sorry we can't share with you
all the information about this product.
Various EU laws and regulations severely limit the extent to which we (and all other food business operators) can communicate the health benefits that these products offer to people.
Our long-standing customers are already intimately familiar with these foods, and they keep coming back to us for them. We also ask you to do your own research. You may discover much more about the potential benefits of these gifts of nature for your health...

John Noah
Founder of Vitalvibe