Spanish Influenced Salsa Verde Recipe
There is so much to be said for the fragrance, flavor, and visual healing powers of fresh herbs. These nutrient dense plants take food to the next level, and when you combine these two familiar, leafy fresh wonders with fragrant, dry ground spices, the result is marvelous.
Spread Spanish
You can make this salsa chunky or smooth, just make it and keep a jar on hand to enhance most any meal you like. When you wow your taste buds with big flavors, like you will with this salsa verde, satiety levels increase. And some other bonus benefits include the anti-inflammatory, anti-viral, anti-fungal, and digestion enhancing properties of the ingredients in this salsa. How grand it is to eat your way to sustained great health with great for you delicious foods. Bon Appetite!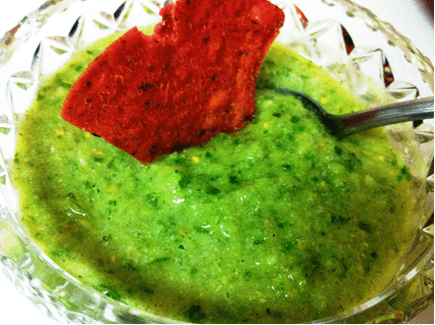 Spanish Influenced Salsa Verde
Serves 4 to 6
Ingredients:
Approx. 1/2 cup Italian parsley, very finely chopped
Approx. 1/2 cup cilantro, very finely chopped
2 teaspoons garlic, minced
2 teaspoons Spanish paprika
1 teaspoon cumin, ground
1 teaspoon coriander, ground
1 Jalapeno or ¼ to ¾ teaspoon ground red pepper or chili flakes, to taste
2 teaspoons organic lemon zest
2 tablespoons fresh lemon juice
½ cup Maison Orphee extra virgin olive oil
¼ to ½ teaspoon fine gray sea salt
Freshly ground black pepper, to taste
Directions:
Combine all ingredients in a small bowl and you're ready to go! If you prefer a more pesto-like texture, you can make this in a food processor or blender.
Serve your salsa with roasted veggies, grilled tofu or tempeh cutlets, organic chips, or your favorite raw fresh veggie or cooked pasta. It goes great with fresh zucchini spirals, black bean pasta, or black rice cakes. You can also sass up wraps and quesadillas for a flavor sensation or use your own creative culinary imagination.