Our mission
Everyone holds his health in his hands.
We draw from our own experience. We consciously think about how the body and mind react to our diet. We introduce exclusive vital food where they had been missing.

Every day can be seized in health and joy.
We believe it is possible to live a rich life without fatique and almost without illness. We are convinced that one's body can be naturally charged with energy. We are ourselves a proof that a radiant body, clear mind and joy of life are result of what we indulge in. We have personally experienced that healthy body mirrors healthy attitude towards life.
"Let your food be thy medicine and medicine be thy food."
Hippocrates, a renown ancient physician
Vitalvibe's mission
Vital…
We are here, on the behalf of Vitalvibe company, to pass you the zest for life and vitality through superfoods, organic food, raw food and pure natural products.
Vibe…
In our activities You can feel the positive vibe and energy, which is reflected in the selection of our products.
We introduce foods with highest nutritional value possible that are absolutely natural for every human body. They commence where the ordinary consumer diet failed long time ago. They are a source of life energy, which lead to the real health. They help to heal both the body and the mind.
"To enable people to live healthier and more conscious life through the availability of all natural foods of the highest quality and deep awareness."
Vitalvibe's vision
What do we do?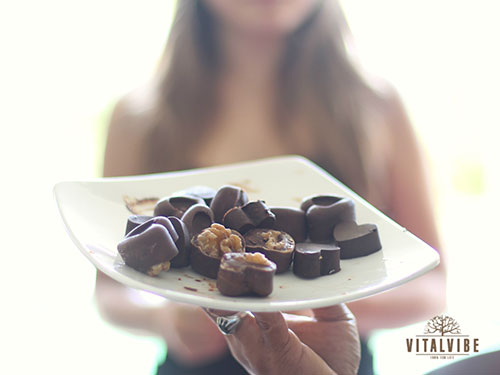 We share our passion. We show the way towards health, satisfaction and vitality. Regularly we organize life lectures, seminars, workshops and exhibitions.
Through our telephone lines we help people to overcome all sorts of problems. We function as independent advisers. Our business is friendly. We build friendly relations with our customers, as well as business partners. We are a friendly team (more in the section Who we are).
"I think of what I eat. I've learned to listen to my body. Thanks to living foods I have plenty of energy. I manage everything I need. Even at sports I've broadened my potential. I feel great and I want to interpret my happiness to others."
Ing. Jan Petr, co-owner of Vitalvibe company
We pass our personal experience and knowledge to others. We present possibilities for the new approach towards life. But we do not force anyone, everyone chooses his own path.
We follow the way of responsibility (more about Vitalvibe's responsibility). We feel responsible for the planet Earth. We feel responsible for happiness of all beings on this planet. We strive for deeper perception of our existence, for synergic evolvement in a positive way. Even for this reason we support all sorts of environmental, ecologic and educating projects (you can find more in the section We support and contribute).
What do we offer?
All products of our wide selection are supposed to fulfill the requirement for maximum potential and nutrition value. We strive for everyone's possibility to obtain foods in organic quality, without harmful substances, sugars, colors, as well as pesticides, sulfur and oil derivates.
We cooperate with local farmers as well as foreign producers who understand the significance of vital foods as we do. We are backed by producers and croppers who do their job with love to nature and people. Thus we can offer organic foods and vital foods that have not been exposed to higher temperatures than 42 °C. You can also find Fair trade products in our selection.
Purely natural origin, organic quality and highest care possible during growth and processing are declared by BIO certificates, EU green leaf or USDA organic (BIO certificate issued in the USA).
With pleasure we work as an exclusive distributor of the world brands producing top quality organic products – Sunwarrior, Healthforce, Big Tree Farms, Four Sigma Foods, Secret Ceres and more.
With love to people and nature
We do not want to be another company that only takes from nature. We are looking for balance.
We want to be in accordance with nature, as much and as long as possible. For this reason we try to conserve the environment and to burden our planet as little as possible. That's why not only our products, but also other materials that we work with are of natural source.
We prefer recyclable packaging, we use ecologic products, light with energy saving LED lamps…but we do much for our environment (you can learn everything in the section Green company).