Fruit Salad with Fresh Coconut Cashew Cream
Fruit salads are great for breakfast or for a refreshing afternoon snack. But when they're enjoyed as a dessert, they're mainly topped with whipping cream, yogurt, or chocolate sauce.
Breakfast, For children
This coconut cashew cream is a delicious alternative to the usual toppings you would add to your fruit salad.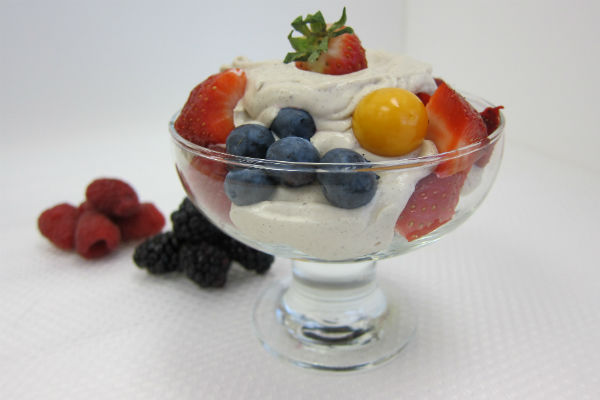 Fruit Salad with Fresh Coconut Cashew Cream
Ingredients:
¼ cup blueberries
¼ cup raspberries
¼ cup blackberries
¼ cup strawberries (sliced)
1 can coconut milk (full fat)
1 cup cashews
2 tablespoons coconut butter
1 tablespoon honey (or vegan sweetener)
1 teaspoon vanilla bean powder
5 drops coconut flower essence
Directions:
In a blender, combine the coconut milk, cashews, coconut butter, honey, vanilla bean powder, and coconut flower essences. Blend until smooth.
Transfer the coconut cashew cream to a dish and allow it to set for 2 to 3 hours or overnight in the refrigerator.
Place 1/2 cup mixed berries in a bowl. Top with coconut cashew cream sauce. Add the remainder of the mixed berries and finish off with a last topping of coconut cashew cream. Add a strawberry or fresh mint for garnish.
Enjoy!!