Need help?
Customer service: (+420) 608 984 825
When ordering over 74,64 €
Free shipping
Do you want to maintain vitality and good health on the road to longevity? Curcumin will support you perfectly. Not for nothing is this active ingredient extracted from the "golden root" or turmeric considered in the tradition of Asian medicine as a source of health and eternal youth.
The liposomal plant form ensures maximum absorption and utilisation of this active ingredient.
Get to know curcumin
Curcumin is a flavonoid, i.e. a natural dye, obtained from theCurcuma longa plant, native to Asia. After grinding, the root of this plant is used as a traditional yellow spice called 'Indian saffron', which is particularly famous in Indian cuisine as the basis of curry mixtures.
Turmeric contains only 3 % of this active ingredient. To obtain a higher concentration of curcumin, it must be extracted from the rhizome (or rhizome) of the plant.
There are several types of active curcuminoids in the plant. As the name of this product suggests, the functional component of Liposomal Curcumin 3Complex is formed by the synergistic action of the 3 curcuminoids present: 85-90% curcumin, 7-9% demethoxycurcumin and 2-3% bisdemethoxycurcumin.
The story of curcumin
Turmeric, and more specifically curcumin, has been successfully used in folk medicine for over 4000 years. This substance maintains a very important position within Ayurveda and Traditional Chinese Medicine. The distinctive yellow powder, nicknamed the Golden Goddess, has been considered one of nature's greatest gifts with a wide range of effects since time immemorial.
Because of its considerable therapeutic potential, curcumin has been the subject of many studies in Western science as well. It is one of the most researched natural substances with a wide range of great benefits for the human body. It is generally ranked among the phytonutrients with the most promising uses.
What does curcumin contribute positively to?
Curcumin is known for the wide range of benefits that can be derived from it. Recent scientific studies have investigated curcumin for its antioxidant effects. Long-term use of this natural gem promotes health, beauty and the maintenance of vitality.
Traditionally, people who wanted to preserve their long youth took turmeric and believed it would help them do so. Curcumin is good for our skin and also benefits the musculoskeletal system. It is used to maintain normal nervous system function and aids normal digestion.
What does long turmeric contribute to?
to normal immune system function
to the normal functioning of thebody.
to normal liver function
to the normal functioning of the cardiovascular system
normal bone and joint health
normal functioning of the nervous system
normal function of the respiratory system
Who can appreciate liposomal curcumin?
anyone interested in antioxidants
those who have digestive problems
those who are dealing with blood sugar issues
those who are concerned about cholesterol
those who want to keep their brain fit
those who are trying to maintain their health in the long term
Why consume curcumin from dietary supplements?
You may ask why take a special dietary supplement when curcumin is present in ordinary spices. Yes, this is true, but as already mentioned, turmeric contains only 3% of this active ingredient.
Moreover, eating turmeric alone does not ensure that enough curcumin is absorbed into the body. The curcuminoids obtained by laboratory extraction from turmeric, when given in a well bioavailable form (especially the liposomal form), increase the effectiveness and overall effect on the body many times over.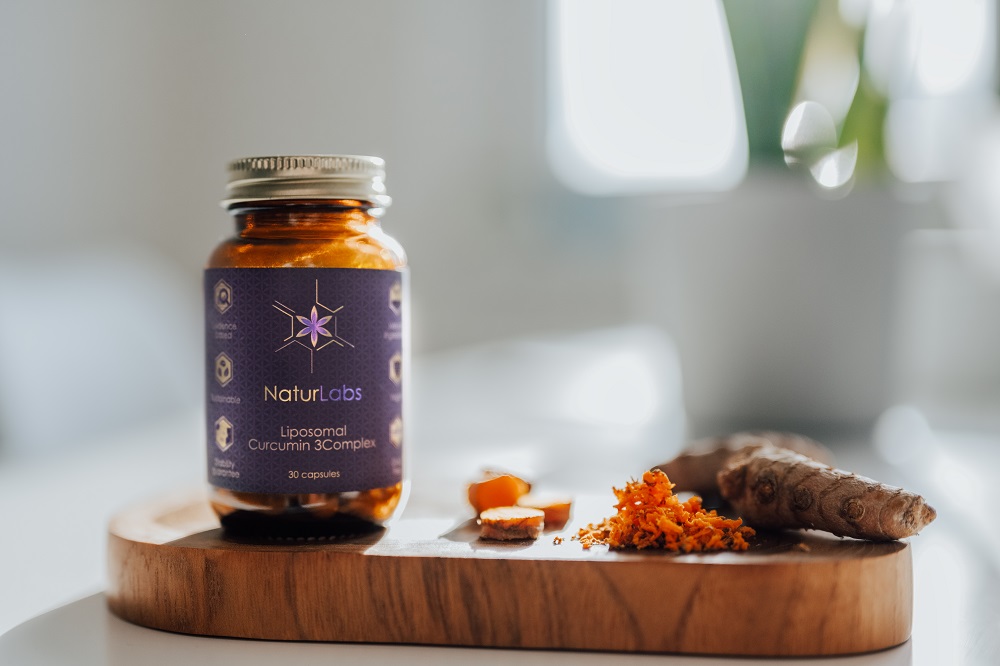 Why liposomal curcumin?
Most conventional dietary supplements in powder or tablet form are not sufficiently absorbed by our bodies. While still in transit, supplements are broken down in the digestive tract by digestive enzymes and gastric juices. Thus, only a small percentage of the active substance actually reaches its destination.
The liposomal form of curcumin revolutionizes absorption!
Why? The liposomal packaging eliminates this process and protects the active ingredient. Liposomes are molecules whose outer shell is made up of healthy fats (natural phospholipids) that encapsulate the functional ingredients they contain. During absorption from the intestine, this fatty coating provides a protective cover for the active substance. The liposomal pouch is naturally absorbed through the wall of the intestine into the bloodstream and with it the intact curcumin molecule hidden inside, which is then easily absorbed from the blood directly into the cells.
Benefits of the liposomal form of dietary supplements
Better transport of active ingredients to their destination - through the intestinal wall into the bloodstream and from there easy absorption directly into the cells
Perfect bioavailability and availability for the body
Liposomal layer of the active ingredient protects against degradation in the digestive tract
No aftertaste, long shelf life and purity (no additives) - all thanks to the bulk form
What is it?
All active ingredients are transported into the cells via a patented liposomal structure of natural phospholipids, which ensures the highest known bioavailability in the human body.
The liposomal form increases the absorption of curcumin by up to 20 times and enables cellularou absorption of more than 90%. In addition, the liposomal form of dietary supplements brings your body a variety of benefits documented by numerous clinical studies.
Unique technology at the molecular level
Liposomal forms of vitamins and minerals have been successfully used in medicine for many years to increase the absorption of active substances into the body.
NaturLabs' liposomal dietary supplements use 100% natural LipoCellTech technology, which ensures their perfect absorption. So you can finally feel the real effect of supplementation.
Specifically, it works by coating the active ingredient molecule with a phospholipid layer during processing. This is very similar to our cells, so it is more easily taken up by the cells and the contents easily penetrate. The phospholipid layer, on the other hand, protects the active substance as it passes through the digestive tract to prevent premature degradation. It also allows the active ingredient to be transported smoothly directly into the cells.
Such a liposomal structure is intrinsic to the body, and once the functional ingredient is delivered to the cell, the phospholipids themselves become nourishment for the cell envelope, where they help to regenerate cells and tissues.
Why prefer bulk liposomal dietary supplements in capsules?
Liposomal dietary supplements come in bulk and liquid forms. What are the advantages of powder-filled capsules over the more common liquid form?
Powder-filled capsules are easily portable, convenient for travel and convenient to take.
The bulk form of our dietary supplements is just pure powder without additives. So of course it contains no fillers, preservatives or inactive substances.
In contrast to liquid forms, whose unpleasant taste is often masked by flavourings, the powder in the natural capsule has a completely neutral taste.
The powder packaged in a capsule lasts much longer. Unlike liquid supplements, which must be consumed quickly after opening, the powder form has a longer shelf life and is more stable.
The dietary supplement is 100% vegan, GMO free.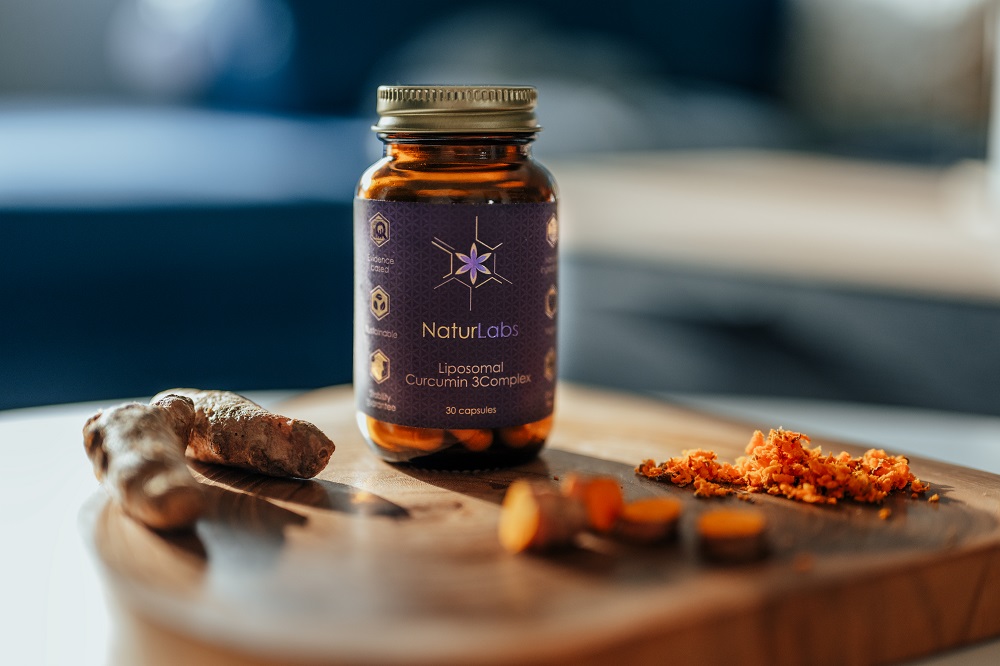 Method of use
1-2 capsules during meals
Sufficiently washed down with water
Contraindications:
Not to be taken at the same time as blood thinners. Use should be taken in conjunction with blood thinners. Interaction between substances is rated as mild, thus may or may not interact.
Use may affect the effect of stomach acid reducing drugs (these are drugs with the active ingredients: cimetidine, famotidine, ranitidine, esomeprazole, omeprazole and lansoprazole).
It can intensify the effect of drugs in diabetes and thus increase the risk of hypoglycaemia.
Who should avoid curcumin:
Curcumin should not be taken by people with gallbladder stones.
People with poor andbsorption of iron and people with anemia if they choose to use curcumin long-term in large doses.
Further information
| | |
| --- | --- |
| Nutritional values | Ingredients in 1 capsule |
| LipoCellTech™ Liposomal proprietary blend: palmitoleic acid phospholipids, derived from sunflower (non-GMO) | 150 mg |
| Curcuminoids (from turmeric extract) | 260 mg |
Ingredients:
Curcuminoids (from turmeric extract), LipoCellTech™ Liposomal proprietary blend: palmitoleic acid phospholipids, derived from sunflower (non-GMO), vegan hydroxypropyl methylcellulose capsule.
Amount:
Package contains 30 capsules. The pack lasts for 1 month at a dosage of 1 capsule per day.
15.9 g net weight.
Storage:
Store in a cool, dark and dry place.
Keep at room temperature.
Warning:
Keep out of reach of children. Store in a cool, dark and dry place. Do not exceed the recommended daily dose. It is not a substitute for a varied diet. Not for children.children under 3 years of age, pregnant and breastfeeding women.
Why did we choose NaturLabs?
NaturLabs is a Czech brand that seeks inspiration in the gifts of nature and the latest expertise in biochemistry. It develops plant-based products that have a positive effect on specific functions of the human body with a focus on product quality and purity without the addition of artificial additives.
By combining a scientific approach and inspiration from nature, it develops premium quality products with high functionality and efficacy. In doing so, it emphasizes the maximum effectiveness of active ingredients backed by current scientific research.
Food supplements are produced with the utmost respect for natural resources. NaturLabs strives to minimize the negative environmental impact caused by its existence.
NaturLabs' goal is to produce food supplements that benefit all living beings for their physical and mental health, enabling them to reach their full potential of being.
Data sheet
| | |
| --- | --- |
| Form: | Capsule |
| Country of Origin: | Czech republic |
| Vegan: | Yes |
| Gluten-Free: | Yes |
Related articles and recipes
Anyone who ever experienced the teeth pain knows that it´s not a walk in the park; and dental exam is generally a very unpopular activity. But the truth is we should be very grateful for dental care – formerly, people even died sometimes of blood poisoning caused by the tooth inflammation. We should be also thankful for the discovery of antibiotics although they have some side effects. In this article, we focus on what the teeth manifest about our health and how to care about them using natural remedies and avoiding chemical substances.
Selection of questions from Counselling
You can ask a question here and our experts will try to answer it.
Barbora Linhartová 10. March 2021
Dobrý den, ráda bych vyzkousela lipozomalni kurkumin. Chci se ale zeptat, zda ho mohu přidat ke kapslím lipozomalni C a lipozomalni D+K anebo jsou tři kapsle už moc? Děkuji, hezký den, Linhartová

Ing. Petra Vašková odpověděl:
product specialist, holistic nutrition consultant
Dobrý den, paní Linhartová,

můžete jej užívat v jednom dni společně. Doplňky si můžete rozdělit tak, že vitamin C budete brát ráno, vitamin D3+K2 během oběda a kurkumin navečer :-)

V případě dalších dotazů jsem k dispozici na 732 690 885 nebo petra.v@vitalvibe.cz.
Přeji krásný den,
s pozdravem,
Petra

Váš dotaz byl úspěšně odeslán našemu týmu. Děkujeme za otázku!
We can't share all information
about this product with you
Due to legislation, we can write very little about some products.
Our long-term customers know the products in depth and come back for them. We also encourage you to do your own research and make a conscious decision about what your body needs.

Jan Noah
Founder of Vitalvibe