Code:
Manufacturer: NaturLabs
Quantity: 60 capsules
Reviews: (0×)
Availability: In stock More than 5 pieces in stock (Try alternative products)
We apologize for the unavailability. Estimated availability is 1.1.1970. We can send you email when we get goods in stock.

We tested
"I use vitamin C especially during flu season when I want to support my immunity. In addition, its liposomal form guarantees maximum absorbability and usability."
Need help?
Customer service: (+420) 608 984 825
When ordering over 74,64 €
Free shipping
Discover the true power of vitamin C and enjoy it in its most absorbable form! Liposomal vitamin C from NaturLabs is maximally effective thanks to the revolutionary LipoCellTech processing technology.
This ensures that your body receives its benefits to the highest possible degree. Vitamin C can be considered one of the most important of all vitamins. It is known for its ability to contribute to the maintenance of normal immune system function. Beyond that, however, it supports a huge number of processes and functions in the body. It affects the absorption of certain substances with which it works synergistically, and in the long term it contributes to the maintenance of the body's internal harmony.
It helps return the body to its natural state of physical and mental health. Make the most of the potential of "C"!
Vitamin C is a complex active substance that contributes to overall harmony and helps to maintain the proper function of the human body's defences. It is involved in many biological processes in our body. It significantly influences the activity of all major regulatory systems, not only the already mentioned immune system, but also, for example, the nervous system. It helps to protect cells from oxidative stress. Its properties are beneficial for maintaining optimal vitality at the level of all cells and tissues.
What are the main beneficial effects of vitamin C?
It contributes to the normal function of the immune system.
It contributes to the normal functioning of the nervous system.
Contributes to the protection of cells from oxidative stress.
Contributes to the normal production of collagen for normal blood vessel function.
Contributes to normal collagen production for normal bone, gum and skin function.
Contributes to normal energy metabolism.
Contributes to a reduction in the rate of fatigue and exhaustion.
Contributes to the regeneration of the reduced form of vitamin E.
Increases iron absorption.
Contributes to the maintenance of normal immune system function during and after intense physical exercise.
Why liposomal vitamin C?
Unlike many other animals, our body cannot synthesize vitamin C on its own. Therefore, it is important to take it either as part of a vitamin C-rich diet or concentrated, through supplements. However, the key question is the absorption and actual bioavailability of the vitamin, which may not be high with conventional supplements (somewhere between 10-20% has been reported). Vitamin C is not stored by the body and any excess that is not absorbedexclusions.
Most common vitamin and mineral supplements, whether in supplement or tablet form, are not sufficiently absorbed by the body. However, during transport, the supplements are broken down in the digestive tract by digestive enzymes and digestive acids. Thus, only a small percentage of the nutrients actually reach their intended destination.
The liposomal form of vitamin C is revolutionizing absorption!
Why? Liposomal packaging eliminates this process and preserves the active leaf. Liposomes are molecules whose outer shell is made up of healthy fats (natural phospholipids) that encapsulate vitamin C. During absorption from the intestine, this fatty coating provides a protective cover for vitamin C. The liposomal protein is naturally absorbed through the wall of the intestine into the bloodstream and with it the intact vitamin C molecule is hidden inside, which is then easily absorbed from the blood directly into the cells.
Benefits of the liposomal form of vitamin C
Improved transport of vitamin C to the destination site - through the intestinal wall into the bloodstream and from there easy absorption directly into the cells
Perfect bioavailability- vitamin C utilization for the organism
The liposomal layer of vitamin C protects against damage in the digestive tract
No aftertaste, long shelf life and purity (no additives) - all thanks to the bulk form
What is it?
Purified Vitamin C is transported into cells through a patented liposomal structure of natural phospholipids, which provides the highest known bioavailability of Vitamin C in the human body.
The liposomal form increases the absorption of the vitamin by up to twenty times and allows cellular absorption from the wind by more than 90%. In addition, the liposomal form of vitamin C provides your body with a range of benefits proven in numerous clinical studies.
Unique technology at the molecular level
Liposomal forms of vitamins and minerals have been used in medicine for a number of years to increase the absorption of active substances into the body.
Liposomal Vitamin C from NaturLabs uses 100% natural LipoCellTech technology, which ensures an absorption rate of more than 95%! So you can finally feel the true effect of vitamin C supplementation.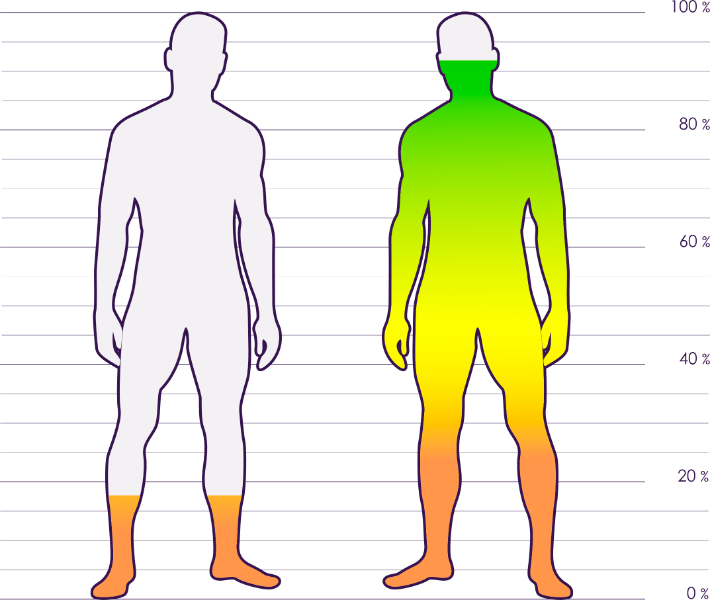 Visualization: absorbability of cellular vitamin C vs. absorbability of liposomal vitamin C
Specifically, the way it works is that the vitamin C molecule is coated with a phospholipid layer during processing. This is very similar to our cells, so it is more easily taken up by the cells and the contents easily penetrate inside. The phospholipid layer, on the other hand, protects the active leaflet on passage through the digestive tract to prevent its premature degradation. The device allows for smooth transport of the active ingredient through theinto the cells.
Such a liposomal structure is intrinsic to the body, and upon delivery of the active lipid into the cell, the phospholipids themselves become conducive to the cell envelope, where they aid in cell and tissue regeneration.
Why prefer bulk liposomal vitamins in capsules?

Liposomal dietary supplements are available in bulk and liquid form. What are the advantages of capsules filled with the supplement compared to a diluted liquid form?
Supplement capsules are easy to carry, convenient for travel and comfortable to use.
The powdered form of our liposomal vitamin C is purely additive-free. Of course, it does not contain any fillers, preservatives or inactive ingredients.
Compared to liquid forms, whose unpleasant taste is often masked by flavourings, the natural capsule form has a completely neutral taste.
The flavour packed in the capsule lasts much longer. Unlike liquid supplements, which must be consumed quickly after opening, the supplement form has a longer shelf life and is more stable.
Method of storage
To ensure daily recommended dosage, take 1 capsule daily, with water.
At times when the body needs more strength, we recommend taking 2-3 capsules daily, with water.
Contains 60 capsules = approximately 60 recommended daily doses. For as little as 8€/day you will get enough Vitamin C for optimal body function
Additional information
Nutritional values
Ingredients in recommended dosage
(2 capsules)
Vitamin C (Ascorbic acid)
500 mg (625%*)
LipoCellTechTM Liposomal proprietary blend
214 mg

Not a significant source of energy, carbohydrate, fat or protein.

* Reference intake value
Ingredients:
Vitamin C, LipoCellTech™ liposomal proprietary blend, palmitoleic acid phospholipids derived from non-GMO sunflower, vegan hydroxypropylmethylcellulose capsule.
Quantity: 60 capsules
Net weight: 32,49 g
Storage:
Store in a cool, dark and dry place.
Keep at room temperature.
Warning:
Dietary supplement, not to be used as a substitute for a varied diet. Do not exceed the recommended daily dosage. Keep out of reach of children. Not intended for children under 3 years of age.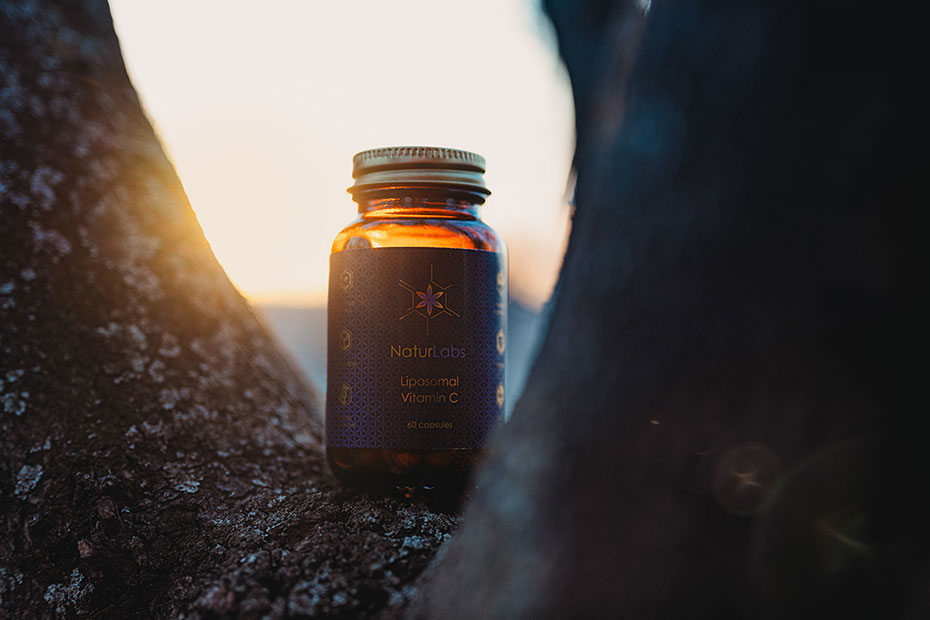 Why did we choose NaturLabs?
NaturLabs is a Czech brand that seeks inspiration from the gifts of nature and the latest expertise in biochemistry. It develops plant-based products that have a positive effect on specific functions of the human body with a focus on product quality and purity without the addition of artificial additives.
By combining a scientific approach and inspiration from nature, it develops premium quality products with high functionality and efficacy. In doing so, it emphasizes the maximum effectiveness of active ingredients backed by current scientific research.
Food supplements are produced with the utmost respect for natural resources. NaturLabs strives to minimize the negative environmental impact caused by its existence.
NaturLabs' goal is to produce food supplements that benefit all living beings for their physical and mental health, enabling them to reach their full potential of being.
Data sheet
| | |
| --- | --- |
| Form: | Capsule |
| Country of Origin: | Czech republic |
| Vegan: | Yes |
Related articles and recipes
Selection of questions from Counselling
You can ask a question here and our experts will try to answer it.
Helena Míková 30. January 2021
Dobrý den,

chci se zeptat, jaký je rozdíl mezi přírodním a liposomálním vitamínem C, které máte v nabídce? Z popisku asi chápu rozdíl ve výrobě a následném zpracování dané formy vitamínu v těle. Přesto mě z nějakého důvodu momentálně více zaujala přírodní forma vitamínu C, kterou nabízíte.
Můžete mi, prosím, napsat, jaký je rozdíl ve vstřebatelnosti přirodního a liposomálního vitamínu C, které máte v nabídce? Doporučila byste některý z těchto produktů více nebo je to "jedno" - věřím, že oba produkty jsou vysoce kvalitní (chci je užívat spolu s MSM).
Jsem zvyklá "snídat" na lačno chlorelu, spirulinu a zelený ječmen - je potřeba nějaký časový odstup, pokud bych chtěla začít užívat i váš vitamín C a MSM (kvůli vstřebatelnosti a tak)?

Děkuji a přeji pěkný den.

S pozdravem


Helena Míková

Ing. Petra Vašková odpověděl:
product specialist, holistic nutrition consultant
Dobrý den, paní Míková,

jak píšete, oba jsou velmi kvalitní a každý má své výhody. Liposomální vitamíny jsou obecně vysoce vstřebatelné, díky enkapsulaci do formy liposomů. Liposomy jsou složeny z přírodních tuků (fosfolipidů), které tvoří obal pro molekuly vitaminu C. Chrání jej tak před trávicími enzymy a navíc zvyšují absorpci v tenkém střevě, protože nezávisí na transportérech vitaminu C, vyžadujících energii. Přírodní vitamin C také vyniká vysokou biologickou dostupností díky tomu, že se jedná o 100% komplex vitamínu C na bázi ovoce (vyrobený z celistvých plodů ovoce, tedy jako součást celého komplexu látek). Obsahuje spolupůsobící látky, tzv. kofaktory, které pomáhají tělu se správnou absorpcí. Patří mezi ně polyfenoly, flavonoidy, minerální látky, aminokyseliny aj.. S MSM bych Vám asi více doporučila přírodní vitamin C, protože oba prášky pěkně rozmícháte v jednom nápoji :-). Vitamin C a MSM si dejte také na lačno, např. 30 min před obědem pro maximální vstřebatelnost (ne ráno se zelenými potravinami).

V případě dalších dotazů jsem k dispozici na 732 690 885 nebo petra.v@vitalvibe.cz.
Přeji pěkný den,
s pozdravem,
Petra

Romana 13. January 2021
Dobrý den,
jaké je prosím dávkování tohoto vitamínu u dětí 10 a 13 let? Chtěla bych koupit jednak tento vitamín a také D v tekuté formě. Je to vhodné? Případně jak je zkombinovat u dětí i dospělých? Mockrát děkuji.

Ing. Petra Vašková odpověděl:
product specialist, holistic nutrition consultant
Dobrý den,

oběma dětem bude stačit 1 kapsle/obden. Vitamin D v tekuté podobě bude nejlepší konkétně: https://www.vitalvibe.eu/cs/vitaminy-a-mineraly/909-vitamin-d3k2-tekuty.html. Dětem opět poloviční dávkování, tedy 0,5 ml/obden. S vitaminem C je to krásná kombinace pro podporu imunity.
Celkově tedy nuásledovně:
Dospělí: vitamin C lipozomální - 1 kapsle/ den; vitamin D3+K2 tekutý - 0,5 ml denně s jídlem.
Děti: vitamin C lipozomální - 1 kapsle/ obden; vitamin D3+K2 tekutý - 0,5 ml obden s jídlem.

V případě dalších dotazů jsem k dispozici na 732 690 885 nebo petra.v@vitalvibe.cz.

Přeji pěkný den,
s pozdravem,
Petra

Lucie Kaliszová 11. January 2021
Dobrý den,chtěla jsem se zeptat,jestli je možné při užívání lipozom.vit c kapsli vysypat a rozmíchat v nápoji a vypít-zejmena děti...které kapsli asi úplně nepolknou. Lze to i u vit.d3 a k2? nebo je striktně dáno,že se kapsle musí spolknout celá?Snižuje se nějak vstrebatelnost?

Ing. Petra Vašková odpověděl:
product specialist, holistic nutrition consultant
Dobrý den, paní Kaliszová,

Liposomální Vitamín C můžete bez problému rozpustit ve vodě, vstřebatelnost se nijak nesnižuje. To samé platí pro Liposomální vitamin D3+K2. Tady bych kvůli jeho rozpustnost v tucích volila obsah kapsle smíchat na lžičce oleje (kokosový, olivový) a takto spolknout, protože tuk usnadňuje vstřebatelnost.

V případě dalších dotazů jsem k dispozici na 732 690 885 nebo petra.v@vitalvibe.cz.

Přeji pěkný den,
s pozdravem,
Petra

Alena Provazníková 4. November 2020
Dobrý den, objednala jsem si od Vás Liposomální vitamín C, protože jsem na něj četla jen samou chválu. Bohužel jsem zjistila, že není doporučen pro kojící což v současné době jsem. Mohu se prosím zeptat z jakého důvodu bych ho neměla? Děkuji moc za odpověď a přeji krásný den Alena Provazníková

Ing. Petra Vašková odpověděl:
product specialist, holistic nutrition consultant
Dobrý den, paní Provazníková,

je to legislativní požadavek, který na doplňku stravy musí být uveden vždy. Liposomální vitamin C samozřejmě užívat můžete v běžném dávkování, tedy 1-2 kapsle denně.

V případě dalších dotazů jsem k dispozici na 732 690 885 nebo petra.v@vitalvibe.cz.
Přeji pěkný den,
s pozdravem

Petra

Marcela Petráková 22. October 2020
Dobrý den, ráda bych vás požádala o radu jaký preparát koupit dceři 13 let . Ttrápí jí velmi silná menstruace .Do toho je na bezlepkové dietě.Začátkem tohoto roku měla ledvinovou koliku s vyloučením kamínků z šťavelanu. Předem děkuji za radu. S pozdravem Marcela Petráková

Ing. Petra Vašková odpověděl:
product specialist, holistic nutrition consultant
Dobrý den, paní Petráková,

na silnou menstruaci by dceři mohly pomoci vitamin C a železo. Dívky a ženy, které mají dlouhodobě sníženou hladinu železa, mívají opravdu silnou a velmi bolestivou menstruaci. Vitamin C také může pomoci snížit krvácení a zároveň pomáhá tělu vstřebávat železo.

V rámci ledvinové koliky je pro dceru vhodná dieta nízká na šťavelany. Mnoho zdravých potravin má velký obsah šťavelanů (fazole, špenát,řepa, …). Zjistěte, jestli dcera náhodou nemá ve své stravě přemíru těchto potravin a pokud ano, zkuste je pro nějakou dobu omezit nebo s potravinami správně zacházet - obsah kyseliny šťavelové se přirozeně sníží blanšírováním a odstraněním použité vody (např. při namáčení luštěnin).

V případě dalších dotazů jsem k dispozici na petra.v@vitalvibe.cz nebo na telefonním čísle 732 690 885.
s přáním krásného dne,

Petra

Lucie 11. September 2020
Dobry den, pri problemu s polykanim kapsli je mozne kapsli rozlomit a obsah vypit napr. rozmichany ve vode nebo s jidlem? Dekuji, Lucie

Ing. Petra Vašková odpověděl:
product specialist, holistic nutrition consultant
Dobrý den, Luci,

ano, jak píšete. Ideálně rozmíchat ve vlažné vodě. Pokud máte problémy s polykáním kapslí, můžete sáhnout i po verzi v prášku z přírodních zdrojů - Camu camu a Vitamin C přírodní. (https://www.vitalvibe.eu/cs/vitamin-c/118-vitamin-c-prirodni.html a https://www.vitalvibe.eu/cs/super-potraviny/49-camu-camu-bio.html)

Přeji pěkný den,
s pozdravem,
Petra (petra.v@vitalvibe.cz)
Katka 23. August 2020
Dobry den, kolik mg C je obsazeno v 1 kapsli produktu liposomalni vit. C?
Dekuji,
Katka Vokurkova

Ing. Petra Vašková odpověděl:
product specialist, holistic nutrition consultant
Dobrý den, paní Katko,

jedna kapsle obsahuje 250 mg vitaminu C.

V případě dalších dotazů jsem k dispozici na 732 690 885 nebo petra.v@vitalvibe.cz.
S přáním pěkného dne,
Petra

Váš dotaz byl úspěšně odeslán našemu týmu. Děkujeme za otázku!
We can't share all information
about this product with you
Due to legislation, we can write very little about some products.
Our long-term customers know the products in depth and come back for them. We also encourage you to do your own research and make a conscious decision about what your body needs.

Jan Noah
Founder of Vitalvibe