Why breakfast is important
Breakfast can have a number of meanings depending on the person, but in the end, what you eat, or don't eat, in the morning can influence your entire day.
Breakfast, Smoothie
Breakfast brings to mind sweet, sticky piles of nap-inducing carbohydrates and giant, mixing-bowl-sized cereal binges. With so many options and a lot of misconstrued ideas about the first meal of the day, there are also plenty of opinions floating around about whether or not you should eat or skip breakfast. If you knew that a breakfast consisting of the right items could help you reach your physical health and wellness goals, would it tip you one way or the other? According to scientific research, timing and the nutrients you consume could make all the difference in how your body responds to hunger, energy, and performance all day.
Breakfast is the first meal you consume after fasting during your slumber. Therefore, you are literally breaking the fast from the night before. During this fast your body has been digesting items from your last meal using the nutrients to sustain and replenish your body. When you wake up, breakfast becomes your first opportunity to either fuel and rebuild your body with life sustaining nutrients or break it down with sugary processed "food."
If you skip breakfast, your body becomes depleted both mentally and physically. It's likely you'll be using stored protein—in other words, muscle—in order to keep your organs functioning. Harvard Health Publication breaks it down, "The blood sugar (glucose) we need to power our muscles and brains is normally low when we wake up, and breakfast helps replenish it. But if we miss the day's first meal, notes Dr. David S. Ludwig, a nutrition expert at Harvard-affiliated Children's Hospital Boston, we may start tapping our energy reserves — including what's stored in our muscle."
So what makes up the perfect fast-breaking meal? A clean protein and healthy fat source. A high protein breakfast of 25 to 30 grams will not only fill you up, it will also delay ghrelin hormone levels which trigger hunger later in the day. Protein will also burn more calories as it digests and stabilizes blood sugar levels to avoid an energy crash. Oh, and that healthy fat source will give your brain the sustenance it needs to function like a superhero. Here's a perfect option for jump-starting your day Sunwarrior Style: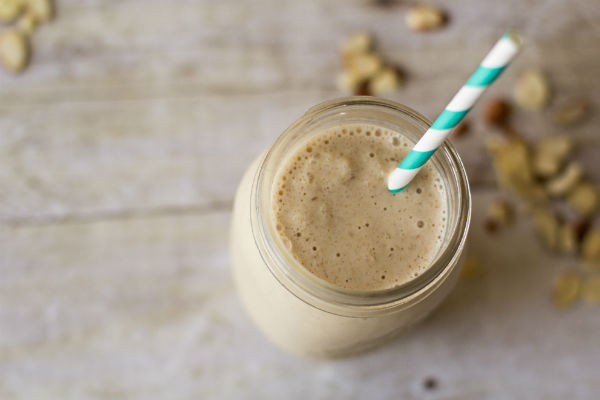 Ultimate Break-Fast Shake
Ingredients:
1½ to 2 scoops Sunwarrior vanilla or chocolate protein
1 cup unsweetened almond or coconut milk
1 cup water
¼ cup raw cashews
1 frozen banana
½ teaspoon vanilla extract (optional)
Directions:
Blend all of the ingredients on high until smooth and creamy. You can also always add your other favorite ingredients, like flax seed, chia, Ormus Greens, or Activated Barley! Whatever you choose to eat when you wake up, remember this: your first meal of the day is responsible for setting the tone of your metabolism for the whole day. Choose the Warrior Way!
http://www.sunwarrior.com/news/vegan-nutella-dipped-kumquats/
Time for a yummy, chocolaty treat that isn't filled with preservatives and chemicals. You're going to love this Nutella recipe!
The hilarious, fun, and always entertaining Jason Wrobel is in the kitchen again, tantalizing taste buds and dazzling senses. It's what he does, when he isn't on TV or feeding celebrities his creative, healthy dishes. J-Wro combines the familiar (nutella) with the unfamiliar (kumquats) this week.
He kicks this recipe off by making the nutella from scratch, vegan style, to dunk the kumquats in later.
This is one shimmy-worthy dessert. These dipped kumquats are unusual, quirky, and maybe even plain weird, but they're also fun, delightful, and downright delicious, much like their creator. Surprise your guest with something they'd never expect. They'll thank you for it.