Code: 1784
Manufacturer: Vitalvibe
Quantity: 290 g
Reviews: (4×)
Availability: In stock More than 5 pieces in stock (Try alternative products)
We apologize for the unavailability. Estimated availability is 19.10.2023. We can send you email when we get goods in stock.
Need help?
Customer service: (+420) 608 984 825
When ordering over 74,64 €
Free shipping
Take a moment for yourself. A delicious blend of raw cocoa powder with a hint of spice conjures up a drink to delight the soul and promote health.

The beneficial effects of cocoa have been known, revered and used extensively by the ancient Native American peoples of South America. They served it as medicine in the legendary cacao ceremonies. Now Ritual Cacao Simple is here for you. If you allow it, it will bring a little bit of the sacred into your everyday life.

Try something extraordinary
The legendary "food of the gods"
As far back as BC, "sacred" cacao was used as a ceremonial tool by South American Indians. Shamans used unroasted cacao beans to banish negativity, open euphoric states and connect with their heart energy. This is mainly due to the abundance of active substances that these berries contain.
Quality cacao is one of the most complex superfoods on the planet. It is a natural source of antioxidants, magnesium, calcium, iron, potassium and phosphorus.
With Ritual Cacao Simple, you will indulge in a great taste experience and nourish your body with a wealth of beneficial nutrients. The blend is a combination of raw cacao powder, spices and other natural ingredients for an even better taste.
Take advantage of a delicious cup of this fragrant drink to stop and tune into your own center. We believe a private cocoa ritual in the middle of the day will bring many miracles into your life!
What makes Ritual Cacao Simple great
premium flavored cocoa

delicious taste

completely unique recipe with the addition of unusual ingredients

with extra fibre

pure 100% natural ingredients

most ingredients in organic quality

meets the requirements of a vegan diet
How real cocoa is made
Cocoa beans are fruits of the cacao tree (Theobroma cacao), botanically classified as berry-like fruits and they taste like unsweetened dark chocolate. The birth of cocoa powderbegins with the grinding of unroasted cocoa beans. The fatty component, known as cocoa butter, is then separated from the mixture. The cocoa mass is then dried and ground into a fine powder. Cocoa powder therefore retains all the substances that are beneficial to the body and soul.

This cocoa powder belongs to a range of high quality organic ingredients that are 100% natural, organic and raw quality. Our supplier produces cocoa of premium quality and taste.



Who is behind it
Ritual Cacao was created in collaboration with Czech mixed martial arts (MMA) champion Jiri "BJP" Procházka. Jiri's passion for functional superfoods, which he uses to support his body and psyche instead of ordinary sports supplements, and his overlap into spirituality inspired the whole concept of these cocoa blends.
"Real cocoa is a source of energy for me. I mean natural, unprocessed cocoa. It can 'kick-start' the body and lift the mood.

But ritual cocoa gives me so much more. It's a stopping point and a connection to my own soul. Reverence. A little celebration during the day. Cocoa for victory!"


For an exclusive interview with Jiří Procházka that reveals his soul and perception of the world, read our magazine.

This unique cocoa was created out of the Vitalvibe team's sheer passion for quality chocolate. The recipe was co-written by Zuzana Noah (Love of Raw), an expert in raw chocolate specialties.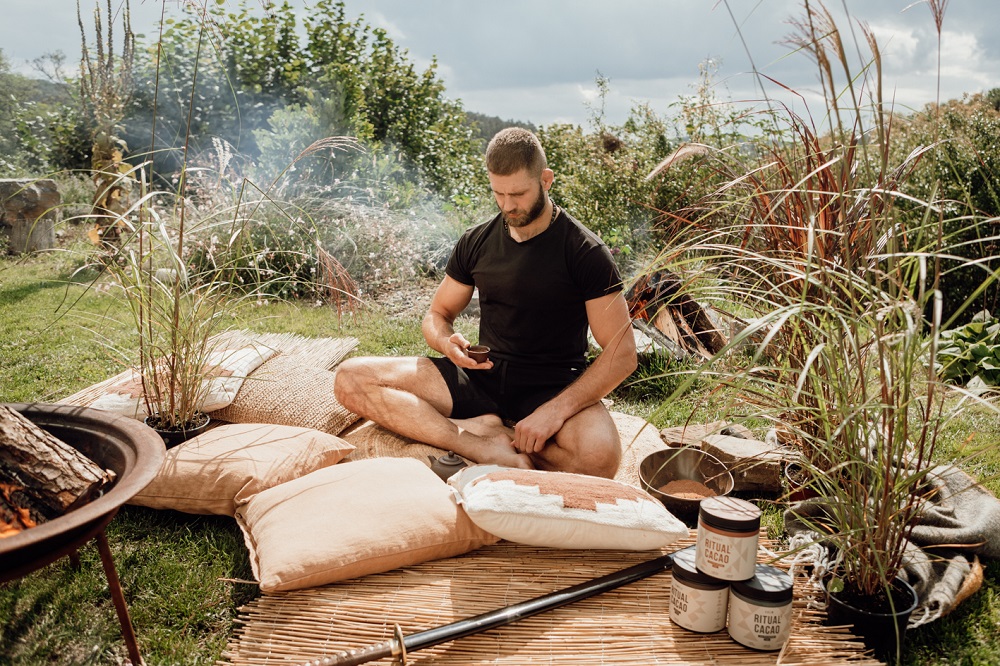 What Ritual Cacao Simple consists of
Raw cocoa powder
Cocoa beans in their unroasted (raw) form and products made from them are an excellent way to give your body energy, good mood and a clear mind. Thanks to the active substances they contain, they have a stimulating effect and induce a pleasant state of alertness.
They contain high levels of antioxidants, especially flavonoids, which eliminate the negative effect of free radicals and help protect the heart and blood vessels. Other beneficial substances contained in cocoa beans include magnesium, potassium, iron, copper and phosphorus. This is why they are a great way to get a light kick, stimulate the mind and lift the spirits.
Among the important trace elements contained in this cocoa is copper, which contributes to the proper functioning of the nervous system. It also supports the normal function of the immune system.

Organic agave inulin
Agave inulin acts as a soluble fibre. It has a positive effect on intestinal peristalsis. Due to its chemical structure, it passes through the colon where it acts as a prebiotic, i.e. nutrition for the beneficial bacteria that live there.
Organic coconut milk powder
Milk obtained from dehydrated coconut pulp with a high proportion of MCT fats is a quick source of energy. It has several advantages. In particular, it is easily digestible. And it has a wonderful taste and aroma.
Organic cinnamon
This spice is popular for its distinctive taste. Cinnamon is traditionally used for good digestion. It is also a natural source of antioxidants.
Organic allspice
This is an integral part of our cuisine. But did you know that allspice has also been used in herbalism to support the body in a number of common ailments? For example, it has been proven for proper digestion and digestion.
Natural vanilla aroma
What would cocoa be without a touch of vanilla? It gives it its typically sweet aroma.
Organic panela
This is the juice of sugar cane, which naturally contains molasses. Unlike white sugar, panela does not undergo refining, so it retains all the valuable substances that sugar cane contains.
Stevia
A pinch of natural sweetener, stevia, also provides a sweet taste without sugar.
Read more
Recommendeddosage
Add 3 levelled teaspoons (14.5 g) to approx. 200 ml of hot water and mix well.
Ingredients
Cocoa powder* (55%), panela*, agave inulin*, coconut milk*, cinnamon*, Himalayan salt, allspice*, sweetener: steviol glycosides, natural vanilla flavour.

*= Organic
| | | |
| --- | --- | --- |
| Nutritional values | per 100 g | per serving (14.5 g) |
| Energy value | 372,6 kcal/ 1557,5 kJ (19 %)* | 54 kcal/ 225,7 kJ (3 %)* |
| Fats | 17,5 g (25 %)* | 2,5 g (4 %) |
| of which saturates | 11,2 g (56%)* | 1,6 g (8 %)* |
| of which monounsaturated fatty acids | 4,1 g | 0,6 g |
| of which polyunsaturated fatty acids | 0,4 g | 0,1 g |
| of which omega 6 fatty acids | 0,4 g | 0,1 g |
| Carbohydrates | 28,9 g (11 %)* | 4,2 g (2 %)* |
| of which sugars | 18,4 g (20 %)* | 2,7 g (3 %)* |
| Fibre | 30,2 g | 4,4 g |
| Protein | 9,8 g (20%)* | 1,4 g (3 %)* |
| Salt | 0,7 g (12 %)* | 0,1 g (2 %)* |
| Magnesium | 264 mg (70%)* | 38.3 mg (10%)* |
| Potassium | 1 458 mg (73 %)* | 211 mg (11%)* |
| Copper | 2 mg (200 %)* | 0.3 mg (29%)* |
| Iron | 8.4 mg (60 %)* | 1.2 mg (9%)* |
| Phosphorus | 419.6 mg (60 %)* | 60.8 mg (9 %)* |
*) Reference intake value for an average adult (8,400 kJ / 2,000 kcal)
Notice
Dietary supplement. Keep out of reach of children. Do not exceed the recommended daily dose. Not a substitute for a varied diet. Extra caution is advisable in pregnancy, while breastfeeding and for children under 5 years of age. May contain traces of nuts.
Storage
Store in a dry place out of direct sunlight.
Data sheet
| | |
| --- | --- |
| Form: | Powder |
| Country of Origin: | Czech republic |
| Vegan: | Yes |
| Gluten-Free: | Yes |
Related articles and recipes
Selection of questions from Counselling
You can ask a question here and our experts will try to answer it.
Váš dotaz byl úspěšně odeslán našemu týmu. Děkujeme za otázku!
We're sorry we can't share with you
all the information about this product.
Various EU laws and regulations severely limit the extent to which we (and all other food business operators) can communicate the health benefits that these products offer to people.
Our long-standing customers are already intimately familiar with these foods, and they keep coming back to us for them. We also ask you to do your own research. You may discover much more about the potential benefits of these gifts of nature for your health...

John Noah
Founder of Vitalvibe