Gracious Living Lifestyle Creamy Pineapple Cilantro Soup
Here we have a beautifully creamy vegan soup that takes your taste buds on a delicious, unique journey!
Soup Thai
So many fresh flavors come together here, and anyone who has this soup always wants more! It's very high in enzymes to aid digestion and detoxification, vitamins and minerals essential for balanced health, fresh lemon and garlic to boost the immune system, spicy jalapeno to increase circulation, and absorbable plant-based protein from hemps seeds or unsweetened Sunwarrior natural protein powder to help with repair and growth of lean muscle mass. The coconut milk makes it nice and creamy. This is so easy to make, so easy to eat, and so easy to digest! A plant powered keeper.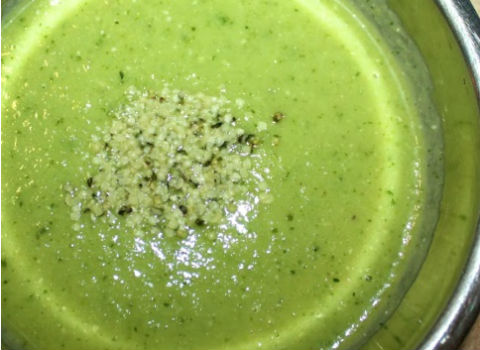 Gracious Living Lifestyle Creamy Pineapple Cilantro Soup
Ingredients:
2 cucumbers, peeled and cut into chunks
1 bunch cilantro
1 to 2 cups pineapple, cut into chunks
1 stalk celery, cut into pieces
Juice of 1 fresh lemon
1 clove garlic
1/2 jalapeno
1/2 cup hemp seeds
1 can sulfite-free coconut milk
1 cup water
Sea salt to taste
Directions:
Blend all the ingredients together till smooth and creamy. Serve it as is or chill for a few hours (or even better, chill overnight) for a more flavorful cold soup.