Sunwarrior Chocolate Coconut Pudding
Sweet treats abound during the holiday season, and we continue to add to that oh-so-good list with this recipe.
Breakfast, Cake & Dessert, For children
For many, Christmas wouldn't be complete without a bit of pudding. Okay, so this isn't a traditional Christmas pudding with the liquor and cooking and cake-like consistency, being a fairly regular everyday kind of pudding. But it's also not one of those boxed, add milk varieties full of sugar that only make you sick. This divine, sugar free pudding is raw, paleo, and ketogenic friendly. Enjoy it for breakfast or dessert!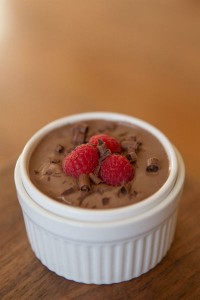 Sunwarrior Chocolate Coconut Pudding
Makes 2–3 servings
Ingredients:
1 cup young Thai coconut meat
2/3 cup coconut beverage (I like unsweetened Trader Joe's brand) or your own homemade coconut or almond milk
1 scoop Sunwarrior Warrior Blend chocolate protein powder
2 tablespoons cacao powder
2 tablespoons xylitol or few drops liquid stevia to taste
Dash of vanilla powder or teaspoon vanilla extract
Directions:
Blend coconut meat and coconut beverage together until very smooth. Add remaining ingredients and blend again. Add additional sweetener if needed.
Transfer to small serving bowls or ramekins and chill to firm. Serve with berries, nuts, cacao nibs, or your favorite toppings. Then sit back and enjoy!