Code: 1756
Manufacturer: Wild & Coco
Quantity: 300 g
Reviews: (2×)
Availability: In stock More than 5 pieces in stock
We apologize for the unavailability. Estimated availability is 1.1.1970. We can send you email when we get goods in stock.
Need help?
Customer service: (+420) 608 984 825
When ordering over 74,64 €
Free shipping
Dried coconut milk powder has many uses. It is such a "happiness powder", as it is called by its manufacturer - the company Wild & Coco. It has a delicious and full coconut flavour and aroma. It is a great substitute for animal milk and cream as it is naturally lactose free. Dried coconut milk is created by blending and dehydrating coconut pulp and has additional advantages over liquid milk, namely longer shelf life and easier storage. So it's a great fit for any kitchen - big, small or just the kind you don't frequent that often.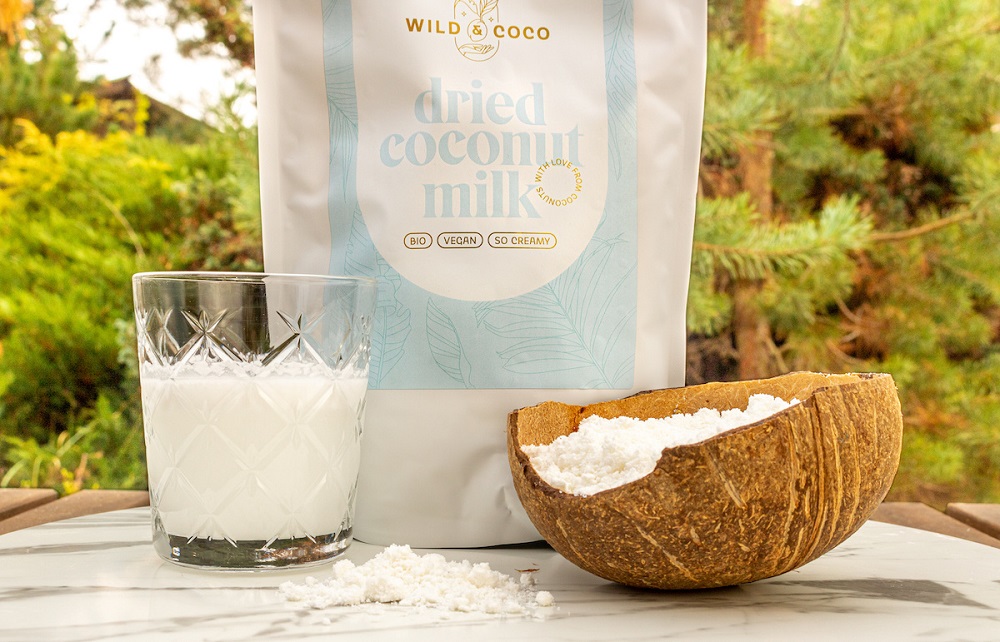 What makes coconut milk great?
Coconut milk contains a high proportion of so-called MCT fats, which are considered a healthy and quick source of energy. Due to their easy digestibility, they are also suitable for those who find it harder to digest more complex fats.
How to use coconut milk?
It is a great ingredient (not only) for Asian cuisine.
The milk is suitable for both cold and hot dishes: in smoothies, cocoa, porridges, desserts, puddings and sauces.
If you want to make coconut cream, mix it with water in a 1:2 ratio.
To make coconut milk (i.e. less fatty than cream), mix with water in a 1:3 ratio.
Use 1-2 teaspoons to flavour your coffee.
Additional information:
Ingredients: dehydrated coconut pulp extract (97%), tapioca starch (2.5%), acacia fiber (0.5%).
| | |
| --- | --- |
| Nutritional values | per 100 g of product |
| Energy | 2930 kJ/ 700 kcal |
| Fats | 64 g |
| of which saturates | 61 g |
| Carbohydrates | 26 g |
| of which sugars | 8 g |
| Fibre | 0 g |
| Protein | 6 g |
| Salt | < 0,1 g |
Can be glued into larger pieces due to the absence of chemicals. Can turn pink due to the natural activity of polyphenols.
Store in a dry place at room temperature. Use within 30 days after opening.
Data sheet
| | |
| --- | --- |
| Form: | Powder |
| Country of Origin: | Vietnam |
| Vegan: | Yes |
| Gluten-Free: | Yes |
Related articles and recipes
Selection of questions from Counselling
You can ask a question here and our experts will try to answer it.
Veronika Strnadelová 11. August 2022
Dobrý den, kdy očekáváte naskladnění kokosového mléka v prášku?

Ing. Petra Vašková odpověděl:
product specialist, holistic nutrition consultant
Dobrý den, Veru,

datum naskladnění zatím nevíme. Vždy, když bude předpokládané datum známo, bude uvedeno u produktu. Zatím můžete využít políčka "Omlouváme se za nedostupnost. Nechte si zaslat e-mail, až budeme mít zboží skladem."

Mějte pěkný den,
s pozdravem,
Petra
Váš dotaz byl úspěšně odeslán našemu týmu. Děkujeme za otázku!
We're sorry we can't share with you
all the information about this product.
Various EU laws and regulations severely limit the extent to which we (and all other food business operators) can communicate the health benefits that these products offer to people.
Our long-standing customers are already intimately familiar with these foods, and they keep coming back to us for them. We also ask you to do your own research. You may discover much more about the potential benefits of these gifts of nature for your health...

John Noah
Founder of Vitalvibe