Code: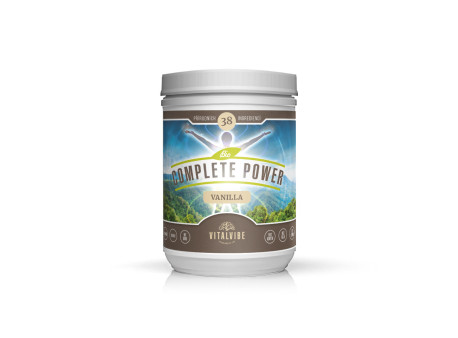 Main product features
excellent

taste

without additives

and other chemicals

no

added sugar

or

sweeteners

gluten free

easy preparation
When ordering over 74,64 €
Free shipping
Need help?
Customer service: (+420) 608 984 825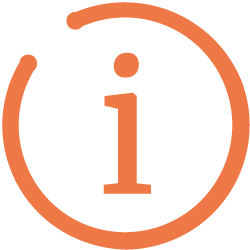 We are preparing a new version of Complete power
This product is currently sold out. We are preparing for you a new generation of Complete Power with an upgraded formula and excellent taste. We look forward to introducing it to you soon.

Complete power
A unique combination of 38 botanical ingredients in a delicious drink that fills you up and gives you energy. In addition to a high protein content, it contains beneficial phytonutrients from green foods, functional mushrooms and herbs.
What it helps with
How to use
Recommended dosage: 35 g powder (1 scoop) 1 time per day
For whom it is particularly suitable
Athletes
For high physical performance, full of energy. Supported by muscle growth. Mineral replenishment.
Overloaded people
A quick plant-based snack packed with protein and quality fats - at work and on the go.
People with higher cholesterol levels
Promotes healthy cholesterol and blood pressure levels.
People with low iron levels
For replenishing iron levels, improving body oxygenation and reducing fatigue.
Raw food lovers
Your smoothie not only gets a good dose of nutrients, but also a great new taste!
Active men
Testosterone production. (?)
Self-conscious women
Support natural blood (?)
Allergens and contraindications
In case of reduced renal function Children under 3 years of age Pregnant women and nursing mothers
We recommend consulting your physician before consumption in these cases.
Ingredients of vitamin and nutritional supplements
Rice protein
Pea protein
Flaxseed
Dark buckwheat
Coconut sugar
Young wheat
Maca
Alfalfa leaf juice
Pumpkin
Young barley leaves
Vanilla flavour
Maitake
Sprouted red clover
Eleuthero root
Sprouted sunflower seed
Sprouted quinoa
Rhodiola root
Chlorella
Spirulina
Acerola extract
Apple extract
Sprouted millet
Sprouted chickpeas
Sprouted lentils
Cordyceps
Cabbage
Parsley
Cabbage
Broccoli
Sprouted flaxseed
Seaweed kelp
Sprouted sea kelp
Shiitake
Dandelion leaves
Sprouted broccoli
Seaweed dulce
Steviol Glycosides
Natural flavouring
| | | |
| --- | --- | --- |
| Nutritional values | per 100 g | per serving (35 g) |
| Energy (kcal) | 452 kcal/1898.4 kJ | 158,2 kcal/661,3 kJ |
| Protein | 43 g | 15,05 g |
| Carbohydrates | 21 g | 7,35 g |
| of which sugars | 6 g | 2,1 g |
| Fats | 17 g | 5,95 g |
| of which saturated fat | 2 g | 0,7 g |
| Fibre | 12 g | 4,2 g |
| Salt | 0,1 g | 0,04 g |
| Calcium | 177 mg (22.13 %DDD) | 61,95 mg (7,74% DDD) |
| Iron | 15,2 mg (108,57 % DDD) | 5,32 mg (38 % of DDD) |
| Potassium | 421 mg (21,05 % DDD) | 147,35 mg (7,37 % DDD) |
| Magnesium | 136 mg (36, 27 % DDD) | 47,6 mg (12,69 % DDD) |
| Manganese | 1,96 mg (98 % DDD) | 0,69 mg (34,3 % DDD) |
| Phosphorus | 419 mg (59, 86 % DDD) | 146, 65 mg (20,95 % DDD) |
| Zinc | 4,98 mg (49,8 % DDD) | 1,74 mg (17,43% DDD) |
| Vitamin C | 42,8 mg (53,5 %DDD) | 14,98 mg ( 18,73 % DDD) |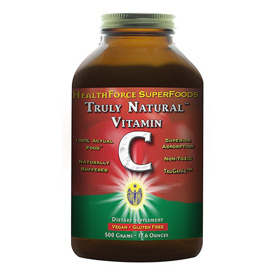 Promotes proper absorption of iron from Complete Power. Especially suitable for athletes.
From €69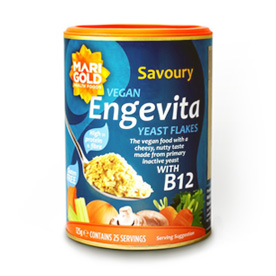 With its full spectrum of B vitamins, it perfectly complements Complete Power in the prevention of cramps.
From 259 Kč

Data sheet
| | |
| --- | --- |
| Form: | Powder |
| Quantity | 465 g |
| Serving size: | 35 g |
| Country of Origin: | USA |
| Raw: | Yes |
| Vegan: | Yes |
| Gluten-Free: | Yes |
| Organic | Yes |
Related articles and recipes
Selection of questions from Counselling
You can ask a question here and our experts will try to answer it.
Marek 8. January 2019
Dobrý den,jsem 45 lety muž ,který v minulosti sportoval ,ale dnes mám na 183 cm výšku 110 kg,uz sem schudl ze 120 kg ,ale teď mi váha stojí a já hledám kvalitní celodení stravu jako základ svého chudnutí a budování sportovní postavy,snazim se rano cvicit a pěstovat chůzi.Změna u mně byla nutností,vysoký krevní tlak,leky,3 vyhrezy plotének překyselený orgsnismus,zánět chronický žaludku atd.Láká mně Raw strava a vím že je složité poradit co mi doporučujete ,ale alespoň prosím o radu ,co si nasadit trvale místo snídaně případně večeře,myslím tím kopletní výživu,která pokryje mé výživové potřeby.Bílkoviny,mineràly,vitamíny.Můžete mi prosím poradit nebo mně nasměrovat správným směrem?Děkuji ps: zapomněl jsem dotat ,že o výživě mám základní znalosti,nic méně neorjentuji se ve vaši nabídce.Ještě moc děkuji:))

Lenka Sobková odpověděl:
Dobrý den, Marku,
ráda slyším, že vaše odhodlání už nese první výsledky. A také vám moc rádi poradíme, jak dále pokračovat.
Ve vašem případě by byl určitě zajímavý přípravek Complete Power, obsahující vedle určitého množství proteinů i poměrně vysoký podíl zdravých tuků. Je bohatý také na spoustu základních minerálních látek. Díky kvalitě zpracování si zachovává i další biologicky aktivní látky.
Jeho chuť je jemně vanilková (bez cukru, pouze se stévií), lze tak smíchat jen s čistou vodou, nebo třeba s (rostlinným) mlékem. Podle kombinace se proto báječně hodí jako snídaně, svačinka, nebo i lehká večeře.
V závislosti na složení stravy mohou být velmi přínosné i směsi rostlinných proteinů, nebo zelené potraviny.
Pokud byste měl zájem vše zkonzultovat podrobněji, ráda vám nabídnu možnost delší individuální konzultace. Poradit můžeme i s celkovým složením jídelníčku, stejně jako zodpovědět všechny vaše otázky.
Přeji vám krásný den a hodně úspěchů :)
Mgr. Lenka Sobková
Martin Svátek 25. February 2016
Dobrý den, kdy orientačně budou skladem vzorkové balení vanilkových produktů sunwarrior (protein,blend) Také bych se chtěl zeptat, zda-li taktéž máte malé balení Vitalvibe complete power? Děkuji

Michaela Ptáčková odpověděl:
Krásný den, Martine, v tuto chvíli jsou vzorky nedostupné až cca do května. Vzorek Vitalvibe complete power v nabídce nemáme. Stavte se za námi na stánek na festivalu Evolution, rádi Vám dáme ochutnat.:)
Martin Svátek 20. February 2016
Dobrý den,
chtěl bych se zeptat, jakou mají vaše vanilkové produkty chuť, zda-li přírodní vanilky, nebo uměle vanilkovou, jako většina produktů na trhu? Také bych se rád zeptal na rozdíly mezi produkty: vitalvibe complete power bio, sunwarrior protein a warrior blend, vše vanilkové. Kterou příchuť doporučujete? Je u těchto produktů již nějaká odměrka?
Děkuji za odpovědi.

Martin Svátek

Lukáš Vaníček odpověděl:
Dobrý den,


veškeré naše produkty s vanilkovou příchutí obsahují pouze vanilkové lusky, tudíž jejich chuť je naprosto přírodní. Rozdíl mezi Sunwarrior proteiny a Vitalvibe Complete Power je ten, že Complete Power je více vyživující, jelikož obsahuje 34 přírodních ingrediencí. Dalo by se tedy téměř říct, že v nouzové situaci je to i náhrada jídla. Oproti tomu Sunwarrior proteiny jsou čistě koncentrované 75–80 % bílkoviny. Jsou tedy spíše na regeneraci a stavbu svalů.


Mimochodem Vitalvibe Complete Power obsahuje i relativně vysoké množství bílkovin a to kolem 43 %. Je v něm bílkovina z hnědé naklíčené rýže (Sunwarrior Classic Protein Neochucený).


Já osobně střídám Sunwarrior Classic Protein Čokoládový a Vanilkový (občas si dám i Sunwarrior Blend Čokoládový). Každému ovšem chutná jiná varianta. Blend je takový jemnější. V rýžovém je vždycky trochu cítit to, že je to z prášku, přesto mi chutná více.
Linda 15. February 2016
Dobry den,
prosim, muze tento napoj i sestilete dite?
Dekuji za odpoved.
Linda

Lukáš Vaníček odpověděl:
Dobrý den,
nevidím v tom žádný problém. Šestileté dítě může už téměř vše pokud je to v malém množství.
Můžete to tedy zkusit přidat do jídelníčku. Dávkování bych viděl na třetinu (10 g) pro dospělé (30 g).
Smíchejte tedy cca 1-1,5 polévkových lžic s vodou. Osobně bych to doporučoval rozmixovat s banánem nebo hruškou. Bude to ještě chutnější :-)
Petra 9. January 2016
Dobrý den, je možné koktejl zařadit do redukční diety jako náhradu 1-2 jídel denně?

Michaela Ptáčková odpověděl:
Krásný den, Petro, je třeba dodržovat doporučenou denní dávku, tj. 1 odměrku denně, a lze ji rozdělit nebo přijmout najednou. Výborně se hodí např. do smoothie nebo chia kaše. Legislativně se jedná pouze o doplněk stravy, nikoli náhradu jídla, nicméně dle mého názoru je nutričními hodnotami pro tyto účely vhodný.
Jana 3. January 2016
Dobrý den, mohu tento protein použít jako noční ?

Michaela Ptáčková odpověděl:
Krásný den, Jano, ano, je možné dát si ho kdykoli během dne.
Váš dotaz byl úspěšně odeslán našemu týmu. Děkujeme za otázku!
We can't share all information
about this product with you
Due to legislation, we can write very little about some products.
Our long-term customers know the products in depth and come back for them. We also encourage you to do your own research and make a conscious decision about what your body needs.

Jan Noah
Founder of Vitalvibe