Code: 1194
Manufacturer: Vitalvibe
Quantity: 125 g
Reviews: (1×)
Availability: In stock More than 5 pieces in stock (Try alternative products)
We apologize for the unavailability. Estimated availability is 1.1.1970. We can send you email when we get goods in stock.
We tested
"I use the Maqui berry powder in the kitchen. It has a pleasantly sweet blueberry taste and scent. It adds an irresistible aroma to my desserts, as well as a lot of nutrients."
Need help?
Customer service: (+420) 608 984 825
When ordering over 74,64 €
Free shipping
This South American fruit, similar to our blueberries, has been used by Andean Indians for thousands of years as an elixir of longevity. And for good reason. Its purple anthocyanin dyes are a source of beneficial antioxidants.
Thanks to the plant's dyes, maqui can be used to work magic in the kitchen. They'll turn dishes from purple to red depending on what you mix them with. The powder has a pleasantly sweet "blueberry" taste and aroma. Use it in your dishes. In addition to the purple colour, it adds an irresistible aroma and lots of nutrients to desserts.
Maqui berry is especially a rich source of antioxidants. It contains the plant dyes anthocyanins and beneficial flavonoids, which, in synergy with other vitamins and minerals, have many beneficial effects. Consumption of this fruit contributes to the maintenance of normal immune system function.
Our product contains 100% pure powder from finely ground wild fruits in organic raw quality. The fruits have been freeze-dried to retain their unique properties and superior nutritional values. The powder consistency is even more concentrated in nutrient content compared to the berries.
Maqui powder has a sweet fruity flavor and aroma reminiscent of ripe blueberries.

The maqui berry story
Maqui berries (Aristotelia chilensis) are small, purple-black berries, similar to our blueberries, growing on tropical palm trees in the temperate rainforests of the Patagonia region of Chile and Argentina. Maqui has been used for thousands of years by the local Indians as a source of robust health and endurance. It is said that the indigenous peoples of the region used these "blueberries" to fend off all conquistadors, including the Incas. Only today are maqui berries known in the West as an excellent source of antioxidants.
The berries are traditionally used in Chilean natural medicine and contain a high amount of natural antioxidants in terms of ORAC (free radical absorbing capacity). They have the highest concentration of natural blue-violet anthocyanin dyes of any known super fruit or berry including acai, amalaki, pomegranate or mangosteen.
Maqui is similar in its effects to our wild blueberries. However, due to the sunny environment in which it grows, it has many times higher levels of active ingredients.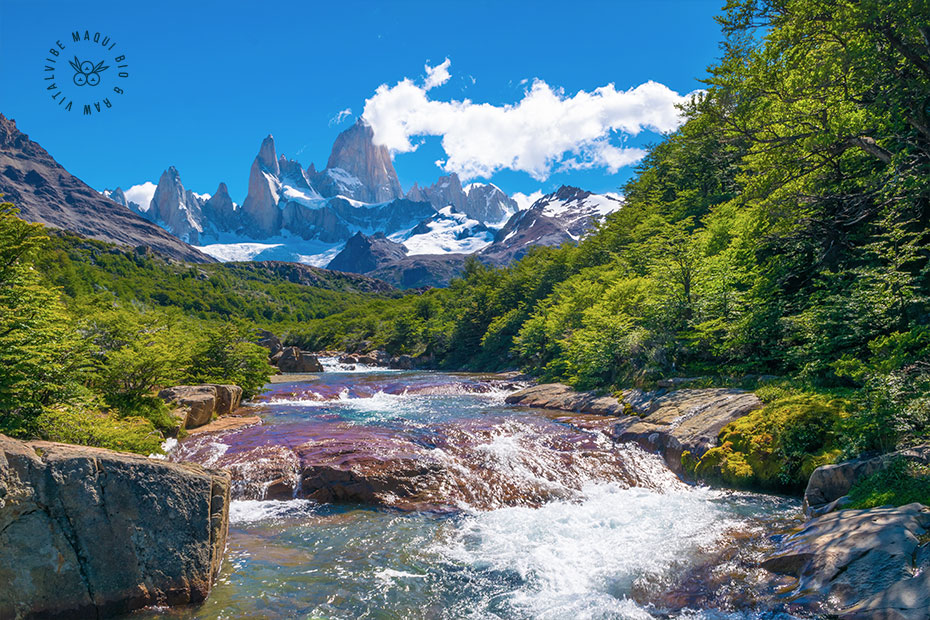 How to use the maqui berry in the kitchen
Maqui can be added freely to breakfast smoothies, fruit juices, energy bars, cereals and other foods.
You can also work magic with maqui in the kitchen. Blue-violet dyes are great because they change their coloration according to the pH of the environment in which you dissolve them. You can use maqui powder as a healthy natural coloring for your desserts. Cakes, ice creams, porridges and the creams turn a beautiful purple.


Take inspiration from our recipes



Read more
Recommended Dosage: Add 1 teaspoon (6 g) of maqui powder to breakfast smoothies, fruit or vegetable juices, water, yogurt, cereal, porridge, etc.
Ingredients: 100% pure freeze-dried organic maqui fruit powder.
| | |
| --- | --- |
| Nutritional values | In 1 serving: teaspoon (6 g) |
| Energy value | 95 kJ/ 22.7kcal |
| Fats | 0,6 g |
| of which saturated | 0,1 g |
| Carbohydrates | 3,4 g |
| of which sugars | 2,26 g |
| Fibre | 1,15 g |
| Protein | 0,43 g |
| Salt** | 0 g |
*Reference intake values
Store in a cool place and at low humidity (<55%) in a tightly sealed container and protect from strong light.
Dietary supplement, not to be used as a substitute for a varied diet. Do not exceed the recommended daily dosage. Keep out of reach of children. Not intended for children up to 3 years of age. If you are pregnant or breastfeeding, consult a physician before use.
Data sheet
| | |
| --- | --- |
| Weight including packaging | 150 g |
| Form: | Powder |
| Quantity | 125 g |
| Country of Origin: | Chile |
| Raw: | Yes |
| Vegan: | Yes |
| Gluten-Free: | Yes |
| Organic | Yes |
Related articles and recipes
Selection of questions from Counselling
You can ask a question here and our experts will try to answer it.
Helena Plívová 6. September 2015
Je prosím vhodný tento produkt i pro děti - pro posílení organismu na podzim? Dceři je 9 let a hledám alternativní cesty, jak podpořit její obranyschopnost na podzim. Nemá závažné choroby, ale často bývala nemocná na podzim. Díky za zprávu, Helena

Michaela Ptáčková odpověděl:
Krásný den, Heleno, maqui příznivě působí imunitní systém, je to ale tropické ovoce s ochlazujícím účinkem na tělo, proto bych v době podzimu a zimy volila raději čaj Spring Dragon, medicínské houby (reishi, chaga) . Pro zimní období je skvělá i kustovnice čínská.
Váš dotaz byl úspěšně odeslán našemu týmu. Děkujeme za otázku!
We're sorry we can't share with you
all the information about this product.
Various EU laws and regulations severely limit the extent to which we (and all other food business operators) can communicate the health benefits that these products offer to people.
Our long-standing customers are already intimately familiar with these foods, and they keep coming back to us for them. We also ask you to do your own research. You may discover much more about the potential benefits of these gifts of nature for your health...

John Noah
Founder of Vitalvibe