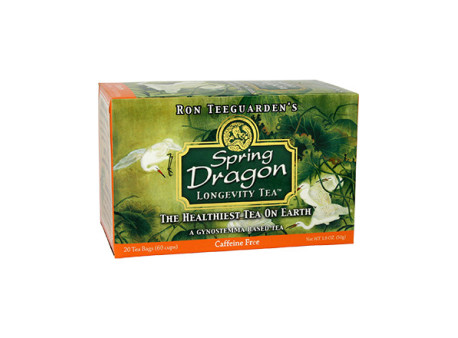 Manufacturer: Dragon Herbs
Quantity: 20 bags
Code: 1324
Availability: Not available Not available (Try alternative products)
We apologize for the unavailability. Estimated availability is 31.7.2021. We can send you email when we get goods in stock.
Spring Dragon Longevity Tea™ is more than just a blend of 6 chopped herbs. Dragon Herbs developed a special technology called Super Infusion Process (SIP)™ to get the best quality blend. Five premier tonic herbs have been optimally extracted together, resulting in a thick, concentrated syrup. The syrup is then infused into premium grade Gynostemma leaves. The saturated leaves are carefully dried, locking in the superior range of phytonutrients from all the tonic herbs. The result is a super-potent herbal formulation. This proprietary process ensures that our tonic herbal tea is 5 to 10 times stronger than other herbal teas that are just blends of chopped herbs.
Spring Dragon Longevity Tea™ is a delicious herbal tea composed of the most famous tonic herbs in the Orient, all of which are renowned for promoting a long and healthy life. The main herb is Gynostemma, a green leafy herb that is consumed throughout Asia to promote overall health. Gynostemma has a strong antifatigue effect*. In Asia, it is consumed by tens of millions of people every day, often in place of tea or coffee.

"Magical Grass" Gynostemma is considered to be
In Asia, Gynostemma is known as a "magical grass." It has been reported to have a wide range of health-promoting benefits.
Invigorating (Not a stimulant)
Calming (promotes a sense of peace– not a sedative, but adaptogenic)
Anti-aging (exhibits antioxidant activity)
Supportive of the body's natural immune system
A respiratory of tonic (helps support a healthy respiratory system)
A digestive aid (Gynostemma is very soothing)
The Story of Spring Dragon Longevity Tea
In 1972, a group of Japanese researchers reported that Gynostemma tea was being consumed as a daily "longevity tea" by large numbers of southern Chinese people. It was revered in the regions where it grew as "magical grass" because of its many reputed health benefits. Gynostemma tea had generally been made from wild mountain Gynostemma pentaphyllum plants, but as Gynostemma reputation as a longevity herb grew, farmers learned to cultivate it. Within a decade, Gynostemma was being consumed by millions of Asians as a tonic tea.
In 1992, Ron Teeguarden was traveling to China to oversea a production run of tonic herbal formulations. Because of a ticketing mistake, he was upgraded to first class. By coincidence, he was seated on the long flight from San Francisco to Beijing next to Professor Xiao Pei-Gen. When Ron met with Professor Xiao at the institute, he asked Professor Xiao if he knew of any special tonic herbs with significant anti-aging qualities. Professor Xiao responded instantly that Gynostemma was exactly what I was looking for. Professor Xiao introduced Ron to the supplier of the highest quality Gynostemma in China and Ron was ready to develop a product.
Gynostemma is traditionally consumed as a tea, just like green tea. At the same time, Ron had come across a special, traditional Chinese method of brewing "longevity teas" by supersaturating extracted herbs into tea leaves. Ron decided to use this ancient technology to supersaturate Gynostemma leaves with a number of other tonic herbs that had traditional reputations as longevity herbs. With the help of Yanlin, he found a tea master who knew the secret of preparing the "longevity teas." After experimenting for several months at Yanlin's parents' home in China, the final tea was determined and thus was born Spring Dragon Longevity Tea.
Beyond Gynostemma Leaves
Extract of these five premier tonic herbs has been infused into premium grade Gynostemma leaves using our SIP™ technolgy.
Schizandra (Schisandra chinensis)
Schizandra Fruit ("quintessence of Chinese herbs") is a delicious, exotic tonic fruit that is traditionally used to tonify all the systems of the body, nourish and moisturize the skin, and sharpen the mind. It exhibits antioxidant activity.
helps to improve physical and mental performance;
contributes to liver health;
maintenance of normal liver function and additionally supports the digestion and the body´s purification
contribution to physical well-being
tonic effect on human body
slows down ageing of cells
protects against free radicals thanks to antioxidants properties
Goji Berries (Lycium barbarum)


Goji Berries known in Asia as a premier "longevity and anti-aging herb," this delicious tonic fruit is a true superfood, exhibiting antioxidant activity. It is famous for enhancing strength, vision and beauty. Goji features immune system-supportig polysaccharides.
contributes to the protection against free radicals which can cause cell damage
can protect your cells and tissues from oxidative damage
can contribute to the total antioxidant capacity of the body
helps to improve men´s sexual functions and natural aphrodisiac for men
helps to support body´s immunity
beneficial effect on organism
helps to increase production of spermaa
helps to improve blood circulation
contribution to physical well-being
Astragalus Root (Astralagus membranaceus)
One of the most important herbs in all of herbalism, Astragalus is highly regarded for its effects in helping to support a healthy immune system. It is also a potent energy tonic and blood tonic.
helps to speed up metabolism
beneficial effects on spleen
helps to reduce body weight
contribute to better functioning of kidneys
helps to increase immunity of the body
Eleuthero Root (Eleutherococcus senticosus)
Eleuthero (Siberian Ginseng) is famous for its ability to enhance physical and mental endurance, to help us handle stress more efficiently and as a gentle mood elevator. Eleuthero is rich in saponins. It is a superb adaptogenic herb.
helps to improve immunity of organism
helps against aphthas
has tonizing and strengthening effects
Luo Han Guo Fruit (Siraitia grosvenori)
This delicious, exotic fruit has been used for centuries in Chinese traditional medicine as a lung tonic.
contains mogroside, a potent glucoside that helps to support a healthy immune system.
Ingredients: gynestemma, Luo Han Guo, eleuthero, goji, astragalus, goji, schizandra
This tea contains no caffeine and is safe for people with sugar sensitivity . Gluten Free.
Store in a cool, dark and dry place.
Data sheet
| | |
| --- | --- |
| Weight including packaging | 550 g |
| Form: | Tea Bags |
| Quantity | 20 tea bags |
| Country of Origin: | China |
| Vegan: | Yes |
| Gluten-Free: | Yes |
Related articles and recipes
A selection of questions from the Counselling Centre
Here you can ask questions and our experts will try to answer it for you.
Your Question has been successfully sent our team. Thanks for question!