Code: 1781
Manufacturer: My raw joy
Quantity: 200 g
Reviews: (0×)
Availability: In stock Only 3 pieces in stock
We apologize for the unavailability. Estimated availability is 1.1.1970. We can send you email when we get goods in stock.
Need help?
Customer service: (+420) 608 984 825
When ordering over 74,64 €
Free shipping
If you like chocolate, My Raw Joy's Smoothie Bowl blend with cocoa is perfect for you. It contains the benefits of raw Peruvian cacao, which is a well-known mood enhancer.
Use this organic plant-based mix to make a simple, healthy breakfast or snack that tastes great and contains valuable nutrients thanks to the honest, natural ingredients. Just pour into a bowl and stir.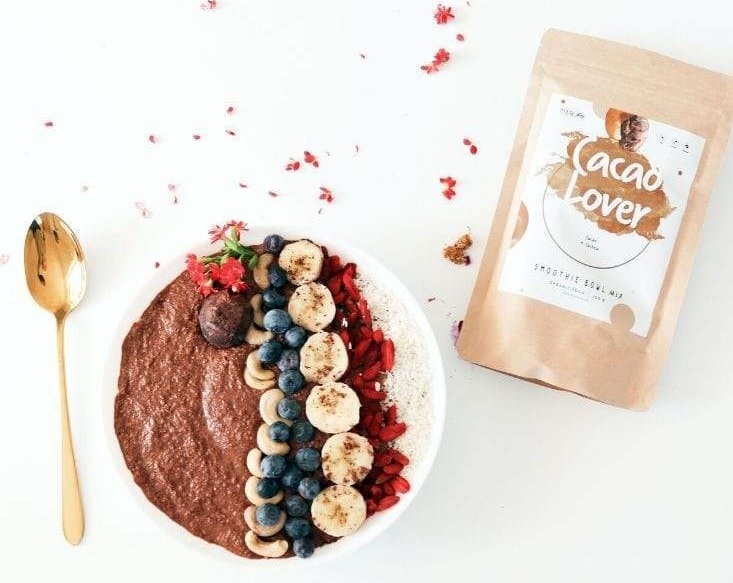 A quick breakfast made with natural ingredients
The Smoothie Bowl is perfect for preparing breakfast or snacks. Thanks to its balanced composition, it provides the body with all the necessary substances. The preparation is so easy that you are ready in one minute. With the shaker, you can easily make a smoothie at work, after sports or with your hands on the go.


Benefits of this product:
Raw, vegan & organic ingredients

Made from gently dried fruit

Contains gluten-free oatmeal and natural coconut sugar for the perfect flavor balance

High in fibre

0% additives (no artificial flavours or preservatives)

Easy and quick to prepare (just whisk in a bowl or add directly to a smoothie)

How to use Smoothie Bowl Blend:
4 servings per bag (1 serving = 50 g)

Shake it with water, nut/vegetable milk or juice

Mix it with porridge or yoghurt

Make a smoothie directly from the mixture or mix it in a bowl

Sprinkle the mixture on your favourite dessert or toast





Learn more
Weight:
1 bag = 200 g
Ingredients:
Gluten-free oatmeal*, cocoa powder* (17.5%), coconut flakes*, coconut sugar*, psyllium*, cashew nuts* (5%).
*= Product of organic farming
| | |
| --- | --- |
| Nutritional values | in 100 g |
| Energy value | 1560 kJ/ 374 kcal |
| Fats | 13,6 g |
| of which saturated | 7,1 g |
| Carbohydrates | 49,7 g |
| of which sugars | 18,1 g |
| fibre | 16,2 g |
| Protein | 9,6 g |
| Salt | 0 g |
Warning:
May contain traces of cashews, hazelnuts, almonds, pecans and pistachios.
Storage:
Store in a cool, dark and dry place.



Why we love My Raw Joy
A family-run business, My Raw Joy is here for all lovers of smoothies, nutty goodness and quality chocolate. And most of all for those who want to please their palate while thinking about their health.
All the ingredients in their products come from sustainable organic farming and are processed at a temperature of no more than 42°C. As a result, they retain all the nutrients that are beneficial to our bodies.
My Raw Joy offers a wide range of breakfast mixes, bars, chocolate truffles, chocolate and nut creams, as well as savoury goodies made from dehydrated vegetables. Everything is purely vegan, made by hand and with love in the Czech Republic.
If you love chocolate like we do, then this cocoa flavour is perfect for you! You'll get all the benefits of raw Peruvian cacao, which is known for its antitoxidant, anti-inflammatory and mood-enhancing properties.
Data sheet
| | |
| --- | --- |
| Form: | Powder |
| Country of Origin: | Czech republic |
| Raw: | Yes |
| Vegan: | Yes |
| Gluten-Free: | Yes |
| Organic | Yes |
Selection of questions from Counselling
You can ask a question here and our experts will try to answer it.
Váš dotaz byl úspěšně odeslán našemu týmu. Děkujeme za otázku!
We're sorry we can't share with you
all the information about this product.
Various EU laws and regulations severely limit the extent to which we (and all other food business operators) can communicate the health benefits that these products offer to people.
Our long-standing customers are already intimately familiar with these foods, and they keep coming back to us for them. We also ask you to do your own research. You may discover much more about the potential benefits of these gifts of nature for your health...

John Noah
Founder of Vitalvibe