Code:
Manufacturer: Vitalvibe
Quantity: 250 g
Reviews: (2×)
Availability: Out of stock Out of stock (Try alternative products)
We apologize for the unavailability. Estimated availability is 1.1.1970. We can send you email when we get goods in stock.
Need help?
Customer service: (+420) 608 984 825
When ordering over 74,64 €
Free shipping
Turn eating premium chocolate into a private ritual that will restore your strength and refresh your soul. Take on a truly healthy product that is perfectly functional and beneficial to your body!
The broken, lovingly prepared chocolate from the Love of Raw edition has been created with the utmost care. It is a handmade product with a perfectly fine-tuned recipe using the finest ingredients. This makes the chocolate as nutrient-rich as possible and can truly support you.

Taste the exquisite chocolate and make it too!
This delicious RAW chocolate was created by Zuzka Noah aka Love of Raw and her passion for making homemade chocolate. The original recipe is carefully fine-tuned to the ideal ratio of all ingredients. Thanks to the raw ingredients, the chocolate is really healthy and will provide you with a lot of beneficial substances.
Chocolate in this form is a natural source of antioxidants, magnesium, calcium, iron, potassium and phosphorus.
"The recipe for this chocolate has become so popular among my friends that I decided to offer it to other people through Vitalvibe. To start making chocolate by hand, in a ritualistic way, with the aim of teaching others to do the same, makes a lot of sense to me. But most of all, I really enjoy it!

I hope that you will not only enjoy this homemade broken chocolate, but that you will also decide to try making it yourself. I wish you lots of fun creating!"

- with love ❤ Love of Raw
Get creative with us
If you want to make your own chocolate after tasting it, there is nothing easier. We'll teach you! We reveal the exact recipe on the other side of the package. Taste, get inspired and make your own chocolate with the best ingredients of your imagination.
For ease of preparation, you can buy a complete package of ingredients and a special chocolate-making bowl already prepared.
Make chocolate making a ritual and fall in love with creating your own flavour combinations in a million ways!
The richness of quality chocolate
The legendary "food of the gods"...
As far back as BC, "sacred" cocoa was used as a ceremonial tool by South American Indians. Shamans used unroasted cacao beans to banish negativity, open euphoric states and connect with the energy of their own centre - the energy of the heart. And this is mainly due to the many active substances that this plant abounds with.
... and a complex superfood
Cocoa beans in their unroasted (raw) form and products made from them are an excellent way to give the body energy, good mood and a clear mind. Thanks to the active substances they contain, they have a stimulating effect and induce a pleasant state of alertness. They contain high levels of antioxidants, including flavonoids, which have a beneficial effect on the entire cardiovascular system.
Both the cocoa powder and the cocoa butter used to make this chocolate are among a range of high quality, organic ingredients that are 100% natural, organic and raw.
Thanks to this, this chocolate contains a concentrated amount of nutrients. Our body will thus perfectly use this goodie to its advantage and take from it the maximum of valuable substances it contains.
Beneficial substances hidden in chocolate ingredients
Cocoa is a source of valuable antioxidants, especially flavonoids, which eliminate the negative effect of free radicals and help protect the heart and blood vessels.

Cocoa beans contain beneficial substances such as magnesium, potassium and B vitamins, making them a great way to get a light kick, stimulate your mind and lift your spirits.
Cocoa butter is pure cocoa bean fat with a pleasant aroma. Among other things, it is a source of the important antioxidant vitamin E.
Cashews are full of valuable nutrients, including healthy fats (unsaturated fatty acids) and minerals.
The sweet coconut syrup has a delicious taste with the advantage of a low glycemic index.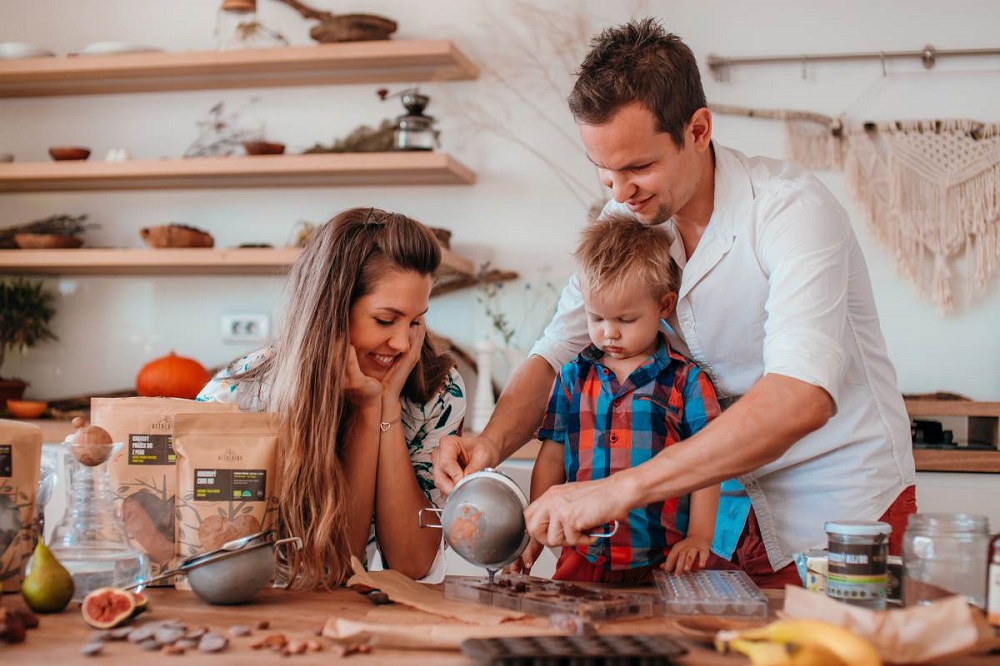 Pictured: Zuzka and Honza Noah from Vitalvibe with their son while making ritual chocolate
When chocolate is not a "sin"
Is chocolate really the proverbial dietary sin? The answer to this question lies in its quality.
The nutritional value of chocolate depends entirely on what it is made of and how it is made. Real chocolate made from basic, carefully processed ingredients is a nutritionally rich food.
In the case of conventional, industrially produced chocolates, the originally high-quality ingredients are replaced by hard-to-digest, often even risky substances. In many such products, for example, it is no longer nutritious cocoa butter, but rather solidified fats, cocoa from genetically modified beans and a lot of refined sugar, additives or flavourings.
Whereas living chocolate is made from uncooked cocoa beans and therefore has such enormous nutritional power. Not for nothing is it one of the world's most perfect superfoods! That is why high quality, pure chocolate induces a pleasant feeling of physical fitness and mental alertness.
The better the quality of the ingredients, the better you can nourish your body. Real chocolate provides your body with lots of energy, vitamins and minerals. It's not easy to overeat, because it only takes a few pieces to fill you up.
Our tip: A lot of interesting information and video of live chocolate has been compiled for you by Love of Raw on their website.
Read more
Ingredients:
Dried dates, cashew nuts*, cocoa butter*, raisins, cocoa powder*, cocoa beans crushed in coconut nectar*, dark coconut syrup*, Himalayan salt*
*= Vitalvibe
| | |
| --- | --- |
| Nutritional values | per 100 g |
| Energy value | 2281,8 kJ/ 545,9 kcal |
| Fats | 37,7 g |
| of which saturated | 18,2 g |
| Carbohydrates | 38,4 g |
| of which sugars | 19,1 g |
| Fibre | 9,7 g |
| Protein | 9,6 g |
| Salt | 1 g |
Storage:
Store in a cool, dark and dry place, ideally in the refrigerator.
Why we love Love of Raw
The creator of Love of Raw - Zuzka Noah is a passionate inspiration in the field of live food. Together with her husband, Honza Noah, owner of Vitalvibe, they are nurturing several projects to promote healthy and conscious living, in addition to their two amazing children.
She says, "This way of living fulfills us and gives us a huge sense of purpose." She adds: "We inspire others with our lives and spread with joy everything that works perfectly for us and that we discover on our journey to ever more radiant health and harmonious living."
Zuzka is a talented cook with an undying passion for raw vegan food. That's why she is always finding new ways to transform her body, health, and overall increase her own energy through healthy habits in her everyday life.
She loves to inspire and motivate others to do the same in her online courses, lectures and workshops. She has written several (not only) cookbooks and e-books, a number of articles and films everyone's favourite video recipes.
Data sheet
| | |
| --- | --- |
| Country of Origin: | Czech republic |
| Vegan: | Yes |
| Gluten-Free: | Yes |
Related articles and recipes
Selection of questions from Counselling
You can ask a question here and our experts will try to answer it.
Váš dotaz byl úspěšně odeslán našemu týmu. Děkujeme za otázku!
We can't share all information
about this product with you
Due to legislation, we can write very little about some products.
Our long-term customers know the products in depth and come back for them. We also encourage you to do your own research and make a conscious decision about what your body needs.

Jan Noah
Founder of Vitalvibe