You´ll Love These 4 Recipes with Spiralizer
Spiralizer is a great tool that will help you to liven up your dishes. It is easy to make many sorts of past without gluten and rich in vitamins with it. Our favourite recipes were inspired by Italy, Asia and also by our Czech grandmas´ cuisine.
Raw tagliatelle with mushroom pesto
Courgette can be processed in so many different ways; what about trying wide noodles this time? We added champignons and wall nuts and enjoyed that gourmet experience.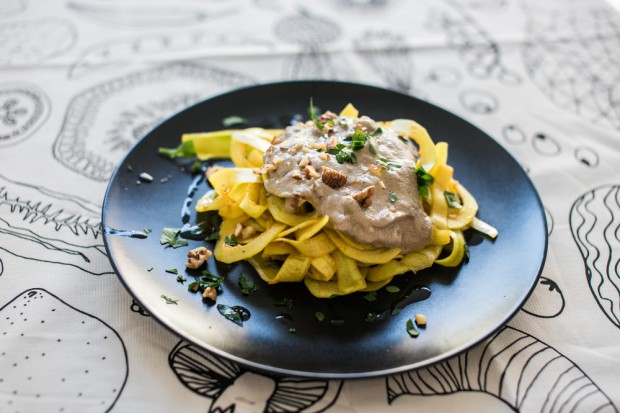 Ingredients for mushroom pesto (2 portions):
300g champignons
handful wall nuts
2 teaspoons olive oil
2-3 teaspoons water
¼ blended courgette
1 clove garlic
Himalayan salt
pepper
fresh rosemary
fresh parsley
Ingredients for tagliatelle (2 portions):
2 courgettes
turmeric
olive oil
Instructions:
Put champignons, wall nuts, courgette and garlic in the blender and pour a bit of oil in it. Blend it till it´s smooth. If the paste is too thick, add water. However, keep in mind that the mushrooms will let some water out as well. Season with herbs, salt and pepper.
Use spiralizer to cut the courgette in wide noodles – you may also use a peeler. Make a mix of olive oil and turmeric and soak the noodles in it – they´ll get a very nice yellow-orange colour.
Asian vegetable noodles with spicy dressing
Refreshing combination of vegetables and spicy dressing will pamper both eyes and taste of every Asian cuisine lover.
Ingredients for noodles (4 portions):
¼ red cabbage head
1 handful sprouted mungo
2 courgettes
8 carrots
4 peppers
sesame seeds
4 champignons marinated in tamari, oil and a bit of water
fresh chilli pepper (it´s up to you)
fresh coriander
Ingredients for dressing:
2 cloves garlic
2 cm ginger
juice from 1 lime
200 g cashew nuts
2 spoons light coconut nectar
olive oil
salt
pepper
Instructions:
Peel courgettes and carrots and cut it with spiralizer into thin noodles and mix with other vegetables sliced into thin pieces. Put the ingredients for the dressing into Vitamix and blend it in a smooth dressing. Sprinkle with sesame seeds and fresh coriander.
Courgette spaghetti with "meat balls"
As soon as you taste our raw/ vegan balls with courgette spaghetti, you won´t want anything else!
Ingredients for mushroom "meat" (2 portions):
300 g champignons
½ cup sunflower seeds, soaked
2 spoons grounded chia seeds
1 spring onion
1 teaspoon dried thyme
1 teaspoon fennel seeds
½ teaspoon oregano
½ teaspoon Himalayan salt
¼ teaspoon pepper
Ingredients for tomato sauce:
300 g tomatoes without seeds
100 g dried tomatoes, soaked
1 smaller onion
1 teaspoon raw coconut nectar
¼ cup apple vinegar
1 teaspoon Himalayan salt
¼ teaspoon garlic powder
1 clove garlic
1 spoon nutritional yeast
1 teaspoon Italian herbs
½ teaspoon pepper
Ingredients for courgette noodles:
1 big courgette per person
Instructions:
Blend the champignons first and add seeds and one half of herbs. Add the rest of herbs and the green onion tops only at the end to get a nice structure. Form balls from the "pastry" and then dry it for 10 – 12 hours at temperature of 40°C.
By blending all ingredients above, you´ll get tomato sauce. Season with herbs, salt, pepper and possibly a pinch of coconut sugar.
Cut the courgettes with spiralizer.
Raw noodles with poppy seed
It´s our grandmas´ classic in raw version. Prepare this popular delicacy to your children, you´ll see there´ll be no leftovers.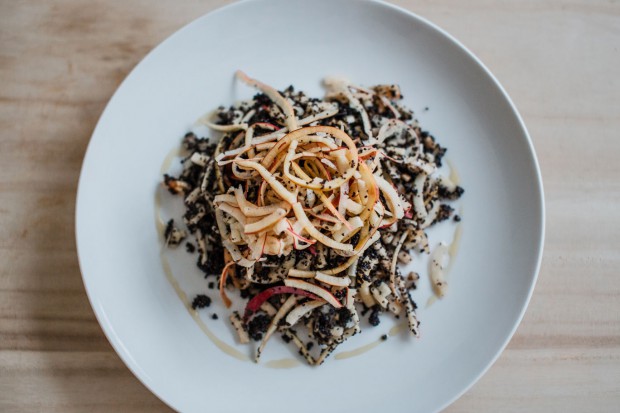 Ingredients (2 portions):
4 apples
100 g grounded poppy seed
1 spoon coconut oil
coconut nectar to taste
½ lemon
Instructions:
Using spiralizer, cut the apples in thick noodles and pour lemon juice on them so they won´t become brown. Cover the noodles in poppy seeds and coconut oil. You can sweeten it with coconut nectar.