Code: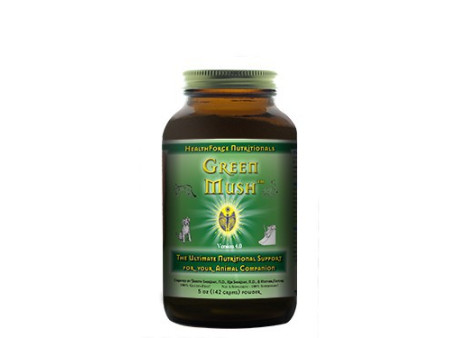 Green Mush™ is a pesticide free, whole food, green plant based combination. It is completely unlike traditional multivitamin/mineral products in that it is truly effective, totally non-toxic, and exceptionally absorbent with no toxicity (not settled out in the tissues as toxic deposits). There are absolutely no synthetics or isolated nutrients whatsoever in Green Mush™. The nutrients are exactly as they occur naturally in whole plant foods. They are fully recognizable and absorbent with NO toxicity!
The Green Mush™ Story
Green Mush™ came into being as a way to get the highest quality, most comprehensive nutrition into a precious member of our family — our beloved rat June. We mixed various superfoods with a little purified water into a "mush" consistency which was green due to the preponderance of green superfoods (thus, the name "Green Mush"). June absolutely loved it, and it was so nourishing for her! We continue to serve it to all our beloved rat-children. The formulation of Green Mush™ has turned into a quest, with many different versions and research going into the product we offer today. We have spared absolutely no expense in creating it, and it continues to evolve.
Ingredients (Vegan, Wildcrafted, and 100% Pure): Whole Leaf Barley and Wheat Grasses, Spirulina, Broken Cell Wall Chlorella, Horsetail Herb (Shavegrass), Nettle Leaf, Burdock Root, Alfalfa Leaf Juice, Dandelion Leaf Juice, Barley Grass Juice, Oat Grass Juice, Sea Vegetables (Nova Scotia Dulse and Icelandic Kelp), Carob Pod, Nopal Cactus, Plant Source Digestive Enzyme Complex (Protease, Amylase, Lipase, Cellulase, Alpha-Galactosidase, Bromelain, Papain), Co-enzyme Q10 (40 mg per 9.5 grams; 13.4 mg per teaspoon), and Ginger Root.
Recommended Intake: Great for dogs, cats, rabbits, rats, guinea pigs, hamsters, mice, ferrets, squirrels, other mammals, and human animals, too! Mix approximately one part powder to one or two parts purified water, fresh juice, or fruit such as a banana (for flavoring) to make a mush. Small animals, like rats, can eat it this way as a meal. For other animals, Green Mush™ can be mixed into their normal foods (you may need to add water because Green Mush™ is a dry powder). Daily serving depends upon the size of the animal.
Serving Size Examples:
• Rats – 1 teaspoon
• Cats, Rabbits, etc. – 2-5 teaspoons
• Dogs (up to 100 pounds) – 1-2 tablespoons
NOTE: All animal species are unique and have unique nutritional requirements. Foods and herbs that are good for one species can be harmful or fatal for another. Consult your veterinarian before feeding your animal companion Green Mush™.
Data sheet
| | |
| --- | --- |
| Form: | Powder |
| Country of Origin: | USA |
| Raw: | Yes |
| Vegan: | Yes |
| Gluten-Free: | Yes |
Výběr dotazů z Poradny
Zde nám můžete položit otázku a naši odborníci se Vám ji pokusí odpovědět.
Your Question has been successfully sent our team. Thanks for question!