Code: 1749
Manufacturer: Vitalvibe
Quantity: 125 g
Reviews: (1×)
Availability: In stock More than 5 pieces in stock (Try alternative products)
We apologize for the unavailability. Estimated availability is 1.1.1970. We can send you email when we get goods in stock.
Need help?
Customer service: (+420) 608 984 825
When ordering over 74,64 €
Free shipping
Want to boost your health and vitality with a good dose of nutrients? Try moringa. It is the most nutritionally rich plant on the planet. The "miracle tree", as moringa is often called, contains an incredible amount of beneficial substances.
Crushed moringa leaves are a complete food, bursting with vitamins, minerals, antioxidants and many other phytonutrients. This green superfood has been used for thousands of years as a means of maintaining health. Its complex beneficial effects have been known since ancient Ayurvedic medicine.
Our fair-trade moringa from Africa has been produced under organic farming conditions and helps the local farming community. With us, you are assured that you are getting a superfood of the highest organic quality with maximum nutrient content.
A so-called "miracle tree" with uses from roots to fruit
Moringaoleifera is also known as the "horseradish tree" because of the pungent taste of the root or as the "drumstick tree" because of the shape of the ripe pods, which resemble drumsticks. It is native to India, where it grows in the foothills of the Himalayas, from where it spread to Africa via Arabia. Its great advantage is its rapid growth and, above all, the abundant use of all parts of the tree.
The locals can use anything from the moringa. Not only the leaves, but also the roots, bark and even the flowers are processed. Since this species is able to grow even in very inhospitable conditions, it is literally a treasure for the locals.
Although most of the plant is edible, its leaves are considered to be its most nutritious part. In fact, it is the leaves that hold the greatest amount of vitamins and minerals, which are a powerful boost to vitality and overall health.
Scientists have found that moringa contains more than 92 nutrients, 46 types of antioxidants (such as flavonoids and phenolic acids with free radical-fighting properties), as well as B vitamins, vitamins A, C, D, E and K, and the minerals potassium, iron and calcium. It is also an excellent source of protein. It is therefore sometimes referred to as the 'multivitamin of the third millennium'. Moringa is, in short, a rich well of nutrients in which the body can choose just what it needs.
Moringa in traditional medicine and today
Moringa is considered to be the richest plant in the world, certainly in terms of nutrients, and its beneficial effects have been known since time immemorial. In traditional medicine, the beneficial moringa has been known for thousands of years and has been used as part of herbal mixtures for a wide variety of ailments. Traditionally, it has been used, for example, for digestive problems, to relieve pain and to relieve cramps. In addition, for women, this powerful herb has also been used to harmonize the hormonal axis and to promote breastfeeding.
In the western world, it is currently used to promote vitality and psychological well-being and especially for general wellbeing.thehealth trust. Interestingly, the American National Institute of Health awarded moringa the title of "Plant of the Year" in 2008.

The main health benefits of moringa
Immunity
One of moringa's greatest benefits is its ability to help maintain normal immune system function (thanks to vitamin A and iron, for example) and promote long-term health.
Experience
Moringa is a rich source of calcium, which contributes to the normal function of digestive enzymes. It also contains 31% fibre, which supports healthy digestion and contributes to gut health. Fibre is also useful when dieting - it helps you feel fuller for longer and promotes bowel peristalsis.
Mental support
Vitamin B1 (thiamine) contributes to the normal functioning of the nervous system. You will therefore feel the benefits of moringa at mentally challenging times.
Resistance to fatigue and exhaustion
Thanks to the iron and vitamin B2 (riboflavin) content, you can better resist fatigue and exhaustion.
Due to its high iron content, it is also an ideal supplement for vegans, vegetarians, or simply those who have low blood iron levels and need to support the production of red blood cells and hemoglobin.
Energy
The iron and calcium contained in moringa also contribute to normal energy metabolism. A morning green smoothie with moringa will boost your energy and make you feel good.
Protein
Moringa leaves are made up of 25% protein, which is quite extraordinary for a plant. Moringa powder contains 9 essential amino acids, making it a complete source of protein.
Healthy skin
Vitamin E helps protect cells from oxidative stress, which results in premature aging. Overall, moringa contains the most antioxidants of any known food. With an ORAC value of 157,000 (Oxygen Radical Absorbance Capacity), for example, it has 6 times higher antioxidant effects than goji berries.
Sight
Moringa is a rich source of vitamin A, which contributes to the maintenance of normal visual function.
Teeth
Calcium is needed to maintain normal teeth in adults and children. Moringa is an important source.
Bones
Maintaining strong and healthy bones is an important part of overall health. The leaves of the moringa oleifera tree are a rich reservoir of vitamin K, protein, calcium and magnesium, all of which support good bone health.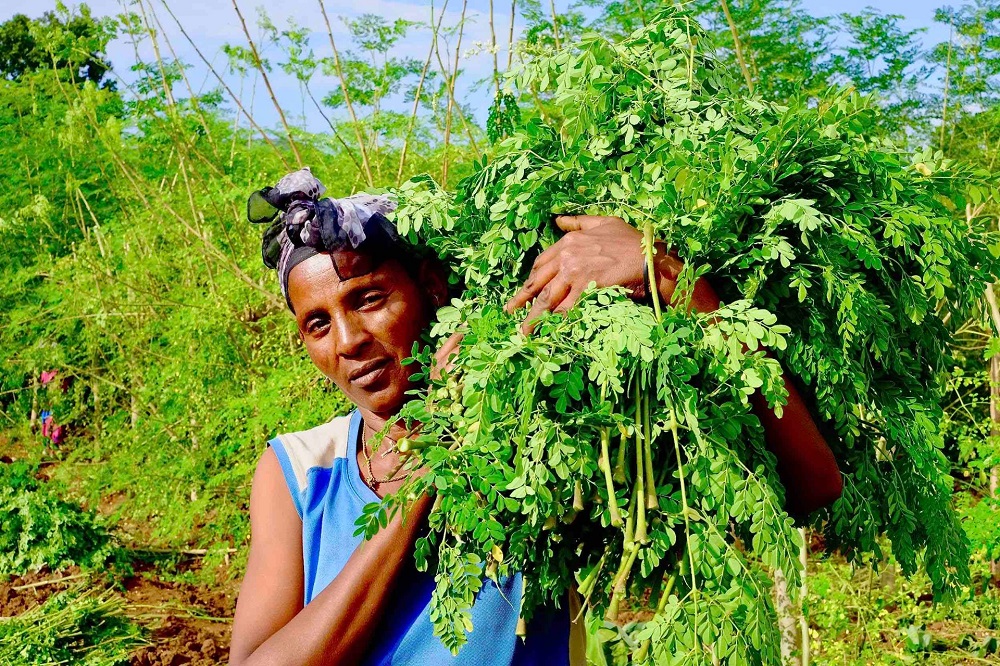 The story of our moringa
The home of our moringa is an ecologically clean area near Lake Abaya in southern Ethiopia. Here it is produced by a local farming community of women farmers involved in our supplier's fair-trade programme. The women's self-help group grows, harvests and gently dries the moringa in the shade of well-ventilated drying kilns. This produces a commodity of the highest possible organic quality.
Our supplier takes a responsible approach to agriculturetrong> and prides itself on high ethical business standards. It regularly trains the local community and ensures that it has adequate working facilities. The moringa produced from this fair trade project is not only a source of livelihood for many local families. Part of the money from its sale also forms an endowment fund for needy people in the local area.
How moringa powder is produced
Moringa is harvested in the morning or evening so that it does not lose its vitamins and minerals due to direct sunlight. Whole twigs are collected and transported in aerated baskets to the processing site. They are then washed in a mild salt solution and clean water to remove any dirt or microbes. After washing, the twigs are stripped of their leaves and dried in a well-ventilated room. The farmers crush the already dry moringa leaves in the traditional way and sift the powder through a sieve to make it really fine.
The moringa powder is stored in airtight containers, where it awaits export directly to Brno. Part of the production is destined for sale on the Ethiopian local market, which the farmers themselves provide, and is a source of additional income for them.
Our moringa is processed only by hand. There are no machines or higher temperatures involved. This ensures that the moringa does not lose its nutritional value, which is also evident in its beautiful green colour.

Why choose Vitalvibe moringa?
Our moringa is a product with an ethical context that actually helps a real local community in Ethiopia. It is more than a normal fair-trade product, as our supplier is in close contact with the farmers who grow the moringa and is actively involved in local development.
It is a crop that has grown in unpolluted nature. Thanks to gentle hand processing and adherence to strict organic practices, you can be sure that this is a superfood of the highest organic quality, free of GMOs and chemical pollutants.
Use
Recommended dosage: 1 teaspoon (2.5 g) three times a day (7.5 g)
As a green food it is suitable to mix with water, juices or smoothies.
Moringa can be used in hot or cold dishes.
You can use it as an ingredient in baking.
It can be added to soups, dressings and sauces.
It also works well in breakfast porridge, yoghurt or desserts.
There are many recipes and tips on the internet for incorporating this superfood into familiar dishes. For example, you can make moringa ice cream, pudding and pancakes.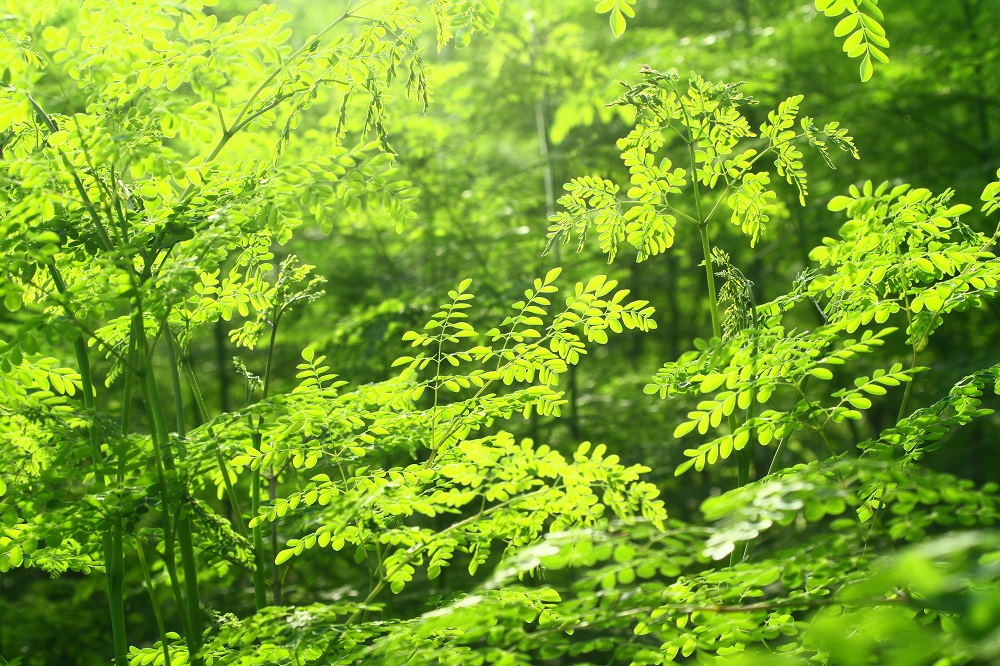 Read more
Ingredients: moringa (Moringa oleifera) crushed leaf (100% natural).
Nutritional values
in 100 g
In a daily dose of 7.5 g
(3 teaspoons)
Energy
1400 kJ / 334 kcal
105 kJ / 25 kcal
Fats
5,83 g
0, 44 g
Carbohydrates
34,90 g
2,62 g
Fibre
13,80 g
1,04 g
Protein
28,00 g
2,10 g
Salt **
0,17 g
0,01 g
Vitamin A
2840 µg
213 µg (27 %)*
Vitamin E
114,2 mg
8.57 mg (71 %)*
Vitamin K
1190 µg
89.25 µg (119 %)*
Vitamin C
23 mg
1.73 mg (2 %)*
Vitamin B1 (thiamine)
17,6 mg
1,32 mg (120 %)*
Vitamin B2 (riboflavin)
5,24 mg
0.39 mg (28 %)*
Vitamin B6 (pyridoxine)
1 mg
0,08 mg (6 %)*
Vitamin B12 (cobalamin)
2 µg
0,15 µg (6 %)*
Potassium
1450 mg
109 mg (5 %)*
Calcium
1852 mg
139 mg (17 %)*
Magnesium
495 mg
37 mg (2 %)*
Iron
46.7 mg
3.5 mg (25%)*
Zinc
2.52 mg
0.19 mg (2 %)*
* Reference intake value
** Naturally occurring sodium
Warning:
Dietary supplement, not intended as a substitute for a varied diet. Do not exceed the recommended daily dosage. Keep out of reach of children. If you are pregnant or nursing, consult a physician before use.
Storage:
Store dry, at temperatures below 25 °C and out of reach of children.
Data sheet
| | |
| --- | --- |
| Form: | Powder |
| Country of Origin: | Etiopia |
| Vegan: | Yes |
| Gluten-Free: | Yes |
| Organic | Yes |
Selection of questions from Counselling
You can ask a question here and our experts will try to answer it.
Váš dotaz byl úspěšně odeslán našemu týmu. Děkujeme za otázku!
We can't share all information
about this product with you
Due to legislation, we can write very little about some products.
Our long-term customers know the products in depth and come back for them. We also encourage you to do your own research and make a conscious decision about what your body needs.

Jan Noah
Founder of Vitalvibe