Flax Crackers with Mint Chutney
Got the munchies?
Salty snacks, Sauce & Dressing, Crackers and chips
Everyone gets the "munchies." You have the strong urge to munch on something, and mostly it's a bag of potato chips or pretzels.
Have you ever wondered why you get the sudden urge to munch on something? It's not because your jaws need exercise. It's due to a lack of certain nutrients—mostly sodium. There are number of reasons this could happen: a low intake of water, being very physically active, or not having enough sodium in your diet.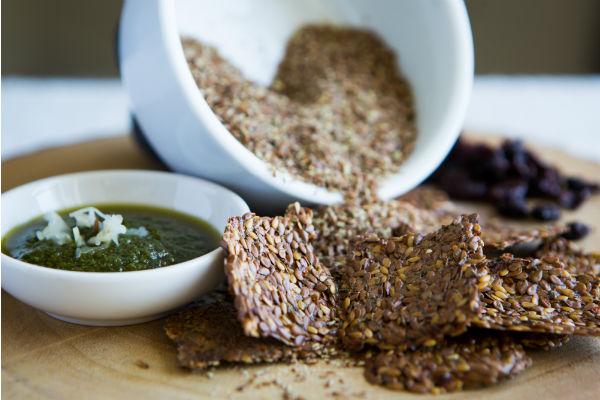 There are a zillion myths out there claiming sodium is bad for you. However, sodium is a vital electrolyte for your body. It helps with muscle contraction, blood regulation, and bodily functions. Hence, sodium itself is not bad for you. But the source is. Consuming huge amounts of cheese, table salt, and other processed sources are the causes for high blood pressure, bloating, and deteriorating bone development. Some great sources are seaweed, Himalayan sea salt, and celery.
Replacing your cravings with a healthy alternative can make your snacking time healthy, highly nutritious, and delicious. One of my favorite recipes are crackers made up of flaxseeds and sesame seeds that give you the perfect crunchy, salty, and satisfying feel. Flaxseeds are high in fiber and protein as well as omega-3 and omega-6 fatty acids. Sesame seeds are high in manganese and zinc. Both seeds blended with spices plus a side of smooth, nutritious herbal chutney will satisfy your snack cravings and make the perfect party platter treat.
Flax Crackers with Mint Chutney
What do you need?
Crackers:
2 cup flaxseeds, soaked
1⁄2 cup sesame seeds, soaked
2 tablespoons nutritional yeast
1 tablespoon sun-dried tomato powder
1 tablespoon onion powder
2 tablespoons honey
2 tablespoons lemon juice
1 teaspoon Himalayan sea salt
Mint Chutney:
1 cup fresh cilantro, minced
1⁄4 cup fresh mint, minced
1 tablespoon coconut oil
2 cloves garlic, crushed
2 tablespoons red onion, diced
1 lemon, juiced
1 green chili pepper
1⁄2 tablespoon Himalayan sea salt
1⁄4 cup pine nuts (optional)
What do you do?
For the crackers, blend all ingredients in a food processor until smooth. Transfer the mixture to a dehydrator tray and spread evenly. Score the dough, forming small squares or rectangles. Dehydrate at 115 ̊F for 18 to 20 hours.
For the chutney, blend all ingredients in a high-speed blender until smooth.
Once both are done, enjoy them together with your friends!