Code:
Manufacturer: HealthForce
Quantity: 60 kapslí
Availability: On stock On stock (Try alternative products)
We apologize for the unavailability. Estimated availability is 1.1.1970. We can send you email when we get goods in stock.
Friendly Force ™ - food supplement - a unique combination of 13 strains of beneficial and high-quality probiotics with carefully selected plant roots (yacon, burdock and marshmallow) and kelp algae, which contain polysaccharides with prebiotic properties. It contains two important, clinically studied probiotic strains of Lactobacillus acidophilus Superstrain DDS®-1 and Bifidobacterium animalis ssp. Lactis Superstrain UABla-12 ™.
In the daily dose (2 vegan capsules ™; 1 g):
Prebiotic mixture (800 mg)
• Yacon kořen
• Burdock (root) ◊∞
• Marshmallow (root) ∞
• Kelp (leaf) ◊ ° ∞
Probiotic mixture (200 mg) Total up to 40 MLD CFU *
• Lactobacillus plantarum UALp-05TM∞
• Lactobacillus acidophilus Superstrain DDS®-1∞
• Bifidobacterium animalis subsp. lactis Superstrain UABla-12TM∞
• Lactobacillus rhamnosus UALr-06TM∞
• Lactobacillus casei UALc-03TM∞
• Lactobacillus paracasei subsp. paracasei UALpc-04TM∞
• Lactobacillus gasseri UALg-05TM∞
• Lactobacillus salivarius UALs-07TM∞
• Lactobacillus reuteri UALre-16TM∞
• Streptococcus thermophilus UASt-09TM∞
• Bifidobacterium bifidum UABb-10TM∞
• Bifidobacterium longum subsp. longum UABl-14TM∞
• Lactobacillus delbrueckii subsp. bulgaricus UALb-15TM∞
◊ Organic ° Wild growing ∞TruGanic ™
* colony forming units on the expiration date
Other ingredients: 0.4% rice husk (anti-caking agent), Vegan Caps (fermented tapioca).
Recommended dosage: take 2 capsules daily on an empty stomach, drink with water.
Nutritional values

In the daily dose (2 Vegan Caps ™; 1 g):

Energy
4 kcal
Carbohydrates
< 1 g
Iron
0,6 mg (4,3 %)*
Iodine
25 µg (16,6 %)*
It is not a significant source of energy, fats, proteins or sugars.
* Reference intake value for the average adult (8,400 kJ / 2,000 kcal)
Natural part of the product


Dietary supplement, does not serve as a substitute for a varied diet. Do not exceed the recommended daily dosage. Not intended for pregnant, lactating women and children under 3 years. Keep out of reach of children. Store at room temperature below 25 ° C (up to 40 MLD CFU at the expiration date). Store in the refrigerator for maximum effectiveness. Protect from moisture and direct sunlight.
100% TruGanic ™: this is the cleanest and purest technical standard, the quality of which significantly exceeds the rules of organic production; no pesticides were used during cultivation, non-toxic cleaning agents and additives are used; electromagnetic radiation ensures air quality and performs up-to-date cleanliness checks.
EcoFresh Nutrient Lock ™: dark (amber) glass with a unique metal lid and oxygen scavenger protects 100% of nutrients (creates a vacuum); glass is recyclable, does not release hazardous gases and is non-toxic when decomposed.
Data sheet
| | |
| --- | --- |
| Form: | Kapsle |
| Country of Origin: | USA |
| Vegan: | Yes |
| Gluten-Free: | Yes |
| TruGanic | Yes |
Related articles and recipes
After a year, the summer and holidays are finally back and they bring a lot of joy and pleasant things. In today's article, we are going to focus on one of the most pleasant ones – travelling.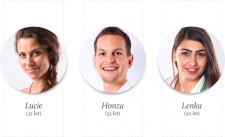 Today I have had a pleasure of talking with Lucie, Honza and Lenka from Vitalvibe. They have been already practising raw veganism for a couple of years. They have told me about their way to raw food and I would like to share their experience with you.
Výběr dotazů z Poradny
Zde nám můžete položit otázku a naši odborníci se Vám ji pokusí odpovědět.
Your Question has been successfully sent our team. Thanks for question!