Code: 1804
Manufacturer: Vitalvibe
Quantity: 500 ml
Reviews: (1×)
Availability: In stock More than 5 pieces in stock (Try alternative products)
We apologize for the unavailability. Estimated availability is 1.1.1970. We can send you email when we get goods in stock.
Main product features
a traditional sweetener originating in Canada
100% natural, derived from maple sap
robust, typically "maple" taste
consistency similar to liquid honey
natural source of minerals and antioxidants
lower glycemic index than beet sugar
suitable for flavouring dishes: in fruit salads, on pancakes, in ice creams, desserts and porridges, smoothies, etc.
Organic quality
When ordering over 74,64 €
Free shipping
Need help?
Customer service: (+420) 608 984 825
Maple syrup is a traditional sweet treat from Canada. This all-natural liquid sweetener is famous for its typical robust flavour with a hint of caramel. Maple syrup can tune your dishes to perfection, and that's why it's probably so popular around the world.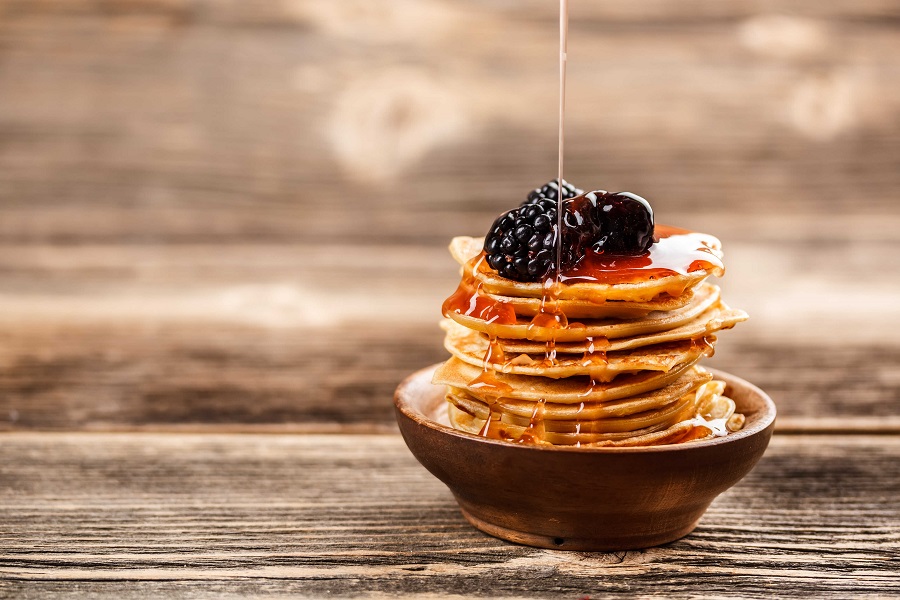 Maple syrup is an all-natural, organic sweetener that is characterised by its unique full maple flavour. Its strengths are its natural mineral content (e.g. potassium and calcium) and antioxidants. Our maple syrup carries the highest class A label. Syrup of this quality is darker and more flavourful than other types of maple syrup.
Compared to sugar, this sweetener has a lower glycemic index. The glycemic index of maple syrup is approximately 54. In comparison, beet sugar has a value of approximately 68.
What the glycemic index shows us
The glycemic index (GI) is a numerical value that ranks carbohydrates based on their rate of glycemic response (i.e., their conversion to glucose in the human body). This also determines the production and release of insulin from the pancreas into the blood.
The glycaemic index uses a scale from 0 to 100. Foods with GI values above 70 cause a rapid rise in blood sugar, which the body tries to lower by flushing out insulin. This can cause blood sugar levels to drop even lower than they were originally, leading to feelings of hunger or cravings for sweets. This often leads to further consumption of high GI foods.
To minimise this effect, it is advisable to choose foods with a lower GI (below 55).
This sweetener is a popular alternative to refined sugar. It is particularly recommended for the final flavouring of ready meals. Due to its viscous consistency, it is often used in vegan cooking as a substitute for honey.
The story of maple syrup
Maple syrup is one of the oldest sweeteners ever. It is most commonly obtained from the sap of the sugar maple (Acer saccharum), which grows in the forests of Canada. Here, the production and use of maple syrup has been part of a cultural tradition for many centuries.
Maple sap was collected and processed by Native Americans before the discovery of the Americas. European colonists such as the French sailor Jacques Cartier, who is said to have drunk maple sap during his Canadian voyages of discovery, learned from them.
How maple syrup is made
Our maple syrup is produced in the traditional way in accordance with the principles of organic farming. Care is taken to ensure that bottling the sap from maple trees does not interfere with the development of the trees or endanger the ecosystem.
The mature and carefully selected maple trees are carefully drilled with holes from which the sap flows into the prepared containers. Maple sap is collected at temperatures below freezing so that the tree is not damaged.
The raw sap contains about 97 % water, which is then evaporated and thickened to produce a syrup with a typical amber colour and maple flavour.
Uses of maple syrup
Due to its liquid consistency, maple syrup is suitable wherever it would be difficult to dissolve powdered sugar. Compared to sugar, it also has a higher sweetening power (3 parts syrup equals approximately 4 parts sugar).
It is ideal for flavouring dishes in a cold kitchen. It is excellent in fruit salads, smoothies, porridges, yogurt, raw cacao, chocolate and no-bake desserts. It can also be used as a sweet topping for pancakes, waffles or ice cream.
Since maple syrup has a higher sweetness than regular sugar, a smaller amount is all you need to sweeten your food or drink.
Sweeten in moderation
Although natural syrups are a preferable alternative to white sugar, they still remain a rich source of simple sugars and it's not a good idea to overdo it.
Read more
Ingredients:
100% Organic Dark Maple Syrup.
| | |
| --- | --- |
| Nutritional values | per 100 g |
| Energy value | 1130 kJ / 270 kcal |
| Fats | 0 g |
| of which saturated | 0 g |
| Carbohydrates | 67 g |
| of which sugars | 66 g |
| Fibre | 0 g |
| Protein | 0 g |
| Salt | 0 g |
| Potassium | 250 mg |
| Calcium | 75 mg |
| Iron | 0.4 mg |
| Manganese | 2.05 mg |
Storage:
Store in a dark and dry place. Store in the fridge after opening!
Data sheet
| | |
| --- | --- |
| Form: | Liquid |
| Country of Origin: | Canada |
| Vegan: | Yes |
| Gluten-Free: | Yes |
| Organic | Yes |
Related articles and recipes
Selection of questions from Counselling
You can ask a question here and our experts will try to answer it.
Váš dotaz byl úspěšně odeslán našemu týmu. Děkujeme za otázku!
We're sorry we can't share with you
all the information about this product.
Various EU laws and regulations severely limit the extent to which we (and all other food business operators) can communicate the health benefits that these products offer to people.
Our long-standing customers are already intimately familiar with these foods, and they keep coming back to us for them. We also ask you to do your own research. You may discover much more about the potential benefits of these gifts of nature for your health...

John Noah
Founder of Vitalvibe