Code: 1712
Manufacturer: GoodWays
Quantity: 450 ml
Reviews: (0×)
Availability: Out of stock Out of stock (Try alternative products)
We apologize for the unavailability. Estimated availability is 1.1.1970. We can send you email when we get goods in stock.
Need help?
Customer service: (+420) 608 984 825
When ordering over 74,64 €
Free shipping
Say goodbye to plastic bottles. The eco-friendly GoodGlass Thermo double-layer glass bottle with stainless steel strainer and uniquely styled bamboo lid ensures perfect enjoyment of water, herbal or fruit infusions and hot drinks.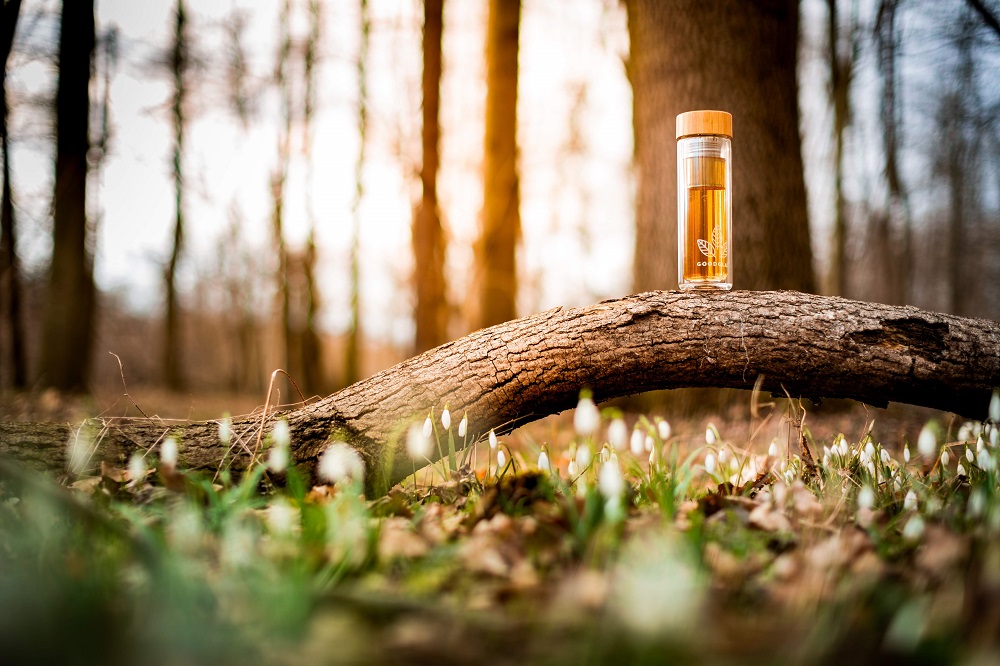 Discover the uniqueness of our limited edition bottle with the Tree of Life engraved on the lid from GoodWays and Vitalvibe.
The GoodGlass Thermo bottle is a glass infuser adapted to the modern lifestyle. It is made from carefully selected materials that are environmentally friendly. Clear glass, natural bamboo and stainless steel combine to make GoodGlass Thermo a beautifully designed bottle that you'll want to take with you everywhere.
Perfect for creating your favorite hot beverages.

The double wall borosilicate glass makes it versatile. It can be used for both cold and hot drinks and infusions. It does not burn and keeps the drink at a pleasantly drinkable temperature for 2-3 hours. Being transparent, it allows you to be creative and easily create beautiful and tasty infusions!

What is the GoodGlass Thermo Bottle?
Health Beneficial: It is made of solid glass, stainless steel filter and bamboo cap. All materials meet EU standards for

safety in contact with beverages and food.

The

bottle

is free of BPA and phthalates.
Durable. It can handle boiling water, extreme cold and temperature changes.
Practical: The wide neck allows for comfortable handling and easy rinsing. The double glass wall maintains the temperature of the beverage. The two-piece stainless steel strainer is a multifunctional filter for tea leaves, herbs or pieces of fruit. As you wish.
Environmentally friendly: Drinking glass is the most eco-friendly option. Thanks to its long service life, the use of conventional plastic bottles is reduced. All the materials used to make the bottle come from the same region and therefore respect the principle of localness. The manufacturer adheres to fair production principles. Bamboo is one of the most sustainable raw materials, as it grows very quickly and needs little water. No pesticides are needed to grow it.
Design: The unique design, elaborated to the smallest detail, gives the bottle a modern and elegant look.

This limited edition bottle is engraved with the Vitalvibe tree of life.
Our limited edition GoodGlass with the Vitalvibe tree was created as a returnthe cooperation between these two sustainable brands. The symbol of the tree of life represents a sacred pattern found in many cultures as part of art and spirituality. It is a source of healing, strength, energy and love for all life. Its energy is the energy of growth, connection, stability and life.
Uses of GoodGlass Thermo
Using both parts of the strainer:
Suitable for tea leaves, coarsely ground coffee, herbs... Place directly into the larger part of the strainer, screw in the smaller strainer, screw into the bottle and pour in water.


Use only the top part of the strainer:
In the case of larger pieces of fruit, vegetables or herbs, it is advisable and aesthetically desirable to put everything directly into the bottle and only screw in the smaller part of the strainer so that the contents do not go into the mouth when drinking.


Using the smaller part of the strainer:
It is also recommended for drinking plain water, as the water flows slowly through the strainer and thus provides an ideal sip (useful for example in the car when driving).


Use without strainer:
In case of thick smoothies, cocoa, etc.
Instructions for use:
Wash thoroughly before first use. Do not put the glass bottle in the dishwasher for safety reasons, the filter itself may come in the dishwasher. Parts that are made of natural bamboo should be hand washed and not left in water for extended periods of time to prevent cracking or otherwise deteriorating.
Material:
Borosilicate glass, stainless steel, natural bamboo
Weight and dimensions:
570 g (without packaging) / 24 × 7 cm / 450 ml

Why do we work with GoodWays?
GoodWays is a local brand from Brno that combines pure Scandinavian design with sustainability. Its founders and our friends, the Czech-Swedish couple Tereza Svobodová and Johann Nilsson, have always emphasized the combination of high quality and a packaging-free lifestyle.
That's why they create practical necessities for everyday life that both look beautiful and fully respect these values. Whether it's designer glass bottles, bamboo utensils or personal care items.
The main idea behind GoodWays is to reduce dependence on disposable products. "We believe that if we offer people beautiful and practical reusable alternatives that they will love, it will allow them to live a life with less waste," they say, and we couldn't agree more.
Because we subscribe to the same values, Vitalvibe's collaboration with GoodWays simply makes sense to us. We see the association with this brand as a great opportunity to enable you, our dear customers, to combine even more the joy and love of nature with quality self-care.
Related articles and recipes
Selection of questions from Counselling
You can ask a question here and our experts will try to answer it.
Jana Wrublová 16. February 2023
Dobrý den, kdy budete mít skladem?

Ing. Petra Vašková odpověděl:
product specialist, holistic nutrition consultant
Dobrý den, paní Wrublová,
v nejbližších měsících je neplánujeme objednávat, spíše na podzim 2023.
V případě dalších dotazů jsem k dispozici na 732 690 885 nebo petra.v@vitalvibe.cz.

Přeji krásný den,
s pozdravem,
Petra
Váš dotaz byl úspěšně odeslán našemu týmu. Děkujeme za otázku!