Code: 1289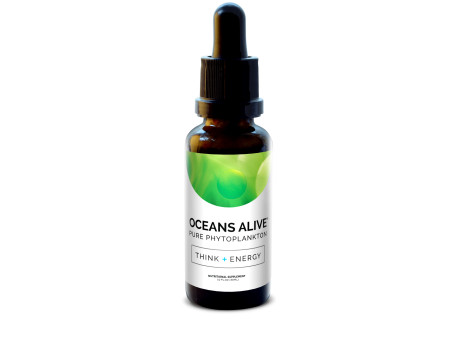 Ocean's Alive Marine Phytoplankton
This unique and newly discovered raw super-nutrient from the ocean provides the body with an increase in residual energy that builds up significantly when it is ingested on a daily basis. This exciting and powerful superfood is now available in the Netherlands through Mastercare.

Ocean's Alive Liquid Marine Phytoplankton provides extremely powerful nutrition.

People that experience Ocean's Alive are known to enjoy enhanced brain function, improved immune function, antiviral/antifungal/antibacterial effects, improved cellular repair, radiation protection, cancer protection, detoxification support, anti-inflammatory support, antioxidant support, improved circulation, improved heart function, allergy/asthma relief and a residual 'grounding energy' overall.

Some of the benefits people have reported from using Marine Phytoplankton are:
ᅠᅠᅠ
ᅠᅠᅠ A gentle yet powerful energy that builds residually day by day
ᅠᅠᅠ Whole body homeostasis
ᅠᅠᅠ Assist to regulate blood sugar naturally
ᅠᅠᅠ Eyesight improvement and increased strength
ᅠᅠᅠ Skin appears more vibrant and younger
ᅠᅠᅠ Calming of the mind and body with enhanced meditation
ᅠᅠᅠ Speeds the recovery from illness and disease
ᅠᅠᅠ Relieves symptoms of heartburn
ᅠᅠᅠ Memory improvement
ᅠᅠᅠ Instant trace mineral gratification with 92 macro and trace minerals
ᅠᅠᅠ Assists to strengthen the immune, nervous, and endocrine system
ᅠᅠᅠ Antiviral, antifungal, and antibacterial
ᅠᅠᅠ Helps defend against radiation
ᅠᅠᅠ Powerful anti-inflammatory & antioxidant qualities
ᅠᅠᅠ Improves circulation & heart function
ᅠᅠᅠ Allergy & asthma relief
ᅠᅠᅠ Essential fatty acids - Omega 3, 6, 7, 9

A team of European doctors, microbiologists and botanists spent many years and millions of dollars researching 40,000 species of marine phytoplankton in the ocean to determine the best species in each category to use for bio-fuel, aqua culture, exotic fish food and ultimately human consumption.

Only four species of Marine Phytoplankton were found to be beneficial for human consumption and based on nutritional profiles, one species was super beneficial and was the single species chosen for production. This is what we have here...

As a result of this extensive research, technologically advanced commercial facilities have now been developed and constructed to produce marine phytoplankton in large volume using sophisticated bio-reactors. The bio-reactors consist of extensive glass tubing interconnected in a horizontal grid the size of a football field. A 'Spring Bloom' environment is created that allows natural photosynthesis to occur using sunlight to grow the marine phytoplankton bio-mass.

The purified sea water solution in which the marine phytoplankton grows ensures that there are no other species contaminating the bio-mass. This method produces a pure 'Beyond Organic' super concentrated nutrient.

Once the bio-mass reaches maturity, it is then harvested into a powerful centrifuge that spins the water out from around the cells but leaves the water within the cells protecting the valuable life energy. The centrifuged bio-mass has the consistency of thick peanut butter.

To create the 'Ocean's Alive' liquid nutrient combination, the live marine phytoplankton bio-mass is transferred from the centrifuge and immediately blended into an 'ocean derived' concentrated ionic trace mineral solution. This concentrated solution is highly beneficial to human health as it contains more than 90 ionic and trace minerals and is produced using a natural evaporation process employing the sun and the wind which eliminates 93% of the sodium.

This purified ocean water concentrate has the power to preserve the marine phytoplankton in suspended animation, protecting the original life energy, allowing it to be bottled and stored at room temperature with no deterioration.

The live blend is finally potentized energetically with its own frequency to maximize the nutritional life force!

There are hundreds of references in text books detailing the vast array of human health benefits gained through the consumption of marine phytoplankton.

The intense chlorophyll content in Ocean's Alive also increases oxygen uptake and higher oxygen uptake means more fuel to muscles, which translates to improved performance and endurance. With the smallest nano-particulate size of all micro algae's, Ocean's Alive delivers vital life energy at the DNA/Mitochondria level and also penetrates the blood/brain barrier feeding the higher master glands located deep in the brain stimulating significant mental clarity.

Ocean's Alive is an original, live, whole, concentrated raw food requiring no refrigeration and comes packaged in 30 ml. cobalt blue glass bottles with droppers for easy dispensing.

One Month Supply:
30 ml (1 oz.) contains 10.5g (10,500mg) of Pure Whole Live Marine Phytoplankton Providing 350 mg per day/serving x 30 Day Supply

Compared to competitive products that are much less concentrated, our price is at least 7 times more value than any other liquid Marine Phytoplankton product on the market. Value comparison for quality is off the charts!
Suggested Use:
Ocean's Alive delivers 350mg per day of Super-Charged Pure Live Marine Phytoplankton with Zero Fillers!

'REAL TIME RESULTS' are always confirming to us that this is a wonderful superfood that resonates with everyone
Data sheet
| | |
| --- | --- |
| Weight including packaging | 100 g |
| Form: | Tekutina |
| Quantity | 30 ml |
| Country of Origin: | USA |
| Raw: | Yes |
| Vegan: | Yes |
| Gluten-Free: | Yes |
Výběr dotazů z Poradny
Zde nám můžete položit otázku a naši odborníci se Vám ji pokusí odpovědět.
Your Question has been successfully sent our team. Thanks for question!
Liver Rescue™

powerful direct antioxidants
supports liver function & regeneration

1 099 Kč , better about0%

1 099 Kč

1 170 Kč , better about0%

1 170 Kč

Maca Organic

tradionally used by South Americans
support of physical and mental performance
full of vitamins and minerals

599 Kč , better about0%

599 Kč

799 Kč , better about0%

799 Kč