Code:
Manufacturer: Sunwarrior
Quantity: 720 g
Reviews: (0×)
Availability: Out of stock Out of stock (Try alternative products)
We apologize for the unavailability. Estimated availability is 1.1.1970. We can send you email when we get goods in stock.

We tested
"In the moments when I can't prepare food, I reach for Lean Meal Illumin8. Just mix it with water, plant milk or mix it with a banana. Chocolate flavor is my first choice."
Main product features
packed with nutrients
Fast
tasty
When ordering over 74,64 €
Free shipping
Need help?
Customer service: (+420) 608 984 825
Are you active and often busy? Life can be pretty hectic sometimes. There are days when there is simply no time to prepare a good, wholesome meal.
Lean Meal Illumin8 is a great solution. This "complete meal" is a source of all the key nutrients, especially protein. It serves well as a nutritionally rich breakfast or snack between main meals and can also be appreciated on the go.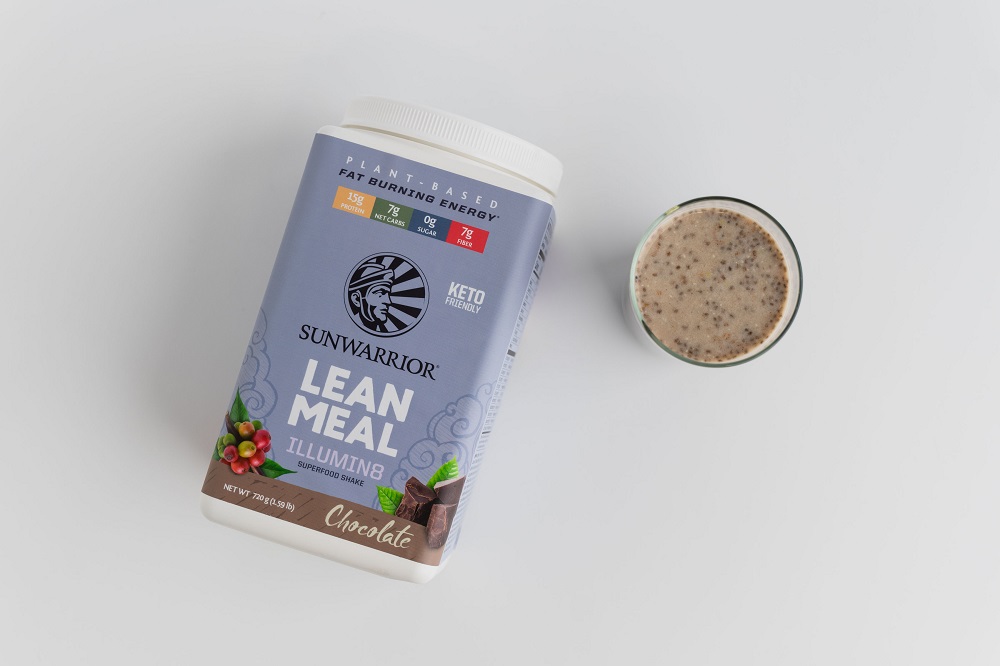 Meet Lean Meal Illumin8
An active lifestyle can sometimes be quite demanding. Let us help you maintain healthy eating habits even in the daily grind. Lean Meal Illumin8 is here to support you with a hefty serving of nutrients. With it, you get the fuel to replenish your energy from clean, complex superfoods.
Lean Meal Illumin8 was put together with the help of doctors and nutritionists. It is a balanced meal replacement in the form of an instant powder that when mixed with water creates a delicious shake. It is suitable for making smoothies or porridges in the comfort of your home or office. You can also use it as a nutrient-packed smoothie to go. Just pour a scoop, pour in water, shake and you're good to go!
This wholesome snack will help you keep your intention to eat healthy. Protein and organic superfoods will make a great addition to your daily healthy diet. With functional mushrooms and green coffee extract, it will offer you something more than just plain protein.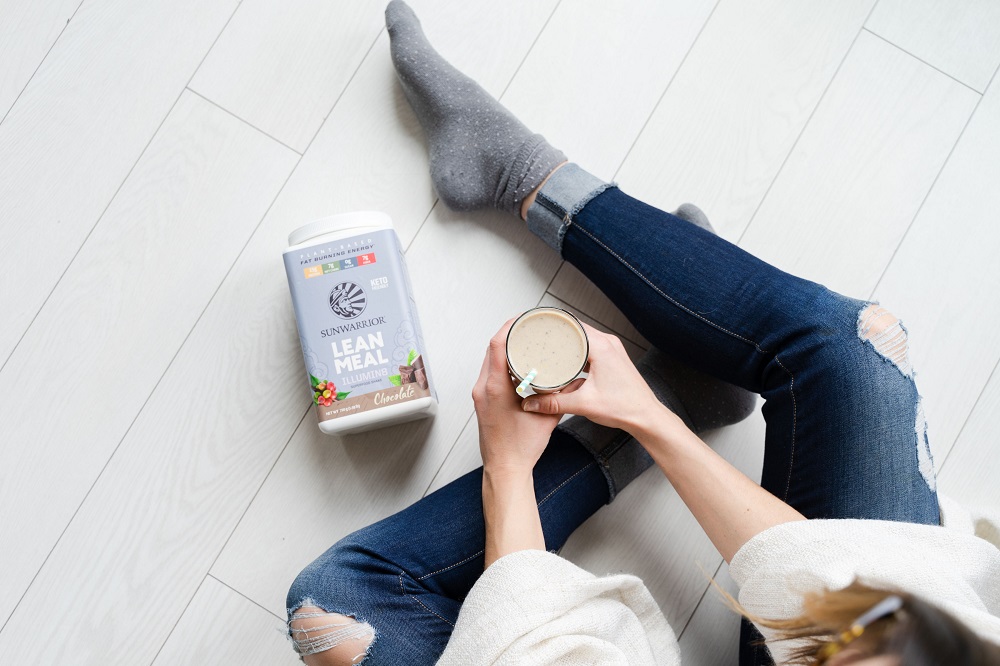 Beneficial ingredients in Lean Meal Illumin8
Plant protein
An important ingredient is the high quality protein derived from organic, fermented yellow peas, which are low in calories and high in fiber. This protein will provide your muscles and entire body with plenty of essential phytonutrients while keeping your metabolism running.
Vitamins from complex sources
Vitamins play countless roles in a variety of bodily functions: from supporting strong bones and immune systems to converting food into energy. In one serving, you get about 50% of the DDD of the following vitamins: A, C, D2, E, K1, B1, B2, B3, B5, B6, B7, B9 from highly bioavailable, whole food sources.
Minerals
Minerals derived from plant sources and seaweed contribute to the maintenance of normal bone health.
Phytonutrients
Each scoop of Lean Meal Illumin8 is packed with micronutrients derived from fruit and vegetable extract.
A quality source of energy
Green coffee beans contain caffeine - known for its ability to energize and provide energy. Together with protein, chia seeds, functional mushrooms, vitamin B12 and MCT fats, it provides you with the energy you need.
Substances beneficial to gut health
With Lean Meal Illumin8, you'll also support your microbiome and healthy digestion. This is because it includes RiSolubles® soluble fiber and 2 billion stable, resistant probiotics. These ingredients help maintain a harmonious gut.
Superfoods for weight maintenance
MCT oil, lychee extract, Green coffee beans, cinnamon and a unique blend of functional mushrooms are superfoods that will benefit you on your journey to a healthy body weight.
Beneficial fats
Chia and coconut give your cells what they need - energy, vitamin absorption support for skin health and good nervous system health.
How to take Lean Meal Illumin8?
Mix 2 scoops (36g) with your favourite beverage - water, smoothie, vegetable juice or plant milk.
Store what you don't consume immediately in the refrigerator. But drink it all on the day of preparation. Do not consume later.
Create a smoothie with Lean Meal Illumin8 by Love by Raw or improvise with a coffee shake flavour.
Why choose Lean Meal Illumin8?
It is a so-called complete meal in premium quality with 100% natural ingredients. The majority of the ingredients are organic. The product meets the demanding requirements of a vegan and paleo diet. It does not contain soy, gluten, lactose, GMOs, added sugar or artificial additives. The product is packaged in BPA free packaging.
Read more
Ingredients:
Fermented pea protein*, MCT oil (coconut oil, tapioca starch), acacia fiber*, guar gum* E412, rice bran*, chia seeds*, chocolate flavor*, Dutch cocoa*, coconut flour*, seaweed, cinnamon*, green coffee bean extract*, sea salt, with stevia plant sweetener (steviol glycosides)* E960, mushroom extract blend* [cordyceps(Cordyceps sinensis), reishi(Ganoderma lucidum), agaricus(Agaricus blazei), maitake(Grifola frondosa), king trumpet(Pleurotus eryngii), shiitake(Lentinula edodes)], kelp*, vitamin blend (spinach leaf, cauliflower floret, carrot, sweet potato, orange, apple, strawberry, sunflower seed, shiitake mushroom, maitake mushroom), fruit blend [grape extract & grape seed extract, wild blueberry & wild blueberry extract(Vaccinium cyanococcus), raspberry & raspberry seed extract, cranberry, prune, cherry, wild blueberry & wild blueberry(Vaccinium myrtillus) extract, strawberry], mixed vegetables (broccoli sprouts, onion extract, tomato, broccoli, carrot, spinach, kale, Brussels sprouts, rice starch, corn starch, sunflower lecithin), lychee fruit extract, DE111® probiotic bacteria(Bacillus subtilis), vitamin B12 (methylcobalamin). Contains coconut.
*= BIO


Amount:
720 g (i.e. 36 g per scoop)
Package contains 20 doses.
Nutritional values
per 100 g
1 dose = 2 scoops (36 g)
Energy value
1044 kJ/ 250 kcal
585 kJ/ 140 kcal
Fats
8,3 g
3 g
of which saturated
6,9 g
2,5 g
Carbohydrates
38,9 g
14 g
of which sugars
0 g
0 g
Fibre
19,4 g
7 g
Protein
41,7 g
15 g
Sodium
1,1 mg
0,43 mg
Vitamin A
1 250 μg (156 %)*
450 μg (56 %)*
Vitamin D
55,5 μg (1111 %)*
20 μg (400 %)*
Vitamin E
19,4 mg (162 %)*
8 mg (58 %)*
Vitamin B1
1.7 mg (151 %)*
0.6 mg (54 %)*
Vitamin B2
1.9 mg (139 %)*
0.7 mg (50 %)*
Vitamin B6
2.5 mg (178%)*
0.9 mg (64 %)*
Vitamin B12
33.3 μg (1333 %)*
12 μg (480 %)*
Vitamin B5
6,9 mg (115 %)*
2.5 mg (41 %)*
Vitamin B9 (folic acid)
555,5 μg (277 %)*
200 μg (100 %)*
Vitamin B3
22,2 μg (139 %)*
8 mg (50 %)*
Vitamin C
125 mg (156 %)*
45 mg (56 %)*
Biotin
41.7 μg (83 %)*
15 μg (30 %)*
Potassium
555.5 mg (27 %)*
200 mg (10 %)*
Phosphorus
583.3 mg (83 %)*
210 mg (30 %)*
Magnesium
180.5 mg (48 %)*
65 mg (17 %)*
Chromium
25 μg (62 %)*
9 μg (22 %)*
Manganese
2,2 mg (111 %)*
0.8 mg (40 %)*
Copper
1.4 mg (138 %)*
0.5 mg (50 %)*
Selenium
41,6 μg (75 %)*
15 μg (27 %)*
Calcium
972,2 mg (121 %)*
350 mg (43 %)*
Zinc
6.4 mg (64 %)*
2.3 mg (23 %)*
Iron
15.5 mg (111 %)*
5.6 mg (40 %)*
* Reference intake value
Warning:
Not a substitute for a varied diet. Not intended for children under 3 years of age, pregnant and lactating women.
Storage:
Dietary supplement, not intended as a substitute for a varied diet. Do not exceed the recommended daily dosage. Keep out of reach of children. If you are pregnant or nursing, consult a physician before use. Not intended for children under 3 years of age.
Data sheet
| | |
| --- | --- |
| Form: | Powder |
| Country of Origin: | USA |
| Raw: | No |
| Vegan: | Yes |
| USDA Organic: | No |
| Gluten-Free: | Yes |
| Keto friendly | Ano |
Related articles and recipes
Selection of questions from Counselling
You can ask a question here and our experts will try to answer it.
Váš dotaz byl úspěšně odeslán našemu týmu. Děkujeme za otázku!
We're sorry we can't share with you
all the information about this product.
Various EU laws and regulations severely limit the extent to which we (and all other food business operators) can communicate the health benefits that these products offer to people.
Our long-standing customers are already intimately familiar with these foods, and they keep coming back to us for them. We also ask you to do your own research. You may discover much more about the potential benefits of these gifts of nature for your health...

John Noah
Founder of Vitalvibe