Code: 1745
Manufacturer: NaturLabs
Quantity: 60 capsules
Reviews: (0×)
Availability: In stock More than 5 pieces in stock (Try alternative products)
We apologize for the unavailability. Estimated availability is 1.1.1970. We can send you email when we get goods in stock.
Need help?
Customer service: (+420) 608 984 825
When ordering over 74,64 €
Free shipping
Do you want to maintain strong health? Weaken the power of negative influences that surround us! Stress, industrially processed foods, lack of exercise or sleep, and living in an environment full of pollutants - prolonged exposure to these factors can gradually lead to age-related diseases.
Liposomal glutathione is the body's own important antioxidant that helps our bodies detoxify and prevent the negative effects of free radicals on the health and function of our cells. This simply contributes to our body staying fit for the long term. Despite the stresses of the modern world, which cannot be completely prevented.
The liposomal form of the dietary supplement ensures the maximum possible absorption and utilization of this active substance.
Meet glutathione

Glutathione is one of the body's most powerful, inherent antioxidants that can mitigate cellular disruption caused by free radicals. This simple molecule - a tripeptide - is composed of glutamic acid, cysteine and glycine. It is commonly synthesized by cells of animals, plants and bacteria. It is therefore also found in very basic foods - vegetables, fruit and meat.
Glutathione is an antioxidant substance that can detoxify cells and rid them of harmful substances. It helps to keep enzymes active and strengthens the body's defences.

However, the production of glutathione in the human body decreases due to aging and the presence of a number of diseases, as well as due to an unhealthy lifestyle and unhealthy diet. The body then becomes more vulnerable to oxidative stress.
What is oxidative stress?
Oxidative stress is a phenomenon where there is an imbalance in the body between substances called antioxidants and free radicals. Free radicals are oxygen-containing molecules with an odd number of electrons that are most often produced as by-products of metabolism.
When this imbalance occurs, our body is unable to break down these free radicals quickly. This can lead to cell damage and even DNA damage. The result can be premature ageing of the body, including the development of a number of related diseases.
Antioxidants can reduce the risk of oxidative stress by neutralising free radicals. Therefore, these are substances absolutely essential for our health.
Who can liposomal glutathione help?
Anyone who wants to maintain optimal health
Those who want to support detoxification
Those interested in longevity
People with poor eating habits (if the majority of their diet consists of processed foods)
People with insufficient or excessive physical activity
People who suffer from stress and sleep deprivation
People who live in a polluted environment (with chemicals, heavy metals or electromagnetic radiation)
Active and passive smokers
People who take long-term medication
People of advanced age
People recovering from illness and injury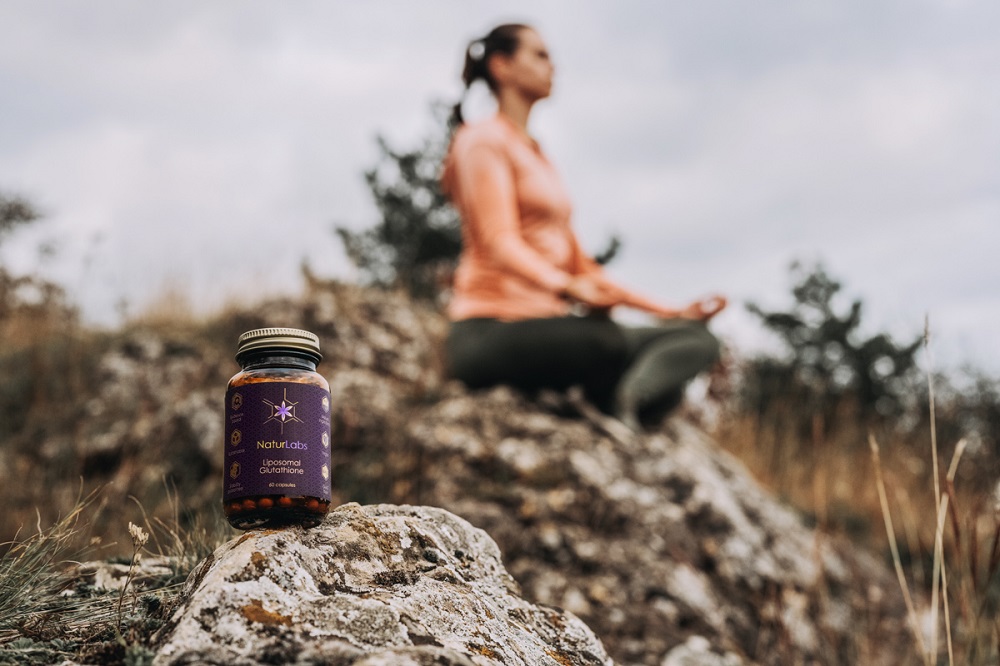 Why take liposomal glutathione?
You may be wondering why you should get the liposomal form of glutathione in a special dietary supplement.

Most common vitamin and mineral supplements in powder or tablet form are not sufficiently absorbed by our bodies. While still in transit, the supplements are broken down in the digestive tract by digestive enzymes and gastric juices. Thus, only a small percentage of the active substance actually reaches its destination.
The liposomal form of glutathione revolutionizes absorption!
Why? The liposomal packaging eliminates this process and protects the active ingredient. Liposomes are molecules whose outer shell is made up of healthy fats (natural phospholipids) that encapsulate the contained functional substances. During absorption from the intestine, this fatty coating provides a protective cover for the active substance. The liposomal vesicle is naturally absorbed through the wall of the intestine into the bloodstream and with it the intact glutathione molecule hidden inside, which is then easily absorbed from the blood directly into the cells. Common glutathione supplementation unfortunately has a recovery rate of only 3-5% according to available sources.
Advantages of the liposomal form
Better transport of the active substance to its destination - through the intestinal wall into the bloodstream and from there easy absorption directly into the cells
Perfect bioavailability - availability of dietary supplements to the body
Liposomal layer protects the active ingredient against damage in the digestive tract
No aftertaste, long shelf life and purity (no additives) - all thanks to the bulk form
What is it?
All active substances are transported into the cells via a patented liposomal structure of natural phospholipids, which ensures the highest known bioavailability of vitamins and minerals and other active substances in the human body.
The liposomal form increases the absorption of the active substance by up to 20 times and allows for cellular absorption of more than 90%. In addition, the liposomal form of vitamins provides your body with a wide range of benefits documented in numerous clinical studies.
The unique technology on molecular level
Liposomal forms of vitamins and minerals have been successfully used in medicine for many years to increase the absorption of active substances into the body.
Liposomal vitamins from NaturLabs use 100% natural LipoCellTech technology, which ensures their perfect absorption. So you can finally feel the real effect of supplementation.
Specifically, it works by coating the molecule of the active ingredient with a phospholipid layer during processing. This is very similar to our cells, so it is more easily taken up by the cells and the contents easily penetrate. The phospholipid layer, on the other hand, protects the active substance as it passes through the digestive tract to prevent premature degradation. It also allows the active ingredient to be transported smoothly directly into the cells.
Such a liposomal structure is intrinsic to the body, and once the active substance is delivered to the cell, the phospholipids themselves become nourishment for the cell envelope, where they help to regenerate cells and tissues.
Why prefer bulk liposomal dietary supplements in capsules?
Liposomal dietary supplements come in bulk and liquid forms. What are the advantages of powder-filled capsules over the more common liquid form?
Powder-filled capsules are easily portable, convenient for travel and convenient to take.
The bulk form of our dietary supplements is just pure powder without additives. So of course it contains no fillers, preservatives or inactive substances.
In contrast to liquid forms, whose unpleasant taste is often masked by flavourings, the powder in the natural capsule has a completely neutral taste.
The powder packaged in a capsule lasts much longer. Unlike liquid supplements, which must be consumed quickly after opening, the powder form has a longer shelf life and is more stable.
The dietary supplement is 100% vegan, GMO free.
Method of use
2 capsules during meals, sufficiently washed down with water.
In case you want to take a higher dosage, consult a professional.
Contraindications:
Not suitable for people with hypersensitivity to the active ingredient (isolated glutathione).
Possible side effects:
Very rarely, skin rashes, abdominal pain or skin discoloration may occur, which usually disappear after discontinuation of use.
Further information
Nutritional values

In a daily dose

(2 capsules)

L-glutathione (reduced)

300 mg **

LipoCellTech™ Liposomal proprietary blend

450 mg**

** Daily Reference Intake Value is not established.

Not a significant source of energy, carbohydrate, fat or protein.
Ingredients:
L-glutathione (reduced), LipoCellTech™ Liposomal Proprietary Blend.
Other ingredients: hydroxypropyl methylcellulose capsules.
Amount:
Package contains 60 capsules.
60 capsules per pack.
28.8 g net weight.
Storage:
Store in a cool, dark and dry place. Keep at room temperature.
Cautions:
Dietary supplement, not to be used as a substitute for a varied diet. Do not exceed the recommended daily dosage. Keep out of reach of children. If you are pregnant or nursing, consult a physician before use. Not intended for children under 3 years of age.
Why did we choose NaturLabs?
NaturLabs is a Czech brand that seeks inspiration in the gifts of nature as well as the latest expertise in biochemistry. It develops plant-based products that have a positive effect on specific functions of the human body with a focus on product quality and purity without the addition of artificial additives.
By combining a scientific approach and inspiration from nature, it develops premium quality products with high functionality and efficacy. In doing so, it emphasizes the maximum effectiveness of active ingredients backed by current scientific research.
Food supplements are produced with the utmost respect for natural resources. NaturLabs strives to minimize the negative environmental impact caused by its existence.
NaturLabs' goal is to produce food supplements that benefit all living beings for their physical and mental health, enabling them to reach their full potential of being.
Data sheet
| | |
| --- | --- |
| Country of Origin: | Czech republic |
| Vegan: | Yes |
| Gluten-Free: | Yes |
Related articles and recipes
Selection of questions from Counselling
You can ask a question here and our experts will try to answer it.
Váš dotaz byl úspěšně odeslán našemu týmu. Děkujeme za otázku!
We're sorry we can't share with you
all the information about this product.
Various EU laws and regulations severely limit the extent to which we (and all other food business operators) can communicate the health benefits that these products offer to people.
Our long-standing customers are already intimately familiar with these foods, and they keep coming back to us for them. We also ask you to do your own research. You may discover much more about the potential benefits of these gifts of nature for your health...

John Noah
Founder of Vitalvibe