Code: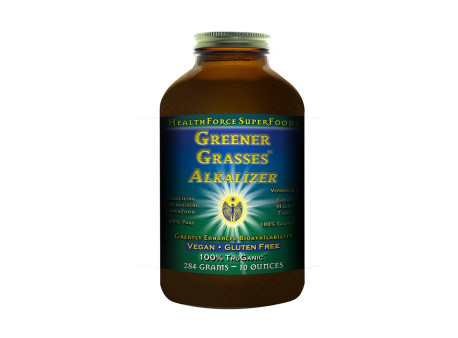 Greener Grasses™ is an incredible combination of green grasses. It provides healthy alkaline elements and a large amount of 100% whole food nutrients. It contains 5 different grasses. These grasses are grown under ideal conditions and therefore contain extremely high nutrient levels.

Low temperature dried (under 100° F) to preserve lifeforce, enzymes and other heat sensitive elements. All of the ingredients in Greener Grasses are grown in highly mineralized, organic soils for months, rather than in trays for days.
Greener Grasses™ actually tastes good! It is not "too sweet" like fresh grass juice due to harvesting the mature, rather than immature, grasses. It actually has a pleasant "Malty" flavor that really adds nice flavor to carrot-based juices and even citrus juices.
Benefical Effects of the Key Crops
Barley Grass (Hordeum) a Wheat Grass (Triticum)
essential aminoacids

a rich source

of chlorophyll

a wide range of vitamins

and minerals

beta

-

caroten

low content of

saturated fatty acids

and cholesterol

protection

against cardiovascular diseases
Oat Grass (Avena sativa)
helps maintain

a healthy

heart

and

cardiovascular system

helps in controlling

weight

contributes to a reduction

of appetite
Ingredients: Whole Leaf Wheat Grass, Whole Leaf Barley Grass, Alfalfa Leaf Juice, Barley Grass Juice, Oat Grass Juice.
| | |
| --- | --- |
| Nutritional Facts | in 100 g |
| Energy | 1452 kJ/ 346,7 kcal |
| Fat | 0,5 g |
| Carbohydrates | 46,7 g |
| Fiber | 32 g |
| Protein | 21,3 g |
| Salt** | <0,5 g |
** Occurs only in natural sodium form
Video:

Recommended Intake: 2 or more heaping tbsp. per day, mixed in any liquid (including fresh citrus juices)
Suggested Use: added to smoothies, salads, or any food/drink
Suggested Adjuncts: A Whole Food, Organic, Vegan, Plant Based Diet with emphasis on fresh, high water content, live/raw foods and juices plus a healthy lifestyle of exercise, fresh air, and anything healthful and sacred to you.
Special Technology:
TruGanic™ is a purist, hard-core quality standard significantly beyond Organic. In addition to no pesticides being used anywhere in the growing process, TruGanic™ includes authentic standards for production, non-toxic cleaning agents and pest control, electromagnetic radiation, processing agents, additives, air quality, and actual verification of purity.
Keep out of reach of children. Store in a cool, dark and dry place. Do not exceed the recommended daily dose. There is no substitute for a varied diet. Not for children under 3 years of age, pregnant and nursing women.
Data sheet
| | |
| --- | --- |
| Form: | Powder |
| Country of Origin: | USA |
| Raw: | Yes |
| Vegan: | Yes |
| Gluten-Free: | Yes |
| TruGanic | Yes |
Výběr dotazů z Poradny
Zde nám můžete položit otázku a naši odborníci se Vám ji pokusí odpovědět.
Your Question has been successfully sent our team. Thanks for question!
1 580 Kč , better about0%

1 580 Kč

799 Kč , better about0%

799 Kč

1 580 Kč , better about0%

1 580 Kč