Main product features
Natural cocoa substitute.
Suitable for recipes where cocoa powder is commonly added.
Does not contain the stimulants (theobromine and caffeine) present in cocoa.
Suitable for people with caffeine sensitivity, allergy sufferers and children.
In the highest organic and raw quality.
When ordering over 74,64 €
Free shipping
Need help?
Customer service: (+420) 608 984 825
If you can't or don't want to take cocoa, we have a great alternative for you. Carob powder in the highest organic and raw quality is suitable wherever cocoa is normally added and is an excellent substitute for this ingredient. It has a slightly sweet taste similar to cocoa and is a natural source of nutrients. So you won't have to give up cocoa recipes anymore.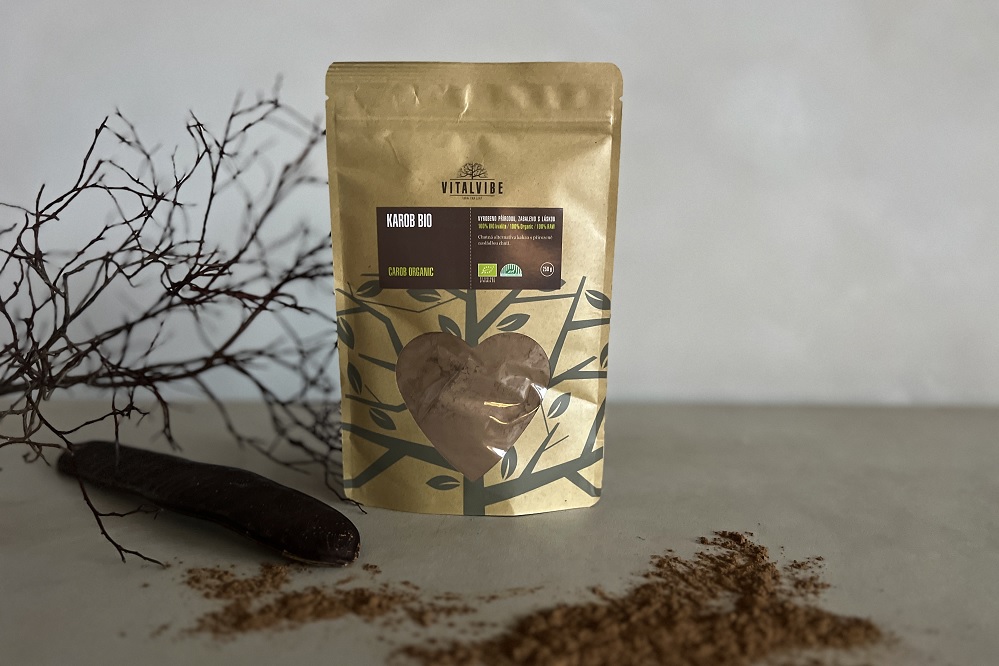 Meet the carob
Carob (Fructus ceratoniae) is the edible fruit of a subtropical evergreen tree called the carob tree (Ceratonia siliqua). You'll also often see it known as carob. It is grown as a cash crop for its edible fruit pods with a bean-like shape, but also as an ornamental tree. The carob tree is native to the Mediterranean and Middle East and is a common part of the local landscape.
After ripening, the pods are harvested, cleaned, dried and the dried flesh is separated. This is then cold-milled into our final product - a fine, organic carob powder that is often used as a substitute for cocoa powder.
Dried carob is a traditional dish during the Jewish holidays and carob juice is drunk during the Muslim Ramadan. In the past, carob was also used as a sweetener.
Karob as a cocoa substitute
It is an adequate low-fat chocolate substitute with a specific taste. Because carob is free of caffeine and theobromine, the stimulants present in cocoa, it is suitable for people who are sensitive to these ingredients. It is also an excellent alternative to cocoa for people with allergies and, of course, for children. Carob powder can be used on a gluten-free diet.
Carob powder is a source of calcium. It also contains a fair amount of fibre, but not as much minerals as cocoa. Compared to cocoa, it also contains less fat but more carbohydrates. Nowadays, it is quite popular to combine carob with cocoa because both ingredients contain interesting beneficial substances.



Where can carob powder be used?
Carob can be used in all recipes where cocoa is commonly added. You can use it for baking - in cake batter, cake batter or candy. You can also use it to make no-bake candies, desserts or pralines. It is also suitable for cream fillings and toppings and, of course, for porridges. Its naturally sweet taste makes it a suitable ingredient for drinks or smoothies.
Read more
Recommended dosage:
1 teaspoon per day (approx. 5 grams)
Ingredients:
100% organic carob powder
| | |
| --- | --- |
| Nutritional values | in 100 g |
| Energy value | 1239 kJ/ 295 kcal |
| Fats | <0,5 g |
| of which saturated | 0 g |
| Carbohydrates | 52,76 g |
| of which sugars | 47,1 g |
| Fibre | 41,3 g |
| Protein | 4,8 g |
| Salt** | 0 g |
** only in the form of naturally occurring sodium
Storage:
Store in a cool, dark, dry place.
Data sheet
| | |
| --- | --- |
| Weight including packaging | 300 g |
| Form: | Powder |
| Quantity | 250 g |
| Country of Origin: | Italy |
| Raw: | Yes |
| Vegan: | Yes |
| Gluten-Free: | Yes |
| Organic | Yes |
Related articles and recipes
Selection of questions from Counselling
You can ask a question here and our experts will try to answer it.
Anežka Moravcová 12. August 2020
Dobrý den, chtěla bych se zeptat, jestli je tento karob v raw kvalitě. Děkuji za odpověď. S pozdravem A. Moravcová

Ing. Petra Vašková odpověděl:
product specialist, holistic nutrition consultant
Dobrý den, paní Moravcová,

ano, karob je v RAW kvalitě.

Přeji pěkný den,
s pozdravem,
Petra (petra.v@vitalvibe.cz)
Váš dotaz byl úspěšně odeslán našemu týmu. Děkujeme za otázku!
We can't share all information
about this product with you
Due to legislation, we can write very little about some products.
Our long-term customers know the products in depth and come back for them. We also encourage you to do your own research and make a conscious decision about what your body needs.

Jan Noah
Founder of Vitalvibe