Code: 1201
Manufacturer: Vitalvibe
Quantity: 250 g
Reviews: (1×)
Availability: In stock More than 5 pieces in stock (Try alternative products)
We apologize for the unavailability. Estimated availability is 1.1.1970. We can send you email when we get goods in stock.
Main product features
shelled cocoa beans
a rare variety of Criollo
thanks to the content of theobromine and tryptophan, they stimulate body and mind
natural content of antioxidants and minerals
excellent taste and smell
Organic and RAW quality
suitable as a quick snack and a source of energy for work or travel
When ordering over 74,64 €
Free shipping
Need help?
Customer service: (+420) 608 984 825
The cocoa bean is home to quality chocolate and cocoa
The fruit of the cacao tree (Theobroma cacao) is botanically classified as a berry-like fruit and tastes like dark chocolate. Unroasted, they are an excellent way to give the body energy, a good mood, a clear mind and support a healthy lifestyle.



Cocoa beans - one of the most complex superfoods

Cocoa beans in their unroasted raw form naturally contain a rich spectrum of beneficial substances for a healthy body and a fresh mind. Cocoa beans were most commonly consumed for their antioxidant properties, such as flavonoids and anthocyanins. Their content decreases significantly when cocoa beans are roasted. In addition to cocoa beans, they are also found in fruit, vegetables, tea and red wine.
Valuable substances contained in cocoa beans are theobromine and, to a small extent, caffeine, which are good for a day full of energy. Both cocoa beans and good quality pure chocolate induce a pleasant feeling of physical fitness and mental alertness. This is why cocoa was called 'food of the gods' by the South American Indians and used for ritual purposes.
In addition to the above, cocoa beans are also an interesting source of minerals - magnesium, phosphorus, iron and potassium, which are complementary antioxidants and contribute to overall health.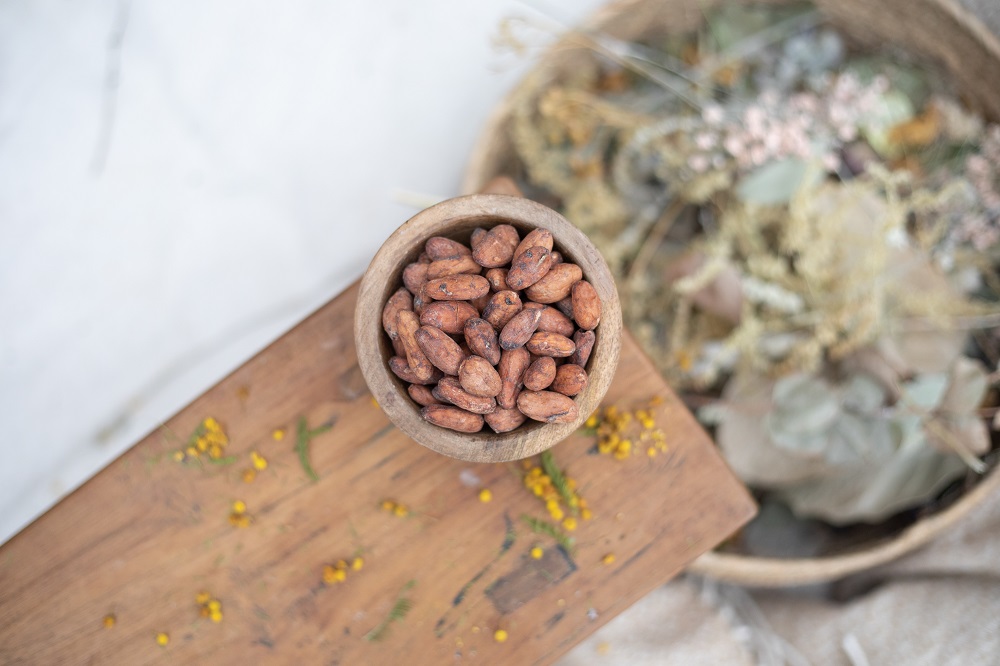 Ingredients: 100% organic unshelled cocoa beans
| | |
| --- | --- |
| Nutritional values | per 100 g |
| Energy value | 2377 kJ/ 570 kcal |
| Fats | 52 g |
| of which saturated | 33 g |
| Carbohydrates | 0,2 g |
| of which sugars | 0,2 g |
| Fibre | 25,6 g |
| Protein | 12,6 g |
| Salt** | 0,17 g |
Store in a cool, dark and dry place.** only in the form of naturally occurring sodium

Usage:
They can be eaten alone or soaked in honey, for example, they can also be mixed into smoothies and various desserts, or mixed with Chinese curcurrants and raisins.
As regards recommended use, there is no recommended daily dose. However, if you are sensitive to caffeine and similar substances, a small amount (3-5 beans) will be enough to achieve the desired effect.
Data sheet
| | |
| --- | --- |
| Weight including packaging | 250 g |
| Form: | Cacao Beans |
| Quantity | 250 g |
| Country of Origin: | Peru |
| Raw: | Yes |
| Gluten-Free: | Yes |
| Organic | Yes |
Related articles and recipes
Selection of questions from Counselling
You can ask a question here and our experts will try to answer it.
Matej 23. August 2023
Dobry den, su vase kakaove boby Criollo a dalsie vyrobky z tychto bobov testovane na alfatoxiny, ochratoxiny a tazke kovy (kadmium a olovo)?

Ing. Petra Vašková odpověděl:
product specialist, holistic nutrition consultant
Dobrý den,
naše kakaové produkty z odrůdy kakaovníku Criollo jsou testované na pesticidy, těžké kovy (olovo, kadmium, rtuť, arsen), na bakterie (Staphylococcus, E. Coli, Listerie, B. cereus, Salmonella), celkový obsah plísní a kvasinek. Na produkty plísní (aflatoxiny a ochratoxiny) nikoliv.
V případě dalších dotazů jsem k dispozici na 732 690 885 nebo petra.v@vitalvibe.cz.

Přeji krásný den,
s pozdravem,
Petra
Váš dotaz byl úspěšně odeslán našemu týmu. Děkujeme za otázku!
We're sorry we can't share with you
all the information about this product.
Various EU laws and regulations severely limit the extent to which we (and all other food business operators) can communicate the health benefits that these products offer to people.
Our long-standing customers are already intimately familiar with these foods, and they keep coming back to us for them. We also ask you to do your own research. You may discover much more about the potential benefits of these gifts of nature for your health...

John Noah
Founder of Vitalvibe