Code: 8007
Manufacturer: Vitalvibe
Reviews: (1×)
Availability: In stock More than 5 pieces in stock (Try alternative products)
We apologize for the unavailability. Estimated availability is 1.1.1970. We can send you email when we get goods in stock.
Need help?
Customer service: (+420) 608 984 825
When ordering over 74,64 €
Free shipping
Make your own homemade chocolate by following the exact instructions! Love of Raw has prepared a simple procedure with the perfect ratio of ingredients.
And know this - the better quality ingredients you choose, the better you can nourish your body. That's why we've already prepared everything in raw quality from Vitalvibe. Real chocolate gives your body lots of energy, vitamins and minerals. It's not so easy to overeat, because you only need a few pieces and it will fill you up perfectly.
The pack contains everything you need to make creative raw chocolate. All the ingredients and props are prepared for you in a Vitalvibe gift box with a personalised letter from Love of Raw. Here you will learn the necessary information about the ritual preparation and conscious eating of the finest, nutrient-packed chocolate.
Give yourself or your loved ones the gift of energy, joy and perfect nutrition!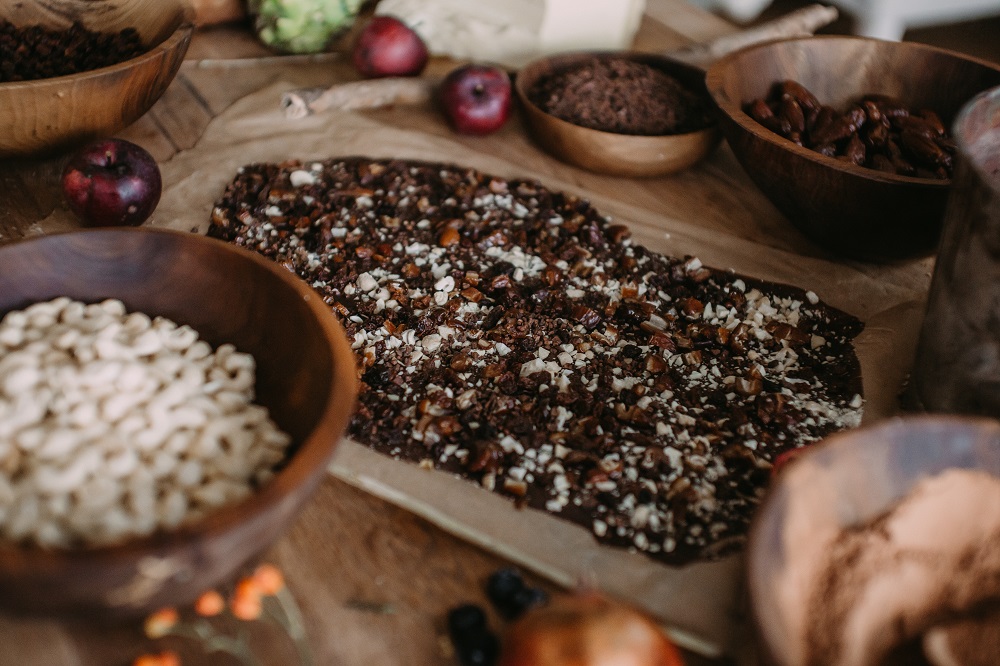 The process for making delicious RAW chocolate was born out of Chef Zuzka Noah aka Love of Raw and her passion for homemade chocolate. The original recipe is carefully fine-tuned to the ideal ratio of all ingredients.
Thanks to the raw ingredients, the chocolate is really healthy and will provide you with so many beneficial substances. Chocolate in this form is a natural source of antioxidants, magnesium, calcium, iron, potassium and phosphorus.
"The recipe for this chocolate has become so popular among my friends that I decided to offer it to other people through Vitalvibe. To start making chocolate by hand, in a ritualistic way, with the aim of teaching others to do the same, makes a lot of sense to me. But most of all, I really enjoy it!

I hope you will enjoy its production, and you will like it at least as much as me. I wish you a joyful creation!"

- with love ❤ Love of Raw
Get creative with us
Make chocolate making a ritual and fall in love with creating your own flavour combinations in a million ways! The recipe is so simple that anyone can do it. Love of Raw will guide you through every step of chocolate making. You'll learn how to unleash your creativity while you create and how to eat chocolate mindfully, making the most of the plant's wisdom for your body and spirit.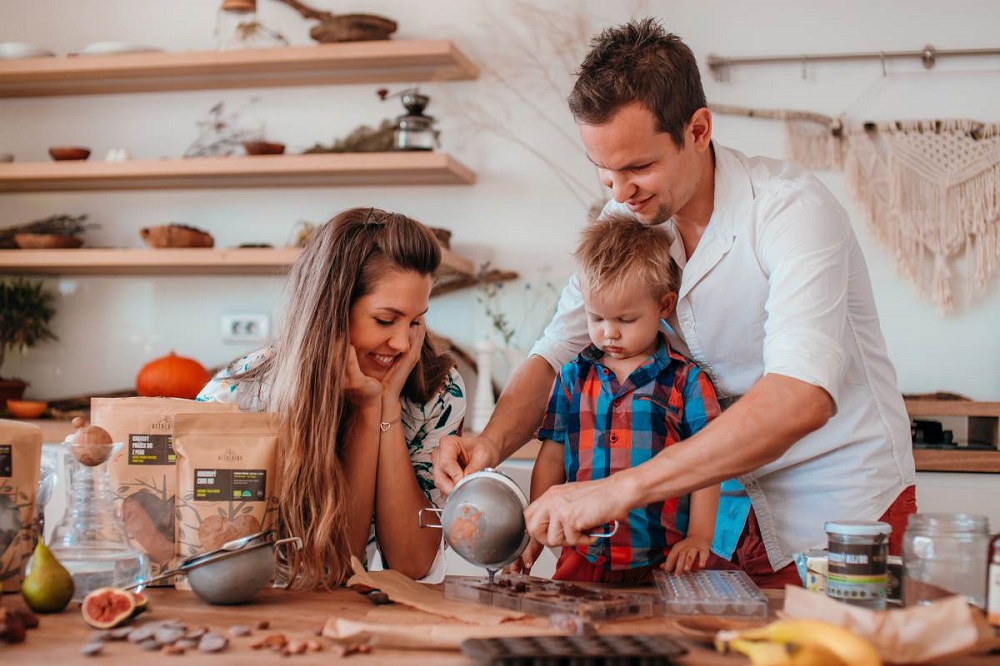 Pictured: Zuzka and Honza Noah from Vitalvibe with their son creating ritual chocolate
What our package contains:
Recipe for Live Chocolate by Love of Raw
Ingredients:
Procedure:
First, melt the cocoa butter in a water bath. Once the cocoa butter is melted, add the cocoa powder and salt. Stir to create liquid chocolate (you can also fill a praline mould with this chocolate to create your own pralines).
Then, prepare baking paper and place it on a baking sheet and pour the entire volume of chocolate on top of it, so that it spreads over most of the baking sheet. Finally, just add chopped cashews, chopped dates, crushed cacao nibs (they will crunch nicely in the chocolate), or any other ingredients you like. You can also add fresh fruit if you eat the chocolate right away.
Then let it set in the refrigerator for about 15 minutes. You can then break the chocolate and store it ideally in a glass container (in the fridge).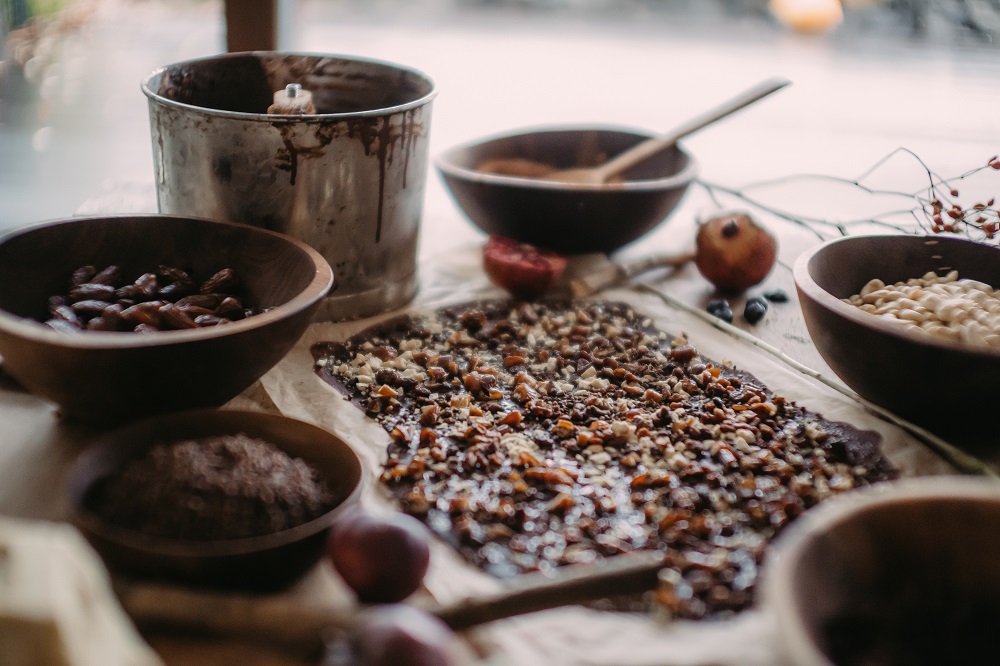 Special Love of Raw tip: Chocolate can also make a wonderful gift. Thanks to the cocoa butter, it won't melt at room temperature. You can either wrap it whole or break it up and put it in a nice jar.
More inspiration: Instead of dates, cocoa nibs and cashews, you can use whatever you like in chocolate. It's also great with hazelnuts, almonds, shredded coconut, cinnamon, raisins, peanuts, just about anything. But the combination you see in the recipe is our favorite.
Our Tip: She has compiled a lot of interesting information and live chocolate videos for you on her website Love of Raw.
Why we love Love of Raw
The creator of Love of Raw - Zuzka Noah is a passionate inspiration in the field of living food. Together with her husband, Honza Noah, owner of Vitalvibe, they nurture several projects to promote healthy and conscious living, in addition to their two amazing children.
Zuzka herself says: "This way of living fulfills us and gives us a huge sense of purpose." She adds: "We inspire others with our lives and spread with joy everything that works perfectly for us and that we discover on our journey towards ever more radiant health and harmonious living."
Zuzka is a talented cook with an undying passion for raw vegan food. That's why she is always finding new ways to transform her body, health, and overall increase her own energy through healthy habits in her everyday life.
She loves to inspire and motivate others to do the same in her online courses, lectures and workshops. She has written several (not only) cookbooks and e-books, a number of articles and films everyone's favourite video recipes.
Data sheet
| | |
| --- | --- |
| Country of Origin: | Czech republic |
| Vegan: | Yes |
| Gluten-Free: | Yes |
Related articles and recipes
Selection of questions from Counselling
You can ask a question here and our experts will try to answer it.
Váš dotaz byl úspěšně odeslán našemu týmu. Děkujeme za otázku!