Code: 1195
Manufacturer: Vitalvibe
Quantity: 125 g
Reviews: (2×)
Availability: In stock More than 5 pieces in stock (Try alternative products)
We apologize for the unavailability. Estimated availability is 1.1.1970. We can send you email when we get goods in stock.
We tested
"I like to add spirulina to my salads. It provides energy and a great dose of extra nutrients."
Main product features
super nutritious algae full of vitamins and other phytonutrients
source of chlorophyll
contains 60% protein
support during the cleansing of the organism
also to smoothies or dishes
the secret ingredient that revives homemade face masks
Organic quality
When ordering over 74,64 €
Free shipping
Need help?
Customer service: (+420) 608 984 825
Are you going to detoxify your body? Give your body a strong internal support during cleansing treatments. With this super-nutritious algae you will feel full of strength and life even during the diet. The great thing about spirulina is that it is literally packed with micronutrients, yet it is lightweight and does not burden your digestion. What's more, our Vitalvibe Spirulina also tastes great.
Compared to other green foods, spirulina is rich in protein, iron and B vitamins. It benefits heart and vascular health, promotes blood formation, and reduces the feeling of fatigue. It is a kind of accumulator of solar energy, which we, tired people, need so much...
Get to know spirulina

Spirulina(Arthrospira maxima) is a unicellular cyanobacterium, one of the first forms of life. Approximately 3.6 million years ago, it began releasing oxygen, slowly creating today's atmosphere. Although we generally refer to it as an "alga", botanically it is classified as a blue cyanobacteria.

The interesting thing about spirulina is that at first glance, its colour looks like green. But with prolonged exposure to sunlight, the green chlorophyll breaks down to reveal blue dyes called phycobilins. Like chlorophyll, these biologically active substances have a number of beneficial effects on the human body.
In its natural state, it can be found mainly in warm tropical seas. In the past, long before it was cultivated, it was a food source for cultures in Mexico and Africa. In the 20th century it was scientifically investigated as a possible alternative source of nutrients.
Today it is cultivated in large freshwater ponds. It is then dried at low temperatures and mechanically processed into powder. Our organic spirulina contains an average of 60% protein and a wide range of vitamins, minerals and other phytonutrients.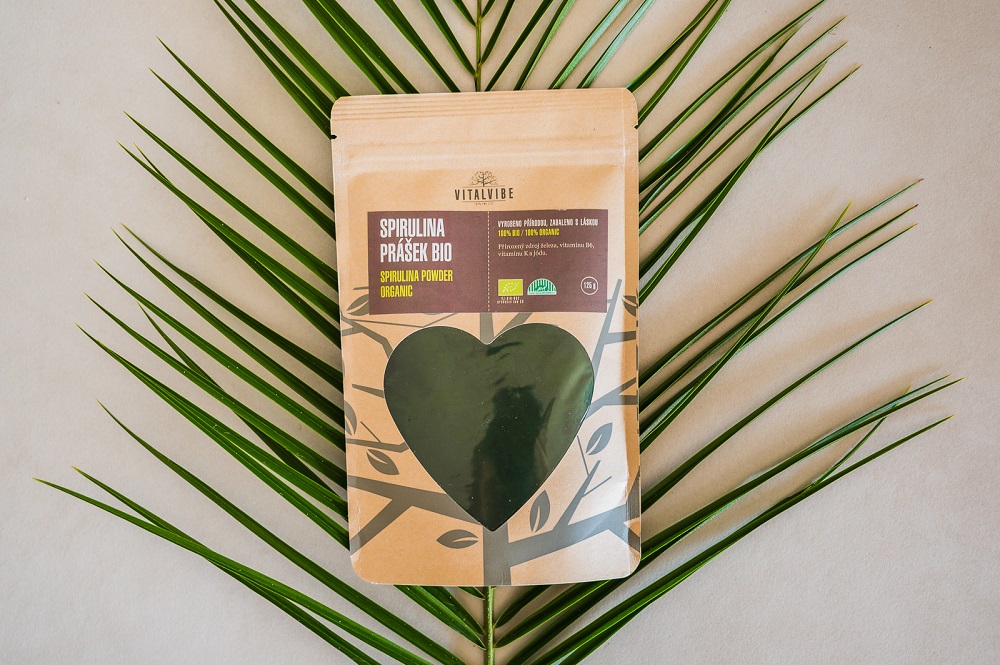 What it helps with
It helps people prone to anaemia because it contains iron and vitamin B6, which contribute to the normal production of red blood cells and haemoglobin. This also improves the body's oxygenation.
Thanks to its beneficial chlorophyll (a green plant dye) content, it promotes the production of haemoglobin.
It contributes to normal blood clotting due to its vitamin K content.
Contributes to the reduction of fatigue and exhaustion thanks to the interplay of iron and vitamin B6.
The iron contained in spirulina contributes to the normal function of the immune system.
Contributes to the normal functioning of the nervous system (thanks to the content of a wide range of B vitamins).
Contributes to the normal function of the thyroid gland thanks to its iodine content.
STORY of our spirulina
Our spirulina is cultivated on Hainan Island (Hainan) in the South China Sea, where the conditions are ideal for its cultivation. Here, in tanks of fresh fresh water and under daily quality control, it draws its energy from the sunshine, which is abundant all year round.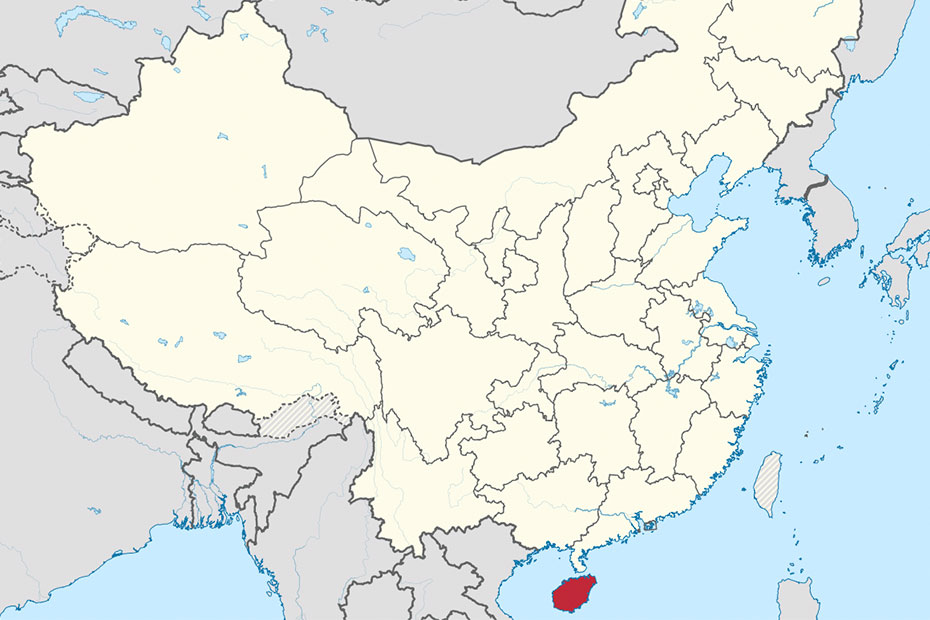 As well as the method of cultivation, the processing technology is equally important for the cyanobacteria. It must be both gentle and high quality so that our bodies can benefit from its natural wealth. Spirulina is dried using gentle methods into a powder, which is either packed directly or pressed into tablets without the addition of any additives.

Thanks to the conditions in which our spirulina is produced, it retains a truly exceptional delicate taste and pleasant aroma.
One of the important properties of spirulina is its ability to bind heavy metals. Therefore, it also has great properties in detoxifying the body. At the same time, however, this also means that spirulina can potentially be contaminated with heavy metals when grown in congested areas. That is why we only offer spirulina in organic quality. In addition, we regularly check the purity - we carry out independent laboratory analyses for heavy metals, moulds and residual pesticides on every batch. Vitalvibe Spirulina BIO is therefore completely safe and pure.
How to use spirulina
Internally:
Mix the powder with fruit or vegetable juices
It is excellent in a variety of smoothies
It is also excellent in fresh vegetable soups
A great way to liven up your salad is to sprinkle it with spirulina
Our tip for a quick and nutritious lunch: mix spirulina with couscous, rice noodles or quinoa, add oil, delicatessen yeast or seeds and fresh vegetables
Recommended dosage: 1 levelised teaspoon (1.4 g) 2 times a day mixed with liquid. Children from 3 years of age - 1/2 teaspoon once a day.
Please note: Contains vitamin K, so if you are taking blood thinners (such as Warfarin), consult a physician about taking spirulina. It is not suitable for children under 3 years of age, pregnant and breastfeeding women.
---
Externally:
---
Further information
Ingredients: 100% organic spirulina powder
| | | |
| --- | --- | --- |
| Nutritional values | per 100 g | in 1 serving: 1 teaspoon (2.8 g) |
| Energy value | 1465 kJ/ 350 kcal | 41 kJ/ 9.8 kcal |
| Fats | 5,9 g | 0,03 g |
| of which saturated | 1,1 g | 0,04 g |
| Carbohydrates | 10,5 g | 0,37 g |
| of which sugars | 3 g | <0,03 g |
| Fibre | 8 g | 0,2 g |
| Protein | 60 g | 1,85 g |
| Salt** | 0,9 g | 0,03 g |
| Vitamin K | 1,3 mg (1733 %)* | 36,4 μg (48,5 %)* |
| Thiamine (vitamin B1) | 4,4 mg (400 %)* | 0,12 mg (11,2 %)* |
| Riboflavin (vitamin B2) | 6,9 mg (492,9 %)* | 0,19 mg (13,8 %)* |
| Vitamin B6 | 18,4 mg (1314,3 %)* | 0.52 mg (36.8)* |
| Iodine | 1 800 μg (1200 %)* | 50,4 μg (33,6 %)* |
| Iron | 82,7 mg (590 %)* | 2,32 mg (16,5 %)* |
*Reference intake values
** Naturally occurring sodium
<
p>Dietary
supplement
. Keep out of reach of children. Do not exceed the recommended daily dose. Not a substitute for a varied diet. Not intended for children under 3 years of age, pregnant and lactating women. Contains vitamin K, so if you are taking blood thinners (e.g. Warfarin), consult a physician about taking spirulina.
The difference between spirulina and chlorella
Since you often ask what the difference between spirulina and chlorella is, we have prepared this basic comparison.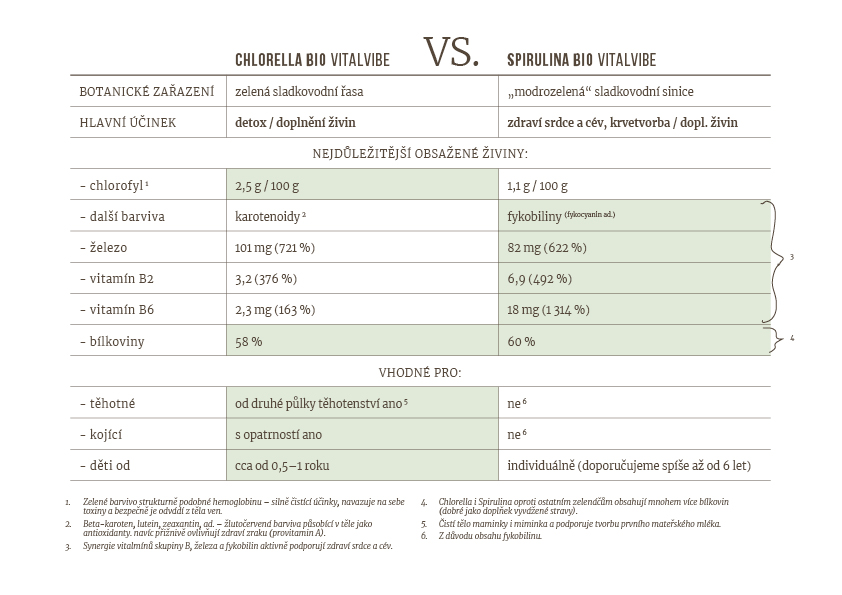 What the table shows
Although we refer to both as algae in general, botanically speaking, only chlorella is an algae. Spirulina is classified as a blue-green cyanobacteria.
Chlorella contains a large amount of the green pigment chlorophyll, which mainly helps with cleansing the body. In addition to chlorophyll, spirulina contains in particular the blue dye phycobilins, which, in synergy with B vitamins and iron, have a beneficial effect on the health of the heart and blood vessels, promote healthy blood formation and help with anaemia. Simply put, for the body, chlorella has a rather cleansing and spirulina a strengthening effect.
During the detoxification cure, it is ideal to take both algae at the same time: chlorella for detoxification of the body together with spirulina, which takes care of replenishing micronutrients, proteins, eliminating the feeling of fatigue and stimulating the body's resistance.
While chlorella is suitable for pregnant and breastfeeding women and young children with some caution, spirulina should not be used in these cases.
Data sheet
| | |
| --- | --- |
| Weight including packaging | 170 gramů |
| Form: | Powder |
| Quantity | 150 grams |
| Country of Origin: | China |
| Vegan: | Yes |
| Gluten-Free: | Yes |
| Organic | Yes |
Related articles and recipes
Selection of questions from Counselling
You can ask a question here and our experts will try to answer it.
M 24. August 2023
Dobrý den, mám spirulinu, která má šarži 10. 2021. To už spíše použít na pleť nebo je nějaké riziko? Děkuji

Ing. Petra Vašková odpověděl:
product specialist, holistic nutrition consultant
Dobrý den,
pokud byla spirulina celou dobu neotevřená, teoreticky by prášku nemuselo nic být. Pokud znáte typickou vůni/ aroma spiruliny, tak k ní přičichtěte a zjistíte, zda se třeba nezkazila nebo nevyčpělo aroma. Pokud ucítíte nějakou změnu oproti standardu, tak ji pro jistotu nepoužívejte ani na pleť.
V případě dalších dotazů jsem k dispozici na 732 690 885 nebo petra.v@vitalvibe.cz.

Přeji krásný den,
s pozdravem,
Petra
Vera 9. May 2023
Rada bych si u vás objednala, ale žiju v UK a nenašla jsem ji na vašim seznamu. Bylo by možné doručit do Londýna?

Ing. Petra Vašková odpověděl:
product specialist, holistic nutrition consultant
Dobrý den,
bohužel. Zasíláme pouze do EU.
V případě dalších dotazů jsem k dispozici na 732 690 885 nebo petra.v@vitalvibe.cz.

Přeji krásný den,
s pozdravem,
Petra
Tomas 7. February 2016
Dobry den,zvazuji o vyběru tohoto vyrobku nebo o sunwarrior proteinu.Jedna se mi o rust svalove hmoty,poradte prosim cemu mam dat prednost dekuji...

Michaela Ptáčková odpověděl:
Krásný den, Tomáši, z jedné dávky Sunwarrior proteinu získáte mnohem více bílkovin než z jedné dávky spiruliny, té totiž 20 g denně nesníme. Ideálně můžete přidat ještě macu, která podporuje harmonizuje hladinu testosteronu. A nezapomeňte přidat kvalitní tuk (avokádo, kokosový olej).
Andrea Vitková 27. November 2015
Dobrý den, nenašla jsem nikde původ, prosím kde se pěstuje? Děkuji za info Andrea

Michaela Ptáčková odpověděl:
Krásný den, Andreo, spirulína je pěstována v Číně ekologickým způsobem, kde je testována na přítomnost nežádoucích bakterií, těžkých kovů, melaminu atd. Každá šarže je rovněž testována i v ČR, takže je skutečně zachována kvalita produktu.
Váš dotaz byl úspěšně odeslán našemu týmu. Děkujeme za otázku!
We can't share all information
about this product with you
Due to legislation, we can write very little about some products.
Our long-term customers know the products in depth and come back for them. We also encourage you to do your own research and make a conscious decision about what your body needs.

Jan Noah
Founder of Vitalvibe
Spirulina Organic, Tablets

blue-green beneficial cyanobacteria
Nutritionally rich food supplement
benefits heart, blood and vascular health

Spirulina Crunchy

the most complex food
source of a widevariety of nutrients
pure natural taste