Code:
Manufacturer: Four Sigmatic
Quantity: 10 sacks
Reviews: (0×)
Availability: In stock Only 5 pieces in stock (Try alternative products)
We apologize for the unavailability. Estimated availability is 1.1.1970. We can send you email when we get goods in stock.
Main product features
Suitable for vegans

Sweetened with a pinch of coconut sugar

Delicate taste and creamy consistency
Combination of functional mushroom and ceremonial matcha tea
When ordering over 74,64 €
Free shipping
Need help?
Customer service: (+420) 608 984 825
Are you craving something good during a hectic day to kick-start and satisfy your cravings between meals? Be sure to reach for a bag of Matcha Latte with medicinal lion's mane mushroom and moringa herb to give you the energy you need to keep going.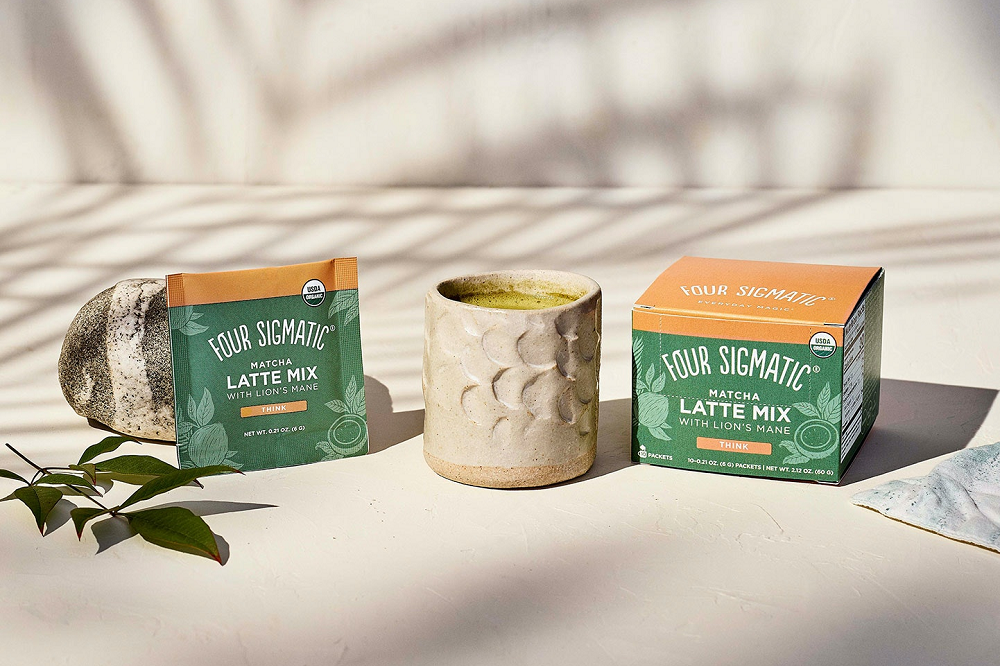 Stop for a moment and make a tea ritual. You'll see your daily routine transform into a small miracle.
Matcha is an herb known for its antioxidant content. Treat yourself to this ground green tea in ceremonial, i.e. the highest quality. This delicate creamy drink is popular with people who are trying to lose weight. This non-dairy latte will make you feel cool and full of energy.


Who can enjoy this drink:
Anyone who needs to "recharge" during the day
All active people, athletes and people who work hard
Milk coffee lovers who cannot or do not want to take lactose (cow's milk)
Those who need to support digestion
5 ingredients in a delicious cup
1) Dried coconut milk
Delicious coconut milk adds smoothness and irresistible flavour to the drink.
2) Ceremonial matcha
Matcha powder in the so-called ceremonial quality (i.e. the highest possible) is obtained from tea trees grown on rocky soil, which produces a thick, earthy tea with a delicate flavour.
Matcha contains extremely high levels of catechins - natural substances that act as antioxidants. According to some expert studies, it has more than 100 times the amount of catechins compared to conventional green tea varieties.
Matcha is widely studied for its effects on metabolism and cognitive function.
3) Palm sugar
Organic coconut palm sugar is made by boiling the sap of the coconut palm tree. It is not a refined sugar. One serving contains only 1 gram of sugar, which for reference is roughly a twentieth of a banana.
4) Lion's Mane / Coral Mane (500 mg)
This is a rare mushroom. Its appearance resembles a lion's mane, which grows on the trunks of deciduous trees. For hundreds of years it has been used primarily to support cognitive function and memory.
What are medicinal mushrooms and what are their benefits?
These mushrooms are natural gems that have been used in traditional Chinese medicine and folk healing for thousands of years.
They act as so-called adaptogens, that is, they aid resilience to stressful situations.
They contain several hundred biologically activeliving substances that have a very wide range of beneficial effects on the human body.
Probably the most famous of them are betaglucans, which harmonize our immune system.
Apart from these general properties, individual mushroom species have other specific effects.
5) Moringa powder (200 mg)
This evergreen "miracle tree" is native to tropical and subtropical regions around the world. Its leaves are extremely rich in nutrients.


How to enjoy it?
All you need is hot water. Ceremonial matcha tea mixed with coconut milk makes a smooth creamy drink with a delicious earthy taste.
Add coconut oil for a smoother and more delicious consistency.
Also try as a chilled drink.
Sip and persevere!


Why prefer a double extract of Medicinal mushrooms?
Much of the mushroom tissue is indigestible to the human body. Therefore, when we swallow the powder of a ground dried mushroom, we cannot absorb nearly all the valuable active substances from its cells.
The extract, on the other hand, contains all the beneficial substances in an easily digestible form. And to really get all the substances from the natural mushroom, you will even find a double extract in this instant drink. That is, not only the water-soluble substances, but also all the other substances that we have obtained by extraction with alcohol (which, of course, is not contained in the final product at all).
The double extract therefore ensures a higher concentration and better bioavailability of the active substances for the organism. And this is the basis of our functional mushroom products.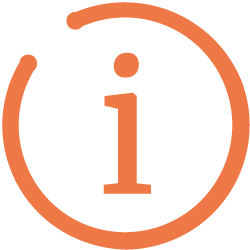 Tincture or instant drink with medicinal mushrooms?
In our range you will find mushroom tinctures from KÄÄPÄ Health and high-quality instant drinks from Four Sigmatic. What is the difference between them?
All the mushroom products we sell are of high quality and as bioavailable as possible. The active ingredients in them are extracted using a double extraction method.
Four Sigmatic drinks contain other synergistic adaptogenic herbs or superfoods in addition to these mushrooms. Their advantage is their great taste and high concentration of active ingredients. In one box you will find a predetermined number of sachets, i.e. doses.
KÄÄPÄ Health tinctures more closely resemble a classic dietary supplement. It is purely a mushroom extract, the amount of which you use the dropper to dose yourself according to your needs.
Read more
Dosage:
Pour over the sachet with hot water.
Ingredients in one dose (i.e. 6 g):
Coconut milk powder*, Matcha tea of the highest quality*, coconut sugar*, double extract of Lion's Mane mushroom(Hericium erinaceus)*500 mg, moringa powder* stevia*.

Weight: 10 pcs x 6 g / 1 pcs x 6 g
| | |
| --- | --- |
| Nutritional values | in 1 serving (6 g) |
| Energy value | 30 kcal |
| Fats | 2 g |
| of which saturated | 0 g |
| Carbohydrates | 2 g |
| of which sugars | 1 g |
| Fibre | 0 g |
| Protein | 1 g |
| Salt** | 0 mg |
| | Not a source of protein, saturated fat or fibre. |
| | 25 mg caffeine per serving |

USDA Organic
Products labeled USDA Organic meet the strict manufacturing requirements of the U.S. Department of Agriculture. To carry this label, a product must be at least 95% organic ingredients. Certification demonstrates the highest possible quality and purity of the product.

USDA Organic products forchThey are made by the production method without GMO, radiation, using additives falling into the national list of permitted substances. Farming with this certification must comply with many factors, from ensuring soil quality to controlling pests and weeds or the ingredients used.
Organic producers rely as much as possible on natural substances and agricultural, physical, mechanical or biological farming methods with a guarantee that the plant/crop grew on soil where prohibited substances (such as synthetic fertilizers or pesticides) have not been applied for 3 years.



Warning:
Do not exceed the recommended daily dose. It is not a substitute for a varied diet. Not intended for children under 3 years of age, pregnant and lactating women.
Storage:
Keep out of reach of children. Keep away from children. Keep at room temperature.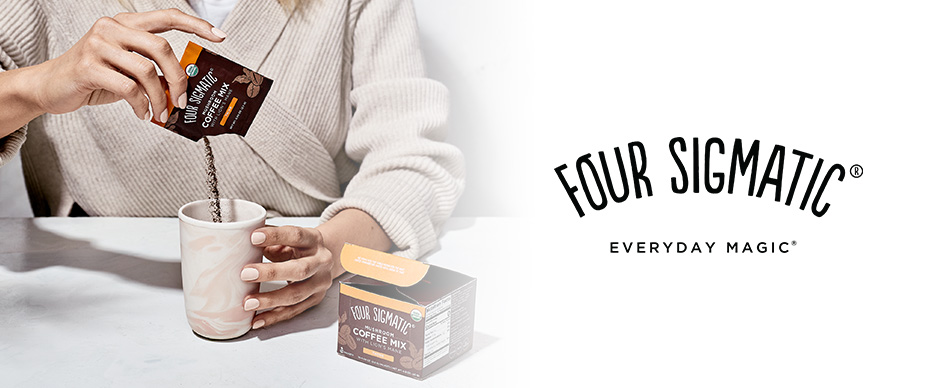 Why we love Four Sigmatic?
Four Sigmatic - originally from Finland, now based in the USA - is the project of a bunch of smart guys who call themselves the Scandinavian funny guys. They combined their lifelong passion for processing medicinal mushrooms and adaptogens with an original idea. They have enriched popular drinks with these traditionally used medicinal gems that can fill our every day with more energy, physical stamina, inner peace and productivity. With this venture, they have made functional mushrooms available to virtually anyone.
Adding the dual extract of these mushrooms and adaptogens to popular beverages like hot cocoa, coffee, latte or matcha latte or creating a multi-species mushroom blend creates a drink for moments of well-being while "recharging the batteries" and boosting the psyche and immunity.
Four Sigmatic products meet the strictest quality criteria. In addition to USDA Organic certification, they are regularly tested by independent laboratories for heavy metals, yeast, mycotoxins and radiation levels. The ingredients in all Four Sigmatic beverages are purely plant-based.
Data sheet
| | |
| --- | --- |
| Form: | Powder |
| Country of Origin: | USA |
| Raw: | No |
| Vegan: | Yes |
| USDA Organic: | Yes |
| Gluten-Free: | Yes |
| Organic | Yes |
Selection of questions from Counselling
You can ask a question here and our experts will try to answer it.
Veronika Strnadelová 28. March 2022
Dobrý den, mám dotaz ohledně matcha čaje - jaká je doporučená denní dávka (a pokud je max. dávka) vzhledem k obsahu kofinu. Vím že je to velmi individuální ale jen rámcově, co je doporučené všeobecně. Děkuji

Ing. Petra Vašková odpověděl:
product specialist, holistic nutrition consultant
Dobrý den, Veru,

jak píšete, je to vysoce individuální záležitost. Podle Evropského úřadu pro bezpečnost potravin dlouhodobá konzumace kofeinu ve výši až 400 mg/den je pro normálního zdravého dospělého člověka v pořádku. Tudíž těchto pytlíčků byste musela vypít opravdu hodně, abyste této dávky dosáhla. Vím, že jste ale velmi štíhlá a máte za sebou historii zdravotních problémů, buďte tedy pozorná k tělu a volte 1-2 pytlíčky denně.

V případě dalších dotazů jsem k dispozici :-)

Přeji krásný den,
s pozdravem,
Petra

Váš dotaz byl úspěšně odeslán našemu týmu. Děkujeme za otázku!
We can't share all information
about this product with you
Due to legislation, we can write very little about some products.
Our long-term customers know the products in depth and come back for them. We also encourage you to do your own research and make a conscious decision about what your body needs.

Jan Noah
Founder of Vitalvibe