Code: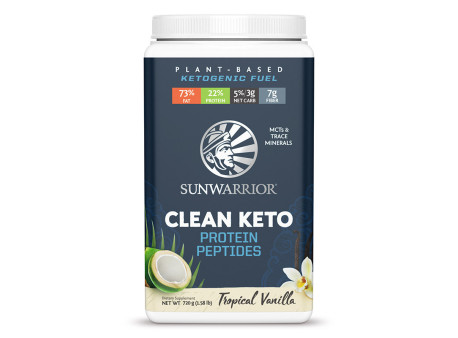 We tested
"Although Clean Keto contains only a small amount of carbohydrates, it tastes absolutely wonderful and satisfies well."
Main product features
quality source of energy during ketodiet
replenishment of protein and beneficial fats
100% plant-based formula
easily digestible
free of food additives and artificial sweeteners
sugar, gluten and soy free
When ordering over 74,64 €
Free shipping
Need help?
Customer service: (+420) 608 984 825
Replenish the necessary nutrients without sugar! Ketodieting is so much easier with the support of Clean Keto. The synergistic blend of plant proteins, MCT oil and indispensable vitamins and minerals will support your dietary intentions and give you plenty of energy.
Clean Keto is the ideal helper with excellent taste for those who restrict carbohydrates or directly adhere to a ketogenic diet. It's great for replacing one meal a day or enriching your diet with quality protein and beneficial vegetable fats.
Treat yourself to the energy of healthy fats without sugar and purely plant-based!
Meet Clean Keto
Clean Keto was created to support a balanced and energy-packed diet while on the ketodiet. It is a synergistic blend of beneficial fats, plant proteins, essential vitamins and Aquamin™ (a multimineral ingredient derived from calcified seaweed). The powerful combination of quality plant fats and phytonutrients will give you the energy you need even during a ketogenic diet.
The plant protein is enriched with brown rice peptides, which are important for muscle growth and tissue regeneration. The medium-chain fatty acid content, which is used as a quick source of energy, will come in handy for athletes. It contains omega-3 unsaturated fatty acids, which are essential for the functioning of the whole body.
With Clean Keto, you'll have more much-needed energy on a ketogenic diet. And best of all, it tastes great!
What will Clean Keto be good for?
Support on a ketogenic/low carb diet (especially with MCT oil)
suitable drink for weight loss in general (0 g of sugars, very filling)
for muscle and musculoskeletal health (thanks to proteins and aquamine)
for athletes to supplement proteins and as a quality source of energy in the form of MCTs
for people who are tired for a long time (it contains up to 40% of the recommended daily allowance of iron)
for people recovering from surgery or injuries (thanks to proteins)
for healthy hair, skin and nails (thanks to the vitamins, minerals and proteins)
for vegetarians and vegans (to supplement protein)
for those who suffer from frequent sweet cravings (thanks to proteins and MCT oil, which have a high satiating power)
to replenish quality nutrients in a lighter, healthy portion when you're not in a hurry
What is the principle behind the ketodiet?
Aketodiet (or ketogenic diet) is a way of eating, used primarily for weight loss, during which our body enters a state called Ketosis, where it uses fat as its primary energy source instead of the usual sugar.
The body goes into ketosis either during fasting or by radically reducing carbohydrate intake in combination with physical exertion. Once carbohydrates are eliminated, the body continues to use up carbohydrate stores in the form of glycogen for some time before the metabolism switches to fats, or ketones, produced during fat burning.
The prerequisite for ketodiet is the exact ratio of macronutrients in the diet. In a keto diet, fats are significantly predominant, proteins are represented in reasonable amounts and carbohydrates are covered by only a small fraction. If the carbohydrate threshold is exceeded, the body "switches" from ketosis back to normal metabolism.
Ketosis is quite easy with animal products, because animals store fat as an energy storage source. On a plant-based diet, the ketogenic diet is more challenging because plants store starch as their storage substance. On a vegan diet, finding appropriate plant foods that are low in carbohydrates and high in quality fats is a bit of a challenge at times.
Clean Keto is a quality source of beneficial fats, plant protein and many other beneficial nutrients. It can support the body on many levels and provides premium "fuel" to the body. Ketodieting with Clean Keto is much easier and, thanks to the great taste, significantly more enjoyable.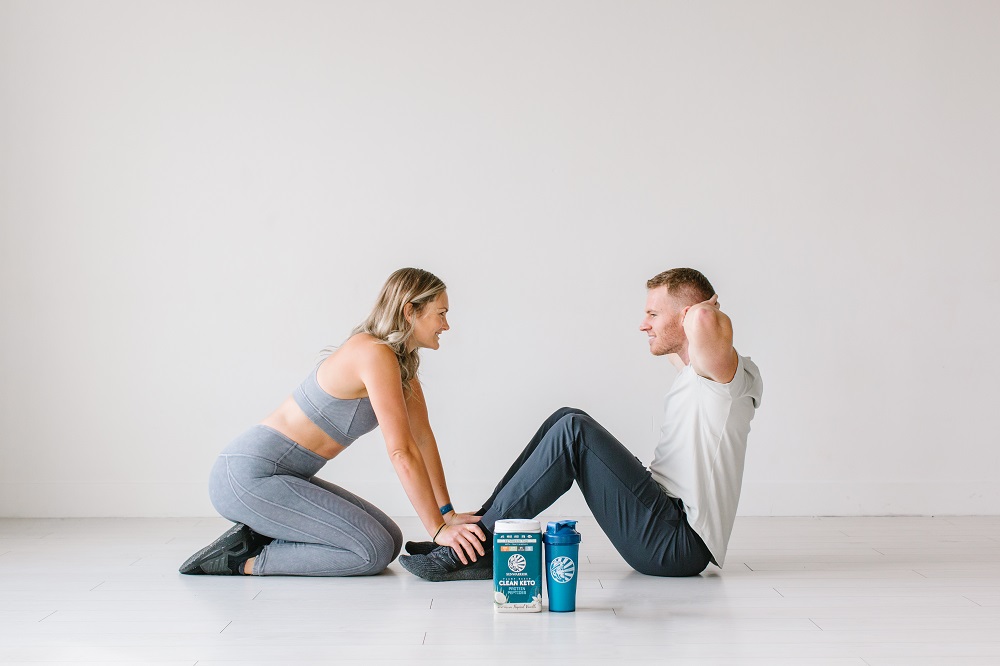 The beneficial ingredients contained in Clean Keto
Raw bean protein
Fava beans are a great source of plant-based protein and a variety of phytonutrients.
Raw pea protein
Peas are a remarkable source of protein and amino acids. It is a nutritionally rich food that naturally promotes muscle growth and helps maintain normal blood sugar levels.
Brown rice peptides
Rice peptides promote muscle growth. Due to the high concentration of glutamine and alanine, they promote proper hydration and tissue regeneration. Therefore, it is advisable to take rice protein after heavy physical exertion. Rice protein is perfectly bioavailable for our body.
MCT coconut oil
MCT oil derived from coconut oil is a so-called beneficial fat with medium chain fatty acids (MCT = medium chains triglycerides). The content of these acids makes MCT oil easily digestible and has many health benefits.
It serves as an immediate source of energy and induces a feeling of satiety, which is desirable during dieting. Athletes use it as a quality "fuel" and burn support. In addition, MCT oil is a great source of energy for the brain and supports its health.
MCT oil is perfect for those following a keto, low carb, or paleo diet. It is a fast and efficient fuel for the body and mind.
Essential vitamins and minerals
Clean Keto provides the body with vitamin C, calcium and iron. Thanks to the content of these substances, the mixture contributes to the maintenance of the normal state of the immune and nervous system, helps to maintain the normal state of the bones, and also contributes to the normal formation of red blood cells and hemoglobin.
AQUAMIN™
Aquamin is a unique complex of marine minerals derived from schrred seaweed aniseed. These shells are hand-picked and then ground into a fine powder, which excels in its calcium and magnesium content, naturally derived from seawater.
This source of beneficial marine minerals is a virtual "drop of the sea", containing up to 72 natural elements - in short, the perfect mineral bath to promote overall health.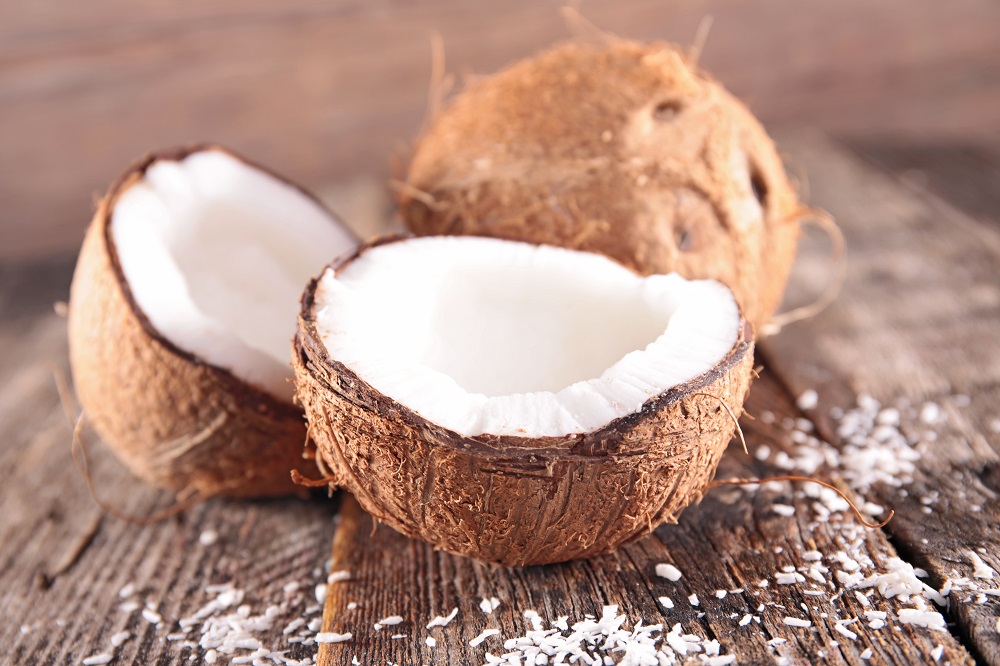 Why Clean Keto?
There are a plethora of products on the market to support ketodiet. However, most of them are based on whey protein and contain a lot of artificial sweeteners and additives.
Clean Keto is a 100% natural product with no artificial food additives with pure plant-based protein peptides. It contains almost entirely organic ingredients - except for seaweed extract, which naturally cannot be certified organic.
And to top it all off, it tastes great.
How to use Clean Keto?
Mix 2 scoops (48 g) with 3 dcl of water or your favourite beverage.
Blend or shake in a shaker.
Keep the unconsumed drink in the fridge. Consume on the same day.
Protect from direct light and heat.
1 scoop of the mixture can be used as part of smoothies or smoothie bowls. You can use as an ingredient in other keto dishes, such as chia pudding.
Don't overlook
Clean Keto is a quality addition to your diet during a low carb diet. It is not a "miracle" weight loss product or a substitute for a varied, natural diet and adequate exercise. Clean Keto will support you in your own efforts and give you plenty of energy. However, you need to watch your total macronutrient intake throughout the day and include the values contained in your Clean Keto dose.
A ketodiet should be a "reboot" of your eating habits, not a long-term lifestyle. To avoid the so-called yo-yo effect, think about the balanced, healthy diet you will switch to after the diet and incorporate movement into your life. This is the only way to feel stably fit.
Read more
Ingredients:
MCT oil powder (coconut oil, acacia gum), fava bean protein, pea protein*, vanilla flavor*, prebiotic fiber*, brown rice peptides*, coconut flavor* sea salt, sea kelp, with sweeteners from the stevia plant (steviol glycosides)*
E960.

*=BIO
| | |
| --- | --- |
| Nutritional values | 1 serving = 2 scoops (48 g) |
| Energy value | 280 kcal/ 1 170,00 kJ |
| Fats | 21,00 g |
| of which saturated | 19,00 g |
| Carbohydrates | 10,00 g |
| of which sugars | 0,00 g |
| Fibre | 7,00 g |
| Protein | 14,00 g |
| Sodium | 390 mg |
| Vitamin C | 51 mg (63.75%*) |
| Vitamin D3 | 0.8 μg (16%*) |
| Calcium | 220 mg (27.5%*) |
| Iron | 5.6 mg (40%*) |
| Omega 3 | 740 mg |
| Omega 6 | 261 mg |
| Omega 9 | 2430 mg |
| | |
| * Reference intake value | |
| BPA free | |
| Package contains 15 doses. | |
| | |
| --- | --- |
| Complete amino acid profile in 48 g: | VANILLA |
| Alanine | 518 mg |
| Arginine | 363 mg |
| Aspartic acid | 1 484 mg |
| Cystine | 294 mg |
| Glutamic acid | 592 mg |
| Glycine | 358 mg |
| Histidine | 331 mg |
| Isoleucine | 635 mg |
| Leucine | 1 532 mg |
| Lysine | 518 mg |
| Methionine | 363 mg |
| Phenylalanine | 1 484 mg |
| Proline | 294 mg |
| Serine | 592 mg |
| Threonine | 358 mg |
| Tryptophan | 331 mg |
| Tyrosine | 635 mg |
| Valine | 1 532 mg |
Warning:
Not a substitute for a varied diet. Do not exceed the recommended daily dose. Not for children under 3 years of age, pregnant and lactating women.
Storage:
Dietary supplement, not to be used as a substitute for a varied diet. Do not exceed the recommended daily dosage. Keep out of reach of children. If you are pregnant or nursing, consult a physician before use. Not intended for children under 3 years of age.
Data sheet
| | |
| --- | --- |
| Form: | Powder |
| Country of Origin: | USA |
| Vegan: | Yes |
| Gluten-Free: | Yes |
Selection of questions from Counselling
You can ask a question here and our experts will try to answer it.
Váš dotaz byl úspěšně odeslán našemu týmu. Děkujeme za otázku!
We're sorry we can't share with you
all the information about this product.
Various EU laws and regulations severely limit the extent to which we (and all other food business operators) can communicate the health benefits that these products offer to people.
Our long-standing customers are already intimately familiar with these foods, and they keep coming back to us for them. We also ask you to do your own research. You may discover much more about the potential benefits of these gifts of nature for your health...

John Noah
Founder of Vitalvibe