Code:
Manufacturer: Love of Raw
Quantity: 1 pcs
Reviews: (0 reviews)
Availability: In stock More than 5 pieces in stock (Try alternative products)
We apologize for the unavailability. Estimated availability is 1.1.1970. We can send you email when we get goods in stock.

We tested
"This powerful and strong blender is my favorite kitchen helper. It's on permanent operation every day, I prepare a lot of meals with him."
Introducing the best blender for raw cuisine. And not only for it. The Omniblend high-speed blender will help you make green smoothies, plant milks, nut butters, soups, ice creams, desserts and raw cakes. Just a few basic ingredients and you're eating in 10 minutes.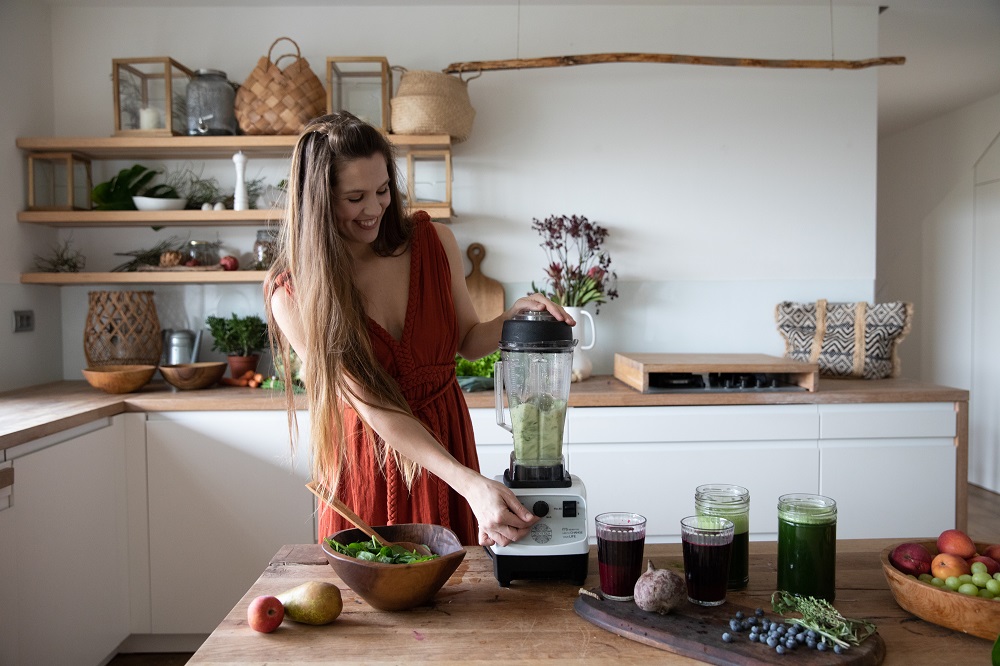 A mixer you can rely on
Create healthy meals in minutes with this professional blender for homes, restaurants and fresh bars. The Omniblend is ideal (not only) for preparing raw food. It mixes even more demanding recipes containing small hard seeds such as finely ground poppy seeds perfectly. You can also make first-class peanut butter with it.
Wherever you use Omniblend
RAW food - ideal for preparing a RAW diet full of live enzymes, minerals, vitamins and quality nutrients that you won't miss out on thanks to the low cooking temperatures.
Smoothies and blending - prepare delicious fruit or vegetable smoothies or even a wild herb smoothie.
Sweet treats - refresh yourself with homemade soft serve ice cream, or simply make syrups to pour over pancakes or creamy creams.
Cooking - thanks to its versatile use, the blender is also suitable for preparing creamy soups, spreads, breakfasts or even crushing nuts.

Accessories
This high-speed blender includes an ergonomic whisk and a lid with a funnel that allows you to gradually add ingredients as you blend. Use the masher to speed up the processing of thick or frozen ingredients that form air pockets during blending.
With the blender you get these gifts as a bonus:


The printed Book of Perfect Blending from the Love of Raw edition worth 399 CZK.
Comprehensive Online Raw Food Course worth 2990 CZK

important info



Access to the online section of the course must be requested after purchasing the blender. Just write an email to tym@loveofraw.cz, where you can also write the order number of the Vitalvibe where you purchased the blender along with the access request.
Comparison, tests, video inspiration
Hundreds of video recipes with the Omniblend blender can be found on the Love of Raw website, where you can see that this machine can really do anything.
See how the Omniblend handles different types of food in the test videos.

Fora comparison with other high-speed blenders on our market, see our article or watch the videos.
What makes this blender special?
On the front of the blender you will find the affirmation "It's never too late to change your life". It will remind you that it's never too late to change anything in your life that doesn't suit you. Whether it's your health, body, mind, relationships, food or habits. Because it's never too late to make a change, or at least take the first step towards being happier.
A blender that caresses the heart
The Omniblend mixer under the special edition Love of Raw was launched by Zuzka Noah, founder of the Love of Raw project. She is also the author of numerous video recipes, online courses and books.
"The Love of Raw project was born out of my passion and great enthusiasm for plant-based living foods. Thousands of people have already been inspired by my recipes, which have helped them to diversify their diets and incorporate truly nutritious meals made from life-giving ingredients into their lives.

I love it when I can show others how to really start nourishing their bodies by using blending and combining with Vitalvibe ingredients to create the highest quality meals.

From the bottom of my heart, I wish you the best of luck in mastering lots of simple recipes and incorporating as many quality ingredients and healthy habits into your life as possible. The blender will make this journey to vibrant health, vitality, energy and enjoyment of yourself much easier.

I am honored to be able to support and inspire you on this journey to the fullest with what works perfectly for me."

- Zuzka Noah, Love of Raw

Important information
Technical parameters
Model: Omniblend I
RPM: 38 000
Motor: 3 Horse power
Power: 2,238 Watts (3HP)
Tank: Tritan BPA-Free (Eastman CoPolyester)
Vessel capacity: 2l
Noise: 83.8 Db (at highest speed)
Weight: 4.3 kg
Dimensions: 19 x 20 x 51 cm (w x d x h)
Warranty: 7 years
Delivery time is normally within 2 days of ordering. However, it may change according to our current stock levels. ( +420) 608 984 825.
Service and claims are handled directly by Love of Raw. For more information, please click here.
Data sheet
| | |
| --- | --- |
| Weight including packaging | 6 kg |
| Quantity | 1 ks |
Related articles and recipes
Výběr dotazů z Poradny
Zde nám můžete položit otázku a naši odborníci se Vám ji pokusí odpovědět.
Váš dotaz byl úspěšně odeslán našemu týmu. Děkujeme za otázku!