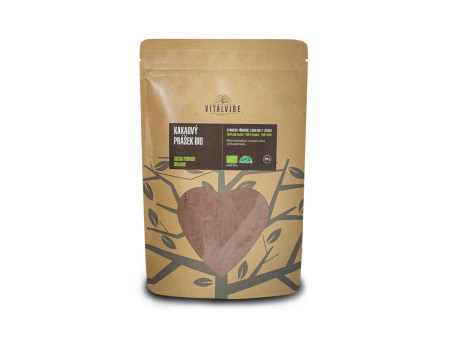 Manufacturer: Vitalvibe
Quantity: 250 g
Code:
Availability: On stock More than 5 pieces in stock (Try alternative products)
We apologize for the unavailability. Estimated availability is 1.1.1970. We can send you email when we get goods in stock.
Chocolate is one of the worlds most well-loved foods. Yet very few have ever had the raw food that all chocolate comes from - cacao beans! All chocolate comes from cacao beans - the seeds of the cacao fruit - which grows on a jungle tree. Botanically, cacao is truly a nut. Cacao beans (Theobroma cacao) taste like dark chocolate, because they are dark chocolate!
Cold-Processed Cacao Powder is one of nature´s single richest sources of antioxidants and the critical micronutrient Magnesium. It delivers more anti-aging antioxidant power than pomegranate, red wine or green tea. For magnesium, the most deficient major mineral in the "modern" diet, raw cacao provides major replenishment. Magnesium is vital for healthy hearth functions and also helps build strong bones, relax muscles and create a feeling of calmness.
Our Truly Raw Cold Processed Cacao Powder is the most worthy and mind blowing cacao powder you will ever lay your taste buds and brain receptors to. We never heat our cacao powder above 118F (46C). It means you will have a cacao powder that is packed with vital nutrients beyond any other cacao powder. You will FEEL the difference between Big Tree Farms raw cacao powder and other raw or non-raw cacao powders.
Big Tree Farms Raw Cacao Powder is one of natures single best sources of magnesium and contains more antioxidants per gram than red wine, green tea, acai or pomegranates. Our Cacao Powder is formed after expelling the butter from our hand-ground cacao bean paste. The remaining cake that is left over once the butter is removed is a precious and concentrated superfood retaining about 25% of its original fat content. The cake is cold-milled to a powder and then is either sieved fine, with its mild nutty flavor, for use as a drinking chocolate, or graded and packed as a coarser chocolate powder more suitable for breads, pies, cookies and cakes.
The Health of it All
Cacao is PACKED with natural compounds called antioxidants. More than blueberries, pomegranate, cranberries and even red wine. Yet, all these fruits and drinks are great for a healthy diet and lifestyle.
Promotes good cardiovascular health. Cacao is one of the best sources of natural magnesium, which is critical for a happy and healthy heart. Perhaps this is why its such a lovers food.
Promotes good blood circulation. Theobromine is a superior vascodilator, which means more oxygen gets pumped into your bloodstream, making it a great food for exercise.
Lowers blood pressure.
Rich in minerals. Cacao is a seed which contains many vital minerals our body needs to function optimally.
Food of the Gods from the Island of the Gods
We work directly with almost 2,000 farmers farmers on the islands of Bali and Sumatra to procure our fine cacao.
The history of the Bali and Lombok Cacao is linked to the history of the legendary Java Criollo, which is linked to the Philippines, which is directly linked to the cacao the Spanish brought there from the legendary Aztec cacao orchards of Soconusco, Mexico.
These genetics that made their way into Indonesia were dominantly planted on old Dutch plantations found on East Java. These same genetics that were so highly regarded were also planted on the next island over, Bali. As the chocolate industry become more industrialized in the mid 1900's and production output replaced quality of flavor, the plantations started to replace the Java Criollo with hybrids that increased the volume of cacao per hectare.
Fortunately, the island of Bali was mostly ignored during the hybridization period. This is probably due to the fact that villages and small family farms populated these smaller islands, not plantations. In the mid 1900's, Bali was nothing like it is today; it was still quite forgotten and remote. Today, many of Bali's farms still remain as they were. The cacao is grown interspersed with other food crops such as, vanilla, exotic peppercorns, passion fruit, banana, jackfruit, palm trees and mangosteen. We refer to these as "food forests".
| | |
| --- | --- |
| Nutritional facts | in 100 g |
| Energy | 1706 kJ/405 kcal |
| Fats | 11,6 g |
| saturated fats | 6,7 g |
| Carbohydrates | 45,6 g |
| sugar | 0,8 g |
| Fiber | 4,2 g |
| Protein | 27,6 g |
| Salt** | <0,1 g |
* Reference intake
** Occurs only in natural sodium form
Store in a cool, dark and dry place.
Data sheet
| | |
| --- | --- |
| Form: | Powder |
| Country of Origin: | Peru |
| Raw: | Yes |
| Vegan: | Yes |
| Gluten-Free: | Yes |
| Organic | Yes |
Related articles and recipes
A selection of questions from the Counselling Centre
Here you can ask questions and our experts will try to answer it for you.
Your Question has been successfully sent our team. Thanks for question!
Peru

Chocolate 100% Organic

Cacao pasteis a line of premium raw organic chocolate, and the first single-origin organic chocolate made in entirely in Indonesia. Cacao paste is one of nature´s single richest sources of Antioxidants and the critical micronutrient Magnesium. Magnesium is vital for healthy heartfunctions and also helps build strong bones, relax muscles and create a feeling of calmness.

0%

519 Kč

Peru

0%

239 Kč

Italy

Carob Organic

a chocolate substitute
unique flavor
great source of vitamins and minerals

0%

159 Kč

0%