Code: 1706
Manufacturer: Vitalvibe
Reviews: (0 reviews)
Availability: In stock More than 5 pieces in stock (Try alternative products)
We apologize for the unavailability. Estimated availability is 31.3.2023. We can send you email when we get goods in stock.
Main product features
organic quality, 100% natural, non-sulfur, non-GMO

gentle processing, preservation of high nutritional values

sun-dried, unsulphurised, no added sugar

large delicious fruits, great taste

natural, fast energy source
Need help?
Customer service: (+420) 608 984 825
If you are a raisin lover, try our juicy Sultana Raisins in organic quality. This kind is much sweeter, more nutritious and just a little bit bigger than the classic raisins.
You can just munch on them, sprinkle them in sweet desserts, nut mixes, sweet snacks or keep a bag of dried raisins as a first aid in your purse for when you need an energy boost.
Our organic raisins come from controlled organic farming and are not salted. Thanks to this, they retain all their valuable leaves in their full blossom, free from harmful substances.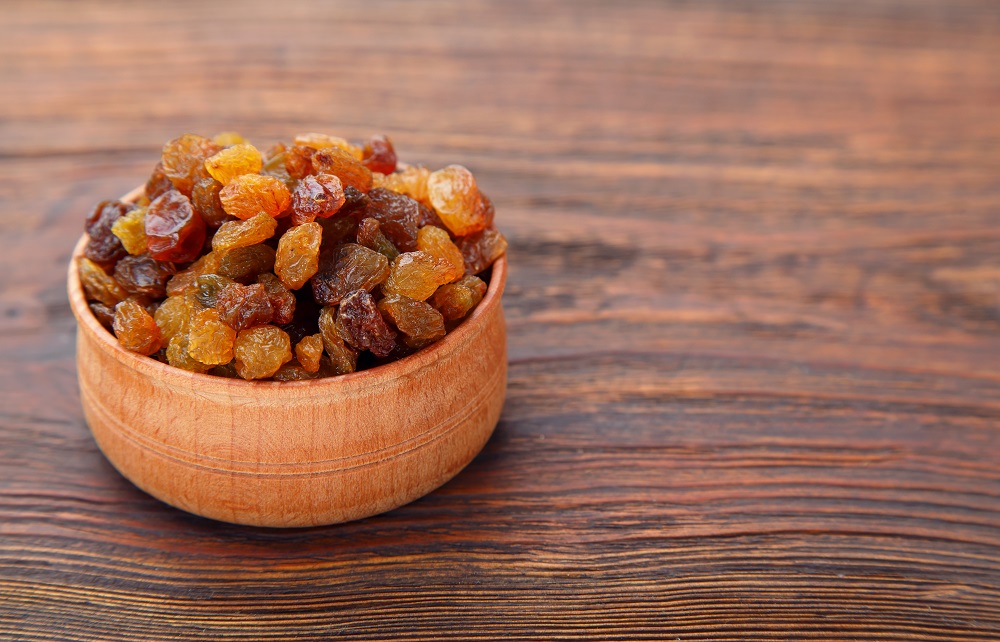 Raisins are a well-known ingredient in Czech cuisine. We know them as a traditional ingredient in cider or mulled wine and also taste delicious on their own. They are dried grapes (Vitis vinifera), which are particularly rich in carbohydrates. They are distinguished from other raisins by their size, their yellow-green colour and their more pronounced sweet taste, which will please any palate.
Our organic raisins are completely natural - they therefore retain their health benefits, the combination of which has a beneficial effect on health, blood and overall vitality.
What makes raisins great?
Raisins are characterised by their high carbohydrate content (glucose and fructose) and low fat content. They are therefore a rich and fast source of energy. They are great for athletes or as a healthy snack for anyone with a sweet tooth.
In raisins we find a number of micronutrients such as vitaminB6 (pyridoxine), and among the minerals they contain iron, potassium, copper, phosphorus and manganese.
Raisins are also a source of the natural antioxidant resveratrol and contain beneficial fibre, which is beneficial for maintaining a well-functioning workout.
Why prefer organic dried fruit?
As with other types of food, it is worth choosing the highest possible quality when it comes to fruit. Organic quality is really a guarantee that you will get minimally contaminated food. Thanks to the controlled organic farming system, organic food does not contain residues of agrochemicals, especially pesticides. Dried fruit from organic farming is not salted and thus does not contain additional preservatives or added sugar.
Avoid dried fruit with added sugar
Much of the dried fruit from the supermarket is soaked in a sugar solution before drying to make it sweeter and more palatable. Fruit sweetened in this way is, of course, a huge sugar bomb.
It has been repeatedly proven that the overconsumption of refined sugar in the human diet has negative health effects, increasing the risk of the most serious diseases, especially type II diabetes. To avoid eating dried fruit with added sugar, read carefully the information on the labels of packaged foods.
Choose dried fruit without sulphites
Most of the dried fruit on offer in grocery stores is sweetened. Sulphur dioxide improves the appearance of dried fruits. It is used so that the fruit retains its authentic colour and does not turn brown. This is especially true for brightly coloured fruits such as raisins and apricots.
What are the risks of foraged fruit? This preparation can cause stomach pain, headaches, nausea and asthma-type problems in more sensitive individuals.
Whether the dried fruit is salted or unsalted should be clear from any packaging in which you purchase it. Either the packaging will say that it is salted, or you will find the preservative E220 on it.

With us you can be sure that you are getting organic dried fruit of superior quality without risky ingredients.
The nature of our raisins
These raisins are grown on the coast of sunny Turkey, which is renowned for its excellent raisin varieties. The so-called sultanas are obtained by drying large yellow-green grapes and therefore have a delicious sweet taste and softness. They are sun-dried for 35 days, thanks to which they retain their variety and bright colour. Afterwards, they are sometimes (depending on the residual moisture content) further dried technologically to increase their durability. After drying, the juices are washed and hand-sorted.
Our juices have been grown in accordance with the principles of controlled organic farming and therefore retain their nutritional richness to the fullest extent possible. They have been processed completely without additives and without added sugar. They are not even salted, which means that they have not been preserved with sulphur dioxide or sulphites.
And something else interesting
Raisins as we know them actually came into existence by accident - when the grapes withered and shriveled in the sun. People have discovered that even so, these fruits are very tasty. Their history goes back over 4,000 years and they were known to the ancient Romans and Egyptians. Their current name is derived from the German word "Rosine" and the term "raisin" comes from the Czech word "hrozen".
Usage
Sultanas have really diverse uses in the kitchen:
They are a good baking aid, both in classic wine, apple crumble, cake or sugar cookies.
You can also add the raisins to your breakfast bucket or to your homemade dish.
The sweet berries are great for flavouring your favourite fruit salad
Use them to prepare traditional thick Indian sauces in chutneys.
Additional information
Nutritional values
100 g
Energy
1358 kJ/ 325 kcal
Fats
0,5 g
of which saturates
0,1 g
Carbohydrates
75 g
of which sugars
59 g
Fibre
4 g
Protein
3 g
Salt**
0,03 g
Nutritional values may vary for natural products.
Ingredients:
100% Organic Sultana Raisins.

Storage:
Store in a cool, dark and dry place (0 - 4°C, max. 70% humidity). Always close the packaging tightly after use.
Sometimes the sugar in the raisins can start to crystallise after longer storage. However, this does not change their nutritional value. In this case, simply soak the raisins briefly in hot water.
Data sheet
| | |
| --- | --- |
| Form: | Dried fruits |
| Country of Origin: | Uzbekistan/Turkey |
| Raw: | No |
| Vegan: | Yes |
| Gluten-Free: | Yes |
| Organic | Yes |
Related articles and recipes
Selection of questions from Counselling
You can ask a question here and our experts will try to answer it.
Váš dotaz byl úspěšně odeslán našemu týmu. Děkujeme za otázku!
We're sorry we can't share with you
all the information about this product.
Various EU laws and regulations severely limit the extent to which we (and all other food business operators) can communicate the health benefits that these products offer to people.
Our long-standing customers are already intimately familiar with these foods, and they keep coming back to us for them. We also ask you to do your own research. You may discover much more about the potential benefits of these gifts of nature for your health...

John Noah
Founder of Vitalvibe