Universal pesto
Just add various greens into the mixer, add perfect seeds, quality oil and in a few minutes the universal goody is in the world! It is also a great way to not waste the food and use everything till the last leaf.
Spread
You can use carrots or radish leaves, stems from herbs or salads that you don't have time to use up in the best quality. Even weeds such as nettles, snow in the mountain or sedges, which can be collected almost everywhere. I also like to enrich it with moringa. All antioxidants are then multiplied and pesto is a wonderful superfood.
Ingredients:
leaves from 1 bunch of carrot
leaves from 2 bunch of radishes
2 bunch of green parsley
1 bunch of dill
2 cloves of garlic
olive oil
100 g hemp seeds
70 g ground almonds
apple cider vinegar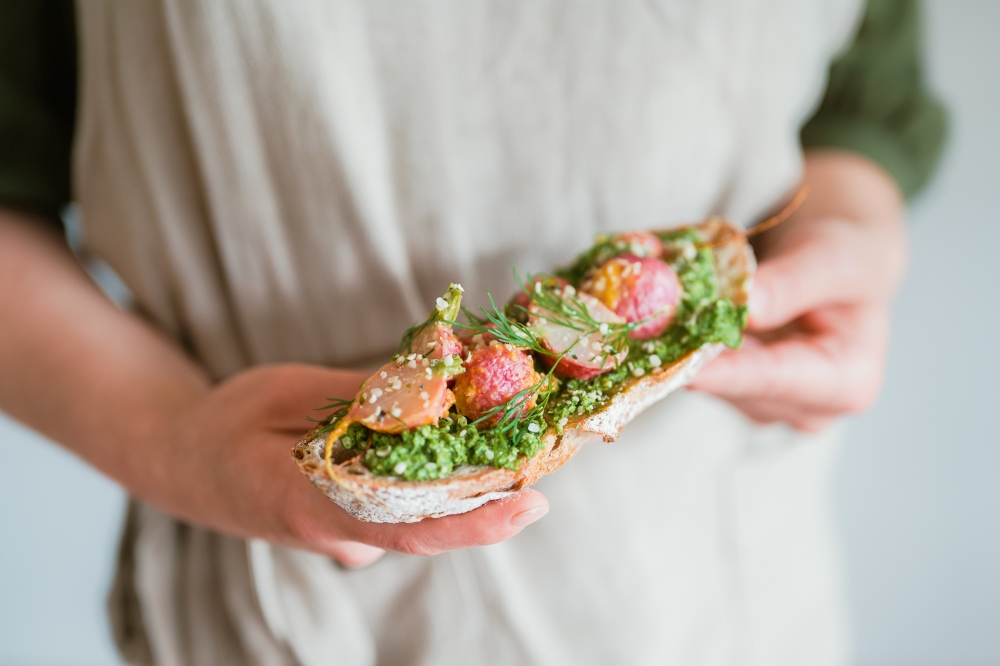 Instructions:
Wash and dry all the herbs and stems thoroughly. First, put the stems and solid parts into the blender, add a little oil, add a clove of garlic, add a teaspoon of apple cider vinegar and lightly salt.
Press the herbs with a pestle and mix thoroughly. Gradually add the remaining herbs. If the mixture is thick enough to stick, add more oil until everything comes together and the resulting mixture has a more liquid consistency. Like a thick smoothie.
Finally, mix in ground almonds and hemp seeds in any ratio. At the end, add salt and acidify to taste - this will make all the flavors stand out even more. Let the finished pesto stand for at least 20 minutes so that the nuts absorb the liquid.
Pesto is suitable for bread, pasta, roasted vegetables and salad. It will last at least a week in the fridge, the shelf life will be extended if you keep the walls of the jar clean and cover it with a thin layer of oil.
Enjoy your meal!