Almond pancakes with maca cream
A weekend breakfast full of nutrients that will keep you full for the whole morning, thanks to chickpea flour and almonds. Bananas make them beautifully fluffy, and the almonds create an interesting texture. They taste best fresh, still hot, but they are also excellent smeared with peanut butter as a snack to go!
Breakfast, Cake & Dessert, For children

Ingredients:
40 g chickpea flour
100 g whole grain spelled flour
50 g ground almonds
1 teaspoon of cream of tartar or baking soda
300 ml soy milk
1 tablespoon apple cider vinegar
1 banana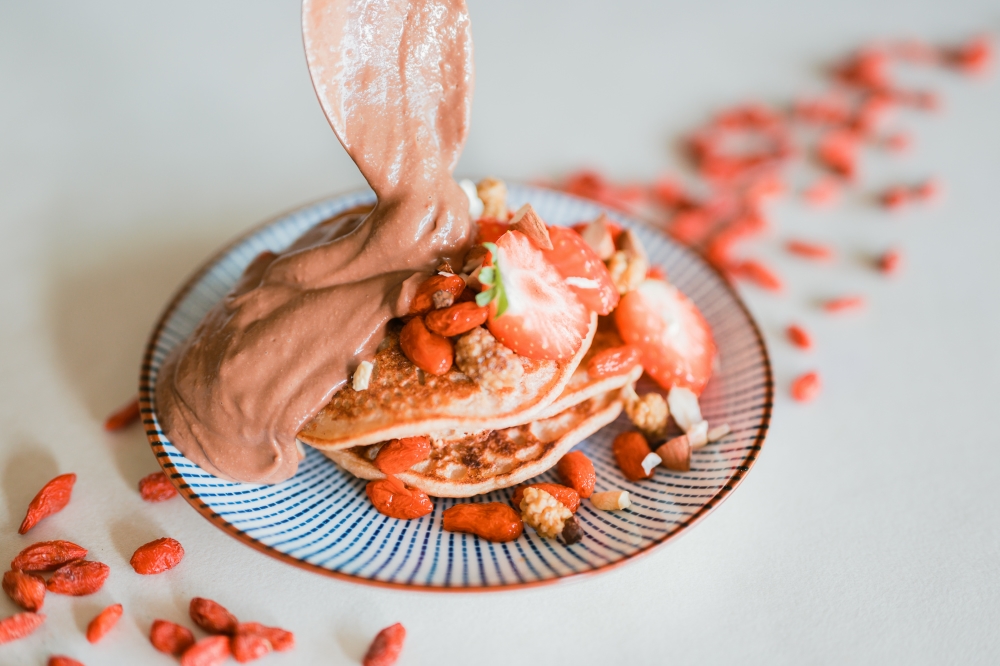 Instructions:
Mix the dry and wet ingredients separately, then carefully mix them together and add the mashed banana. Work gently with the batter and avoid over-beating to keep the fritters fluffy. Mixing the wet dough activates the gluten, which is useful for yeast dough, but not good for fritters. They would be completely rigid.
Heat up a pan and lightly coat it with coconut oil, which will give the fritters a great aroma and even more crunch. Using a spoon or a wet ladle, make three smaller fritters and fry on a low flame. We only turn when the sides are slightly puffed up and bubbles start to form in the center.
We serve the fritters with a generous dose of maca cream, for which you can find the recipe HERE. Then decorate with fresh dried fruit, crushed nuts and cocoa beans.
Enjoy your meal!