We tested
"I love nuts. Especially when I know they come from the best resources that nature has to offer to us. And that definitely these cashews meet."
Main product features
natural source of quality protein and healthy fats
100% natural, organic quality, non-GMO
gentle processing, unroasted - preserving high nutritional values
highest possible quality - large delicious fruits, great taste
When ordering over 74,64 €
Free shipping
Need help?
Customer service: (+420) 608 984 825
Treat yourself to cashews in the best possible organic quality! Thanks to the organic cultivation and gentle processing, you can be sure that our nuts do not contain any hazardous substances.
Let yourself be positively surprised by the large crunchy fruits, which retain their typically delicious taste and nutritional richness in a complex range. By eating cashew nuts regularly, you will boost your health, vitality and beauty.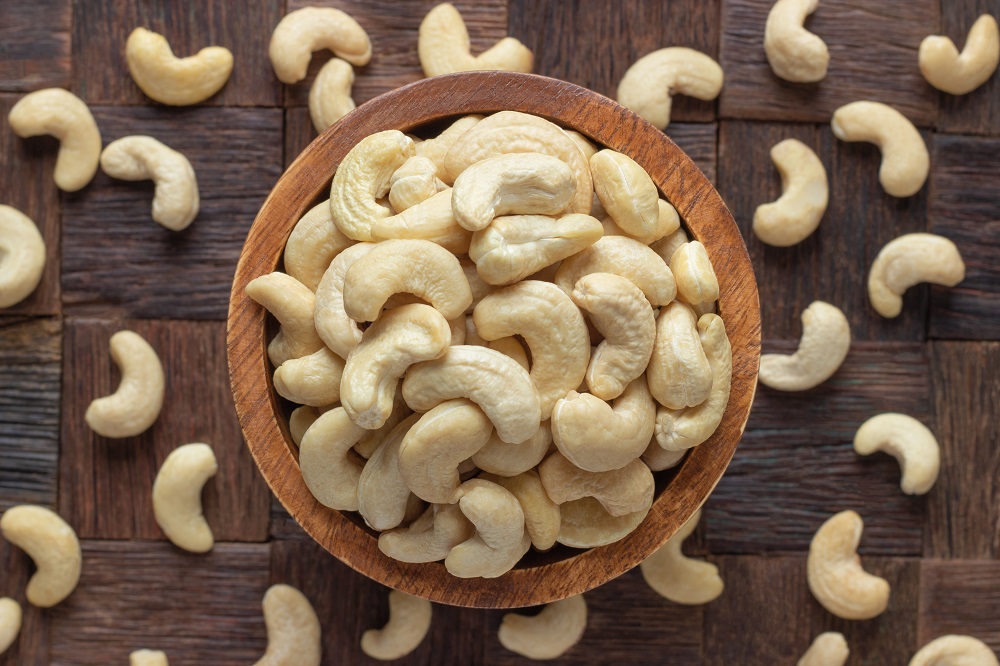 Cashews are the delicious nuts of the western kidney nut(Anacardium occidentale), native to northeastern Brazil. In the 16th century, Portuguese seafarers spread the crop to other tropical countries with dry climates, such as Africa and the coast of India, where it is still cultivated today.
What makes THEM great?
Cashews contain a wealth of health-giving fats, vitamins, minerals and fibre. They are perfect for daily protein supplementation, which is appreciated not only by people on a plant-based diet, but also by people on a weight-reduction diet, for example.
Did you know that cashews are a good source of magnesium, which in combination with vitamins B1 and B2 is good for the nervous system. In addition, they are also a valuable source of minerals such as iron, calcium, potassium, sodium and phosphorus. They contain beneficial unsaturated fatty acids and essential amino acids, the most important of which is tryptophan, which serves as a precursor to serotonin.
Why prefer organic nuts?
You may also be wondering how organic nuts are better than conventional ones. Before you have the generally recommended "handful of nuts a day", it's definitely worth learning more about this topic.
Virtually all nuts are high in fat. And because of this, they readily absorb agrochemicals, the accumulation of which has both ecological consequences and significant effects on our bodies. In fact, there are many pesticides and fungicides that are applied to nuts after they are harvested from the trees.
For example, the volatile methyl bromide, which is used to control insect pest and rodent populations during storage, is released into the atmosphere and damages the ozone layer. Because it is considered a hazardous chemical, its use has even been banned in some countries.
Common cashews used to be treated with endosulfan, which accumulates in the environment and damages the hormonal system of any animals that consume it.
Organic food is one of the foods with the greatest possible guarantee of safety. The amount of hazardous substances in EU organic food is negligible or non-existent. This is especially true for nuts, where a large variance in pesticide residue levels has been found between conventional and organic ones. [1]
Organic quality
is particularly important for almonds and walnuts. Because they have a really high fat content, they easily absorb harmful substances from the environment.
Itis therefore worthwhile to prefer organic nuts, not only from an ecological point of view, but especially for your long-term health.
______________________
Resources used:
[1] https://www.magazinzdravi.cz/eu-temer-zadna-kontaminace-biopotravin-pesticidy
Where do our cashew nuts come from?
Organic cashew nuts are grown in Vietnam, where the climatic conditions are ideal for producing the best quality varieties. Thanks to organic farming methods and gentle processing techniques, they retain their full nutritional richness.
Uses
The uses of cashew nuts are truly wide-ranging:
They can serve as a delicacy on their own or in combination with fresh or dried fruit. They are often mixed with other nuts and seeds in porridges or superbowls.
They are great as a base for many raw treats. Take inspiration from our recipes.
You can use them to make homemade plant milk or butter.
Running out of inspiration for flavouring your dishes? Reach for cashew nuts. They're perfect whole or chopped as an addition to sweet and savoury dishes.
Our tip: If you want to increase the digestibility and bioavailability of the nuts, we recommend soaking them in water for 2-3 hours. They will soften and are easier to chew and digest. Learn more about activating the fruit in this video.
Read more
Recommended dosage:
10-30 grams (small handful) per day
Ingredients:
100% organic unroasted cashews
| | |
| --- | --- |
| Nutritional values | in 100 g / in 100 g |
| Energy value | 2433 kJ / 582kcal |
| Fats | 44 g |
| of which saturated | 8 g |
| Carbohydrates | 27 g |
| of which sugars | 6 g |
| Fibre | 3 g |
| Protein | 18 g |
| Sodium** | 12 mg |
* reference intake values
** only in the form of naturally occurring sodium
Storage:
Store in a dark, dry and cool place (max. 10°C). Nuts are naturally high in fat and may be prone to rancidity at higher temperatures.
Always close the packaging tightly after use.
Data sheet
| | |
| --- | --- |
| Form: | Nuts |
| Country of Origin: | Vietnam |
| Raw: | No |
| Vegan: | Yes |
| Organic | Yes |
Related articles and recipes
Selection of questions from Counselling
You can ask a question here and our experts will try to answer it.
Filip 9. August 2020
Dobrý den, zajímalo by mě jaký je vhodný zdroj bílkovin pro vitariány ?

Ing. Petra Vašková odpověděl:
product specialist, holistic nutrition consultant
Dobrý den, pane Filipe,

z běžné stravy to pro Vás budou zejména luštěniny (namáčené, naklíčené), ořechy a ořechová másla, dále semínka a semínkové pasty. Od nás by to byly konkrétně kešu ořechy nebo chia semínka. (I když kešu nemáme deklarovány jako RAW, jsou zpracovány šetrně párou z toho důvodu, aby mohla jít při zpracování odloupnout skořápka). Případně se koukněte na koncentrovanější doplňky, jako jsou COMPLETE POWER™ BIO nebo COLLAGEN BUILDER.

V případě dalších dotazů jsem k dispozici na 732 690 885 nebo petra.v@vitalvibe.cz.
s přáním pěkného dne,
Petra

Váš dotaz byl úspěšně odeslán našemu týmu. Děkujeme za otázku!
We can't share all information
about this product with you
Due to legislation, we can write very little about some products.
Our long-term customers know the products in depth and come back for them. We also encourage you to do your own research and make a conscious decision about what your body needs.

Jan Noah
Founder of Vitalvibe